Agents of SHIELD Season 5 Finale: "You'll Laugh, You'll Cry, You'll Roll on Your Belly Like a Reptile"
Up until recently, it was kind of expected that the season finale of Marvel's Agents of SHIELD was also going to be the series finale. But then ABC announced that not only was the series coming back for a sixth season, but it would do so in the summer of 2019, after the next Avengers movie — and it isn't being called the final season. This was quite a turnaround from the previous months when the series' writers and executive producers talked about treating the finale as the end… insomuch that the episode is called 'The End'.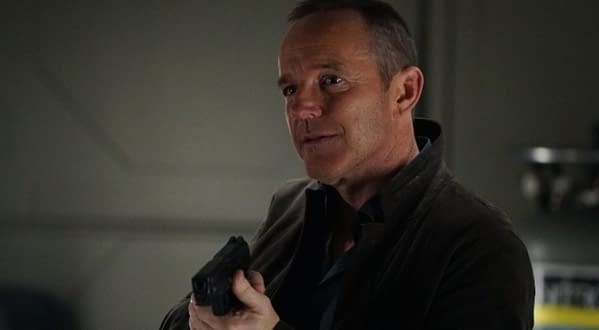 While the fate of the series has changed, the events of the season finale haven't, and we'll get to see what they promised as an emotional and satisfying ending on Friday. Co-showrunner Jed Whedon talked with TVLine about what fans can expect and how what the agents have to figure out is a completely different kind of debate from the question of how Yo-Yo (Natalia Cordova-Buckley) killed Ruby (Dove Cameron). He points out that everything stems from their return from the future:
The problem was that all of the clues we have as to what happened were so nebulous, and we keep thinking we're encountering them. And now we're facing one that we know is the definitive moment, where we have to decide our path. We can tell from the last couple episodes that tensions are high. Everyone will weigh in on this in a different way, and they know that no matter which path they choose, lives will be lost.
But deciding if they should use the Centipede serum on Coulson (Clark Gregg) or Talbot (Adrian Pasdar) is only part of the equation, because the wrong choice could be devastating to both the team and the world:
It's a question mark… We know who made it [to that future] and who didn't, and we'll have to see how that plays out.
Executive producer Jeff Bell added that fans will be going through all of the emotions during the finale:
I think you'll laugh, you'll cry, you'll roll on your belly like a reptile. They're all there, all three [emotions].
The Agents of SHIELD season 5 finale will air Friday at 9 p.m. ET on ABC.