Aggretsuko Season 3: Anime Rocks Out With Its Fox Out This August
Good things come to those who wait, and Netflix finally announced the premiere date of everyone's favorite avatar for the existential hell that is Capitalism, Aggretsuko. The third season of the animated satire will premiere on the streaming service on August 27th! "Aggretsuko" (short for "aggressive Retsuko") is the story of Retsuko, an earnest 20-something golden fox starting her first job as an office lady in a corporate office. She's the opposite of aggressive. She's eager to be part of the workforce and start all that adulting that she was raised to look forward to. Unfortunately, she crashes head-first into the truth of corporate life and capitalist drudgery almost immediately. She has to deal with conniving, bitchy co-workers, a literal sexist pig of a boss, and the sheer stressful drudgery of the job. She finds some solace in senior co-workers who become her allies but her real outlet is… Deathmetal karaoke.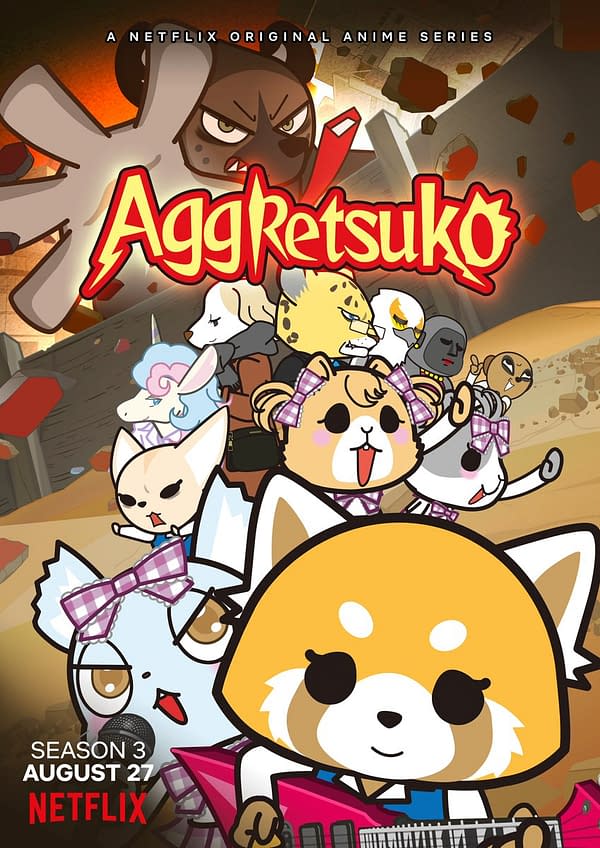 That's right, Retsuko may be a meek, nervous, eager-to-please, and insecure gal at work, but she carries her own microphone and heads to the nearest karaoke bar after work and screams her lungs out to Deathmetal tunes. It's the only thing that keeps her sane in this existential hell of a job and life. That makes her our spirit animal, the avatar of all our feelings in the 21st Century. She expresses the frustration, exasperation, and impotent rage of everyone laboring under Late Capitalism. She is everyone in the workforce.
It's amazing to remember that Aggretsuko and her gang were designed and created by Sanrio, the same company that brought us Hello, Kitty. Aggretsuko is the Sanrio funny animal that represents social reality. And she's coming back to our screens just in time! And here's a glimpse behind the scenes at the creators talking about how they came up with the show.