'It's Always Sunny in Philadelphia': Charlie Day Answers Your Reddit Fan Theories [VIDEO]
Coming off a 13th season considered by legions of viewers and critics as one of its best and a return to form, things couldn't be "sunnier" for The Gang from Paddy's Pub. Renewed for Season 14, FX/FXX's long-running sitcom It's Always Sunny in Philadelphia is now tied with ABC's The Adventures of Ozzie and Harriet as longest-running live-action comedy series. Now that's a title Mac (Rob McElhenney), Dennis (Glenn Howerton), Charlie (Charlie Day), Dee (Kaitlin Olson) and Frank (Danny DeVito) would be more than happy to hang up behind the bar.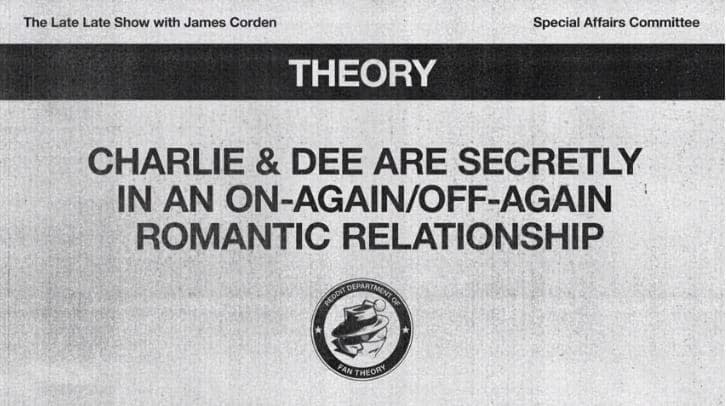 But even with all of that success… fans still have questions. Well, maybe not "questions" so much as conspiracy theories about the show and the characters. Makes sense: after 13 seasons, you start to get to know them like family – a twisted, dysfunctional, will-steal-your-wallet-type family. So Day was kind enough to take a few minutes on CBS' The Late Late Show with James Corden to address some fan theories that have floated around Reddit for awhile.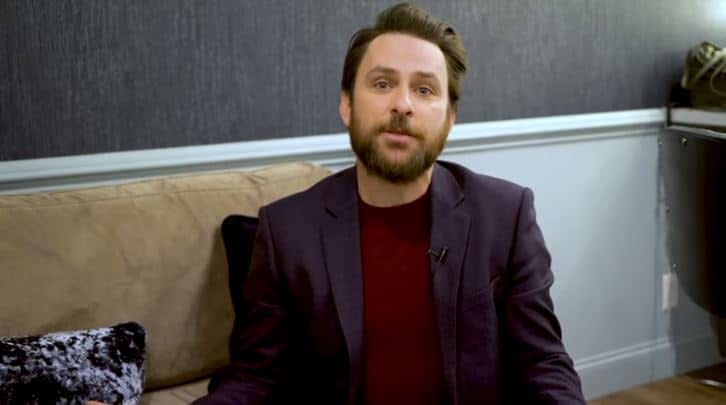 From the mystery behind the three doors in Charlie's "studio apartment" and whether he suffered brain damage at the hands of Mac and Dennis in "Hundred Dollar Baby" to questions of an on-again/off-again relationship between Charlie and Dee, Day tackles the tough topics – and starts to see where some of you are coming from:
Developed by McElhenney and Howerton, and written/executive produced by McElhenney, Howerton, and Day, It's Always Sunny in Philadelphia was FX's first comedy hit before moving over to FXX – a fact that FX CEO John Landgraf does not take lightly when he explained at the recent Television Critics Association (TCA) why the series has been so successful for so long – even after all this time: "It was the fist successful deconstruction and reconstruction of a sitcom," praising the leads as "five really hilarious degenerates who are most active schemers" as well as the main reason for the show's success – while also acknowledging the various "social issues" that the series addressed so effectively in the past.