Amazon's 'Britannia' Has Romans vs Druids; and Actually Works [Review]
There are few things more likely to induce almost automatic cringing these days as discovering historical drama series on one of the many streaming services. Films and television series alike have always taken prolific liberties with adapting stories of bygone eras. All one has to do is mention The CW's Reign to induce facial-ticks in anyone who's even glanced at Wikipedia, let alone cracked open an actual book.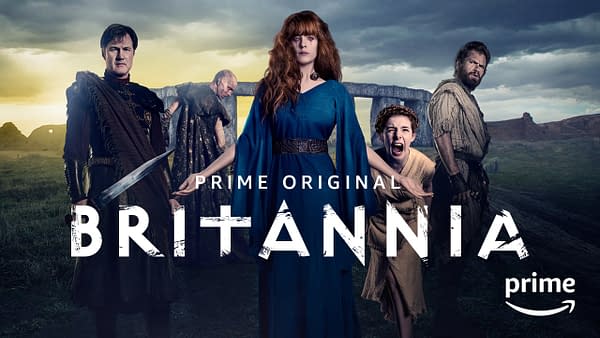 It was with trepidation that we stepped into Britannia, which focuses on the Roman invasion of Britain. No, not the one led by Julius Caesar in the first century BC, but the one in the first century AD led by Aulus Plautius, played by David Morrissey (The Walking Dead).
[rwp-review-recap id="0"]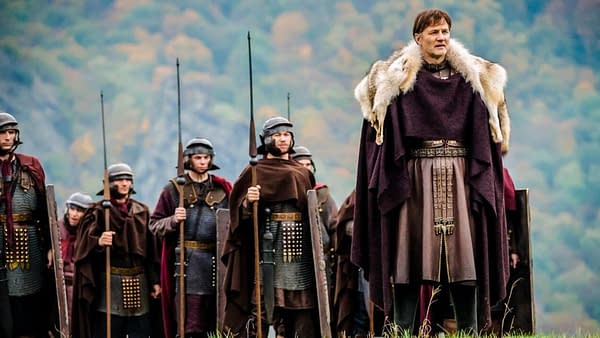 This is a series that's an interesting blend of customs and period aspects, while also blending in liberal use of modern accents, phrases, and motivations. It ranges from tongue-in-cheek humor to some of the most wicked violence and gore to be seen on any Amazon or Netflix original series.
They don't try to have special effects or elaborate set pieces every few minutes, or even every episode. It's an exercise in character building and near Game of Thrones levels of Machiavellian intrigue, and when the fur starts to fly, it's highly impactful.
The cast is wonderful from David Morrissey as Plautius, to Zoë Wanamaker as the Queen of the Regni, and to Nikolaj Lie Kaas as an outcast hermit who has some particular abilities that are crafted delightfully into the narrative. The standout performer over the first 9 episode season is Mackenzie Crook (who is largely known as Ragetti, the skinny pirate with the fake eye from the Pirates of the Caribbean films) who here plays Veran, the leader of the Druids. There's a particular scene where he has captured one of the Romans and compels him to call on his native Numidian god to forsake him, and once the Roman does so, Veran leans in delightfully oozing menace and tells him, "at last, we're alone." It's the kind of moment that'll never have you think of an actor as a comedic foil again.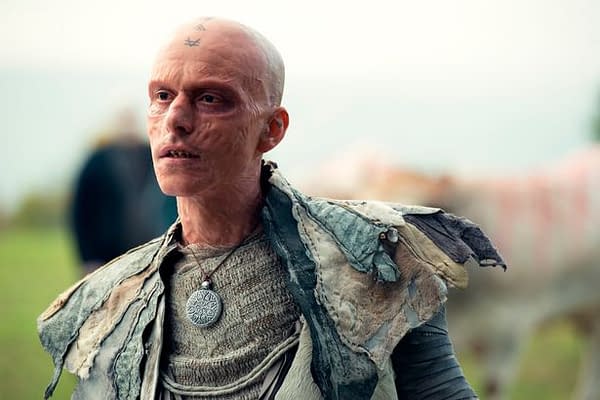 Writer/creator Jez Butterworth (who also was co-writer on the too-underrated Edge of Tomorrow/Live Die Repeat), creates a world that blends the ancient with a tenor that should make it accessible to a wider audience (those who haven't read the histories). Is it HISTORY's Vikings? No, but then it's not horribly far off the mark.
It's the first outing between Sky Atlantic and Amazon Prime Video as a partnership in producing, and it's already been announced to be picked up for a second season. If there's anything that's off-putting about the series, it's the theme song–"Hurdy Gurdy Man" by Donovan–so shockingly non-sequitur in it's modern tone. Best to use that "skip intro" button and get right into the action.
[rwp-review-ratings id="0"]
[rwp-review-form id="0"]
Season 1 of Britannia is currently available for streaming via Amazon Prime, and season 2 is currently in production.