Andre Ingram has dreamed of playing in the NBA for years, spending 10 years in the NBA's G League developmental system. He was almost ready to give up playing without ever seeing an NBA court. This morning he probably can't believe what has happened to him. Devastated by injury to stars like Lonzo Ball, Kyle Kuzma, and Brandon Ingram, the Los Angeles Lakers signed the guard to a two-day contract to finish out the season with the team.
They're probably glad they did.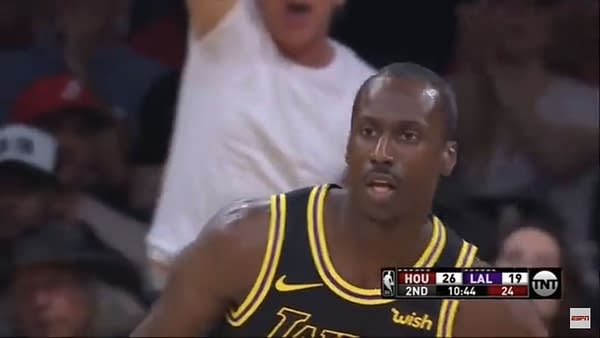 Playing 29 minutes off the bench, Ingram scored 19 points on 6/8 shooting (including 4/5 from the three for the all-time G League three-point shooter), three rebounds, an assist, and three blocks. While the Lakers lost the game to the Houston Rockets, those are great numbers by any standards. Asked about the experience after the game, Ingram was all smiles:
"It was excellent," Ingram said with a broad grin. "Once we went out as a team for warmups, I just felt some electricity out there. It was amazing. The crowd, the lights, it was just once in a lifetime. It was awesome."
Ingram played in 384 G League games before last night, for three teams, over a 10-year career. He owns the league record for three-pointers made at 713, and is a career 46% shooter from beyond the arc. When notified of his dream finally becoming a reality by Lakers team president Magic Johnson and general manager Rob Pelinka, he was just overwhelmed:
"It was all the emotions you'd think," said Andre Ingram, who hugged everyone in the room after the announcement. "It was joy, it was, I don't know, vindication. It just felt great all the way around. It was a wonderful moment. They tricked me pretty good. Thought I was heading in for an exit interview and I'll be around for a couple more days. I'm excited man. Just excited to get out there and have a good time, so I'm looking forward to it."
While he would have probably never had this shot without the Lakers injuries and their season over weeks ago, good on him at seizing his opportunity and making the most of it. These are the kinds of stories you watch sports for. Congrats man, you earned it.
Enjoyed this article? Share it!