As a field of Democratic hopefuls vies for top spots in the presidential primaries, one question on everyone's mind is: who can defeat Donald Trump in the general election? And while quite a few candidates have made cases for that based on contrasts with Trump in terms of policy, intelligence, and simple human decency, one candidate is showing that he truly has what it takes to take on Trump and beat him on his own turf. And by his own turf, of course we mean in the wrestling ring.
Donald Trump is the wrestlingest president the United States has had since accomplished grappler Abraham Lincoln, and not just because his ramblings are as deranged and incoherent as an Ultimate Warrior promo. Trump actually has a long association with pro wrestling, with his Trump Plaza playing host to WrestleMania's 4 and 5. Trump has been involved in a high profile WrestleMania 23 main event when his champion, Bobby Lashley (a man who has continued to fight for the glory of the USA by cuckolding Bulgarian-born wrestler and former Vladimir Putin associate Rusev on Monday Night Raw this week), fought Vince McMahon's champion Umaga in the Battle of the Billionaires.
Trump is a member of the WWE Hall of Fame, and the McMahon family donated heavily to his 2016 campaign. They donated so much that Trump made Linda McMahon a member of his cabinet as head of the Small Business Administration, though McMahon resigned earlier this year in order to head up a Super Pac for Trump's 2020 reelection campaign.
So it's clear that anyone who wants to step up to the president in 2020 will need some serious wrestling credentials of their own, and it looks like businessman Andrew Yang is the man who's going to do it. Yang to Twitter today to tweet support for AEW, the upstart wrestling promotion which will debut its national weekly television show, AEW Dynamite, on TNT tonight. Yang wrote:
Congrats to @IAmJericho @CodyRhodes and all of @AEWrestling for launching a new era #ImWithAEW @AEWonTNT creative freedom and the talent owning a piece of the action are very good things. 👍

— Andrew Yang🧢🇺🇸 (@AndrewYang) October 2, 2019
Aligning himself with AEW puts Yang in an effective position as the anti-establishment wrestling candidate, as AEW's rocketing success springs from presenting themselves as a hipper and more fan-oriented alternative to WWE. Of course, Yang is going to need more than tweet about wrestling if he wants to convince the wrestling base to vote for him over Trump, but we're sure AEW would be willing to let him wrestle a match or two if they let Alex Jebailey wrestle one. Failing that, Yang could push over his podium at the next Democratic debate and bodyslam Joe Biden if he wants to prove he's got the ruthless aggression and testicular fortitude required to win the presidency.
Whatever happens, the presidential race just got a lot more interesting. So whatcha gonna do, Donald Trump, when Yangmania and the Yang Gang run wild on you?!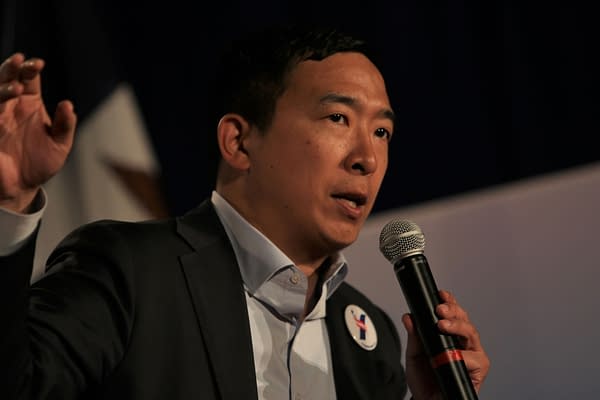 Enjoyed this article? Share it!