Arrow Season 6: Box Set Details, Bonus Features and Release Date
With Arrow season 6 having just wrapped up, it's time to start talking about the home release of the season… and Warner Bros Home Entertainment has already sent out the press release for Arrow: The Complete Sixth Season set that is due out on Blu-ray and DVD August 14th. Here is what they have to say along with a list of episodes and bonus features.
Following the devastating explosion on Lian Yu, Oliver Queen (Stephen Amell) returns home to confront a challenge unlike any he's ever faced: fatherhood. Oliver is determined to embrace this new role while continuing to serve and protect Star City as both Mayor and The Green Arrow. But enemies past and present, including Black Siren (Katie Cassidy), Vigilante (Johann Urb), Ricardo Diaz (Kirk Acevedo), Cayden James (Michael Emerson) and others, threaten him on all fronts. And bonds within the ranks of Team Arrow—veteran John Diggle (David Ramsey); tech genius Felicity Smoak (Emily Bett Rickards); former police captain Quentin Lance (Paul Blackthorne) and brilliant inventor Curtis Holt (Echo Kellum), plus newest team members Rene Ramirez/Wild Dog (Rick Gonzalez) and metahuman Dinah Drake (Juliana Harkavy)—have become dangerously decayed. The future of Star City is at stake in all 23 of Season Six's ferociously fast-paced, can't-miss episodes.

Arrow stars Stephen Amell (Teenage Mutant Ninja Turtles: Out of the Shadows), David Ramsey (Dexter), Willa Holland (The O.C.), Emily Bett Rickards (Brooklyn), Echo Kellum (Sean Saves The World), Rick Gonzalez (Reaper) and Juliana Harkavy (Dolphin Tale), with Katie Cassidy (A Nightmare on Elm Street) and Paul Blackthorne (The River, The Dresden Files) . Based on the characters from DC, Arrow is produced by Bonanza Productions Inc. in association with Berlanti Productions and Warner Bros. Television, with executive producers Greg Berlanti (The Flash, Supergirl, Riverdale, DC's Legends of Tomorrow), Marc Guggenheim (DC's Legends of Tomorrow), Wendy Mericle (Desperate Housewives) and Sarah Schechter (The Flash, Supergirl, Blindspot, Black Lightning).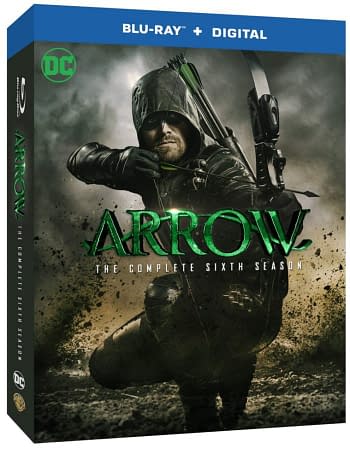 BLU-RAY & DVD FEATURES
The Best of DC TV's Comic-Con Panels San Diego 2017
The Split of a Man: Deathstroke
Inside the Crossover: Crisis on Earth-X
Revenge in Ones and Zeros: The Story of Cayden James
23 ONE-HOUR EPISODES
"Fallout"
"Tribute"
"Next of Kin"
"Reversal"
"Deathstroke Returns"
"Promises Kept"
"Thanksgiving"
"Crisis on Earth-X, Part 2"
"Irreconcilable Differences"
"Divided"
"We Fall"
"All for Nothing"
"The Devil's Greatest Trick"
"Collision Course"
"Doppelgänger"
"The Thanatos Guild"
"Brothers in Arms"
"Fundamentals"
"The Dragon"
"Shifting Allegiances"
"Docket No. 11-19-41-73"
"The Ties That Bind"
"Life Sentence"