Arrow Season 6: Will the Dragon Go After Oliver's Family?
Now that we know more about Ricardo 'The Dragon' Diaz (Kirk Acevedo), it's time for Arrow to kick into high gear over the final four episodes and giving us a big season 6 finale that is promised to be a game changer. We have synopsis for the next three episodes that will give some clues to where things are going including the recently released synopsis for the penultimate episode, 'The Ties that Bind'. Spoilers below.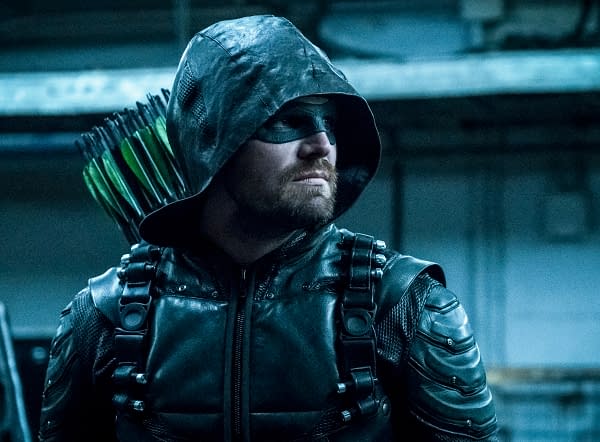 The next episode is called 'Shifting Allegiances', and the description talks about Oliver (Stephen Amell) going to an old friend for help against Diaz — but at this point how many old friends does he have left? The trailer shows him being captured and not in his costume. Dias offers to fight him for Star City. My guess is he goes to Anatoly (David Nykl) for help, because there really isn't anyone left.
After that comes the oddly titled 'Docket No 11-19-41-73', which is said to have the return of a familiar face, we know that Colin Donnell will be guesting in the episode. He played Tommy Merlyn in the past and may be playing him again, but we don't know for sure yet. The episode synopsis talks about the pressure mounting on Oliver and his fear of losing everything. The number in the title refers to More Fun Comics #73 published November 1941, the first appearance of Green Arrow. But the title may also refer to the court case against Oliver for being the Green Arrow.
And now we have the new synopsis for the episode called 'The Ties that Bind':
DIAZ AIMS FOR TEAM ARROW AND THEIR FAMILIES — Diaz (guest star Kirk Acevedo) targets Team Arrow and their loved ones. Oliver (Stephen Amell) struggles with Felicity (Emily Bett Rickards) putting herself in danger when she gets the chance to stop Diaz for good. Tara Miele directed the episode written by Ben Sokolowski & Oscar Balderrama (#622). Original airdate 5/10/2018.
Interesting in that it says he targets Team Arrow and not just Oliver — meaning the team may have a reason to get back together for the purpose of saving those they love. This leads into the finale that is promised to be a game changer by both Amell and outgoing co-showrunner Marc Guggenheim.
And for those wondering, the show did keep its tradition of naming the penultimate episode of the season after a Bruce Springsteen song: