'Arrow' Season 7, Episode 18 "Lost Canary": Can Felicity Stop Black Siren While Saving Laurel? [PREVIEW]
Laurel-2 breaks bad when Arrow returns to the CW this Monday, April 15, for the final five episodes of the season. Laurel-2's crime wave sees the introduction of new villain Shadow Thief, the return of Sara Lance (Caity Lotz), and puts Felicity and Dinah head-to-head in a battle for Laurel-2's soul.
Here's a look at this week's episode of CW's Arrow, "Lost Canary":
Arrow' s07e18 "Lost Canary": BIRDS OF PREY; CAITY LOTZ GUEST STARS — After being accused of murder and having her criminal past exposed, Laurel (Katie Cassidy Rodgers) goes full Black Siren and teams up with an old criminal acquaintance, Shadow Thief (guest star Carmel Amit), to go on a crime spree around Star City.

While Dinah (Juliana Harkavy) aims to bring Laurel in, Felicity (Emily Bett Rickards) refuses to give up on her friend and tries everything to get through to her, even summoning Sara Lance (guest star Caity Lotz) for help. However, Laurel rebuffs all her efforts, forcing the former friends to face off against each other. Kristin Windell directed the episode written by Jill Blankenship & Elisa Delson.
With so few episodes left this season, it's interesting that Arrow has chosen to go down a storytelling path that appears – at least on the surface – to have little to do with Emiko and the 9th Circle as the season finale's apparent "big bad". How will the ramifications of Felicity butting heads with Dinah in the present play out in the 2040 storyline? Tune in Monday when Arrow returns to the CW at its new time of 9 p.m. ET/ 8 p.m. CT, following DC's Legends of Tomorrow!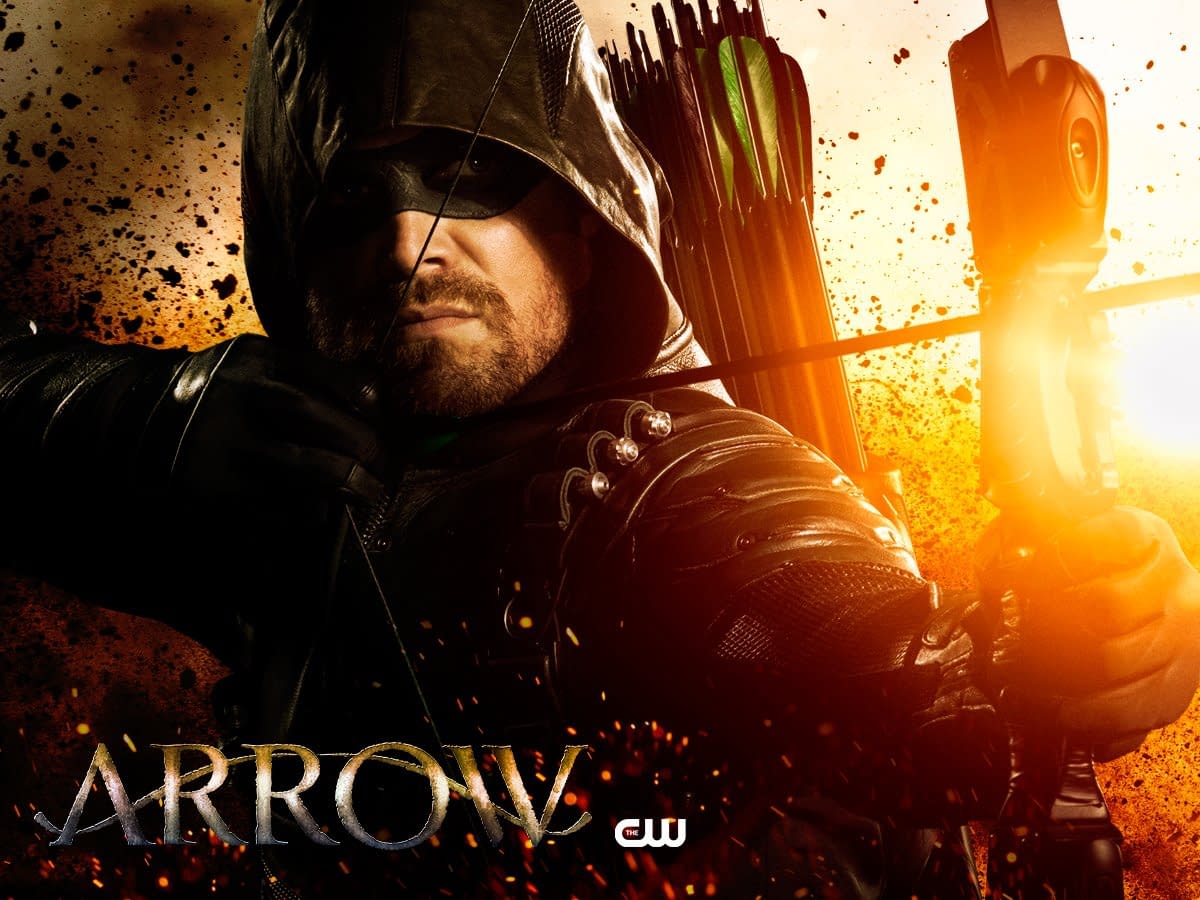 CW's Arrow stars Stephen Amell as Oliver Queen/Green Arrow, David Ramsey as John Diggle/Spartan, Emily Bett Rickards as Felicity Smoak, Echo Kellum as Curtis Holt/Mr. Terrific, Katie Cassidy as Laurel/Black Siren, Rick Gonzalez as Rene Ramirez/Wild Dog, Juliana Harkavy as Dinah Drake/Black Canary, Colton Haynes as Roy Harper, and Kirk Acevedo as Ricardo Diaz. Greg Berlanti, Marc Guggenheim, Beth Schwartz, and Sarah Schechter serve as executive producers.