'Arrow' Season 7, Episode 18 "Lost Canary" Sings Unbelievable Song [SPOILER REVIEW]
Welcome back to Bleeding Cool's continuing look at the seventh season of the CW's Arrow. The series returned at its new time – following DC's Legends of Tomorrow – to wrap up its final run of episodes this season. Rather than ramp up the conflict between Oliver's team and the 9th Circle, though, this week's episode put the series' ladies front-and-center to tell a story that appears to be only tangentially connected to the larger conflict.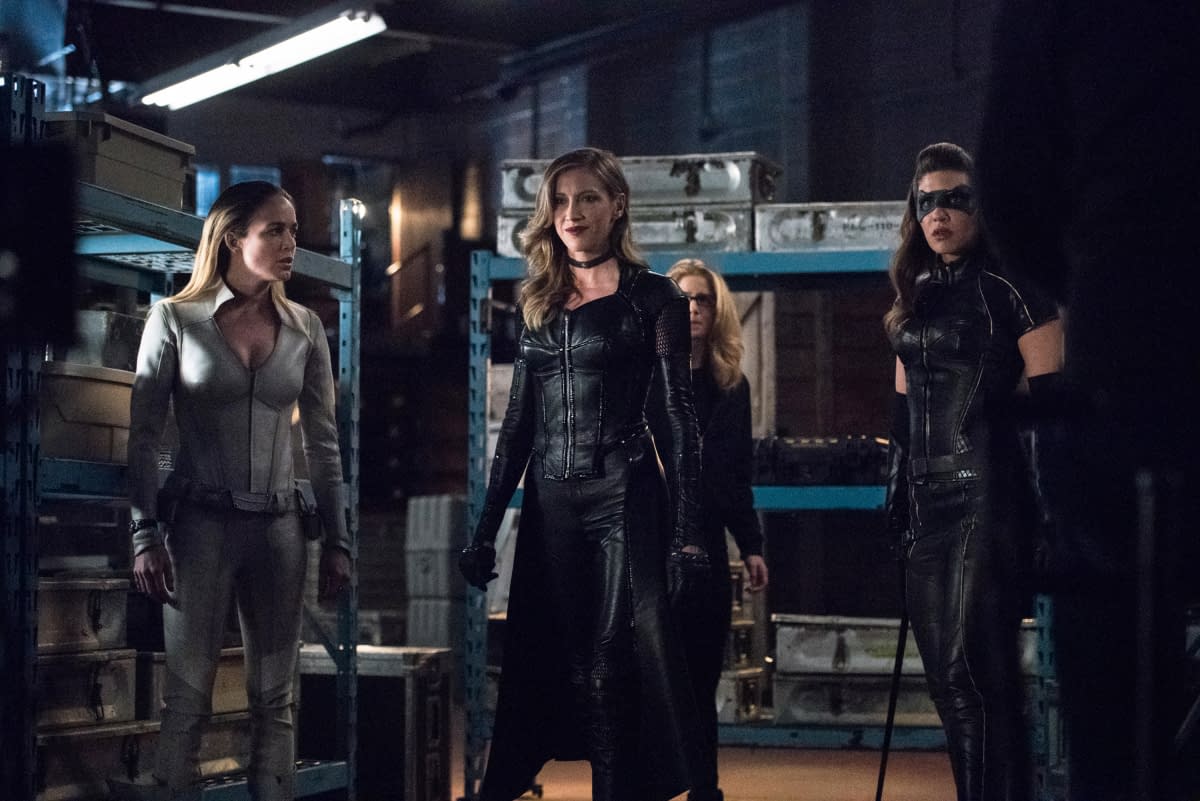 Fired from her job as District Attorney and charged with murder, Laurel-2 breaks bad, becoming the Black Siren again. She partners up with Shadow Thief and uses the access she had as D.A. to target victims to steal from – based on Star City court case files. Not a bad plan, if you're looking to make a quick buck so you can skip town… though it doesn't appear that Laurel-2 has the second part of that plan in mind.
Arrow' s07e18 "Lost Canary": BIRDS OF PREY; CAITY LOTZ GUEST STARS — After being accused of murder and having her criminal past exposed, Laurel (Katie Cassidy Rodgers) goes full Black Siren and teams up with an old criminal acquaintance, Shadow Thief (guest star Carmel Amit), to go on a crime spree around Star City.

While Dinah (Juliana Harkavy) aims to bring Laurel in, Felicity (Emily Bett Rickards) refuses to give up on her friend and tries everything to get through to her, even summoning Sara Lance (guest star Caity Lotz) for help. However, Laurel rebuffs all her efforts, forcing the former friends to face off against each other. Kristin Windell directed the episode written by Jill Blankenship & Elisa Delson.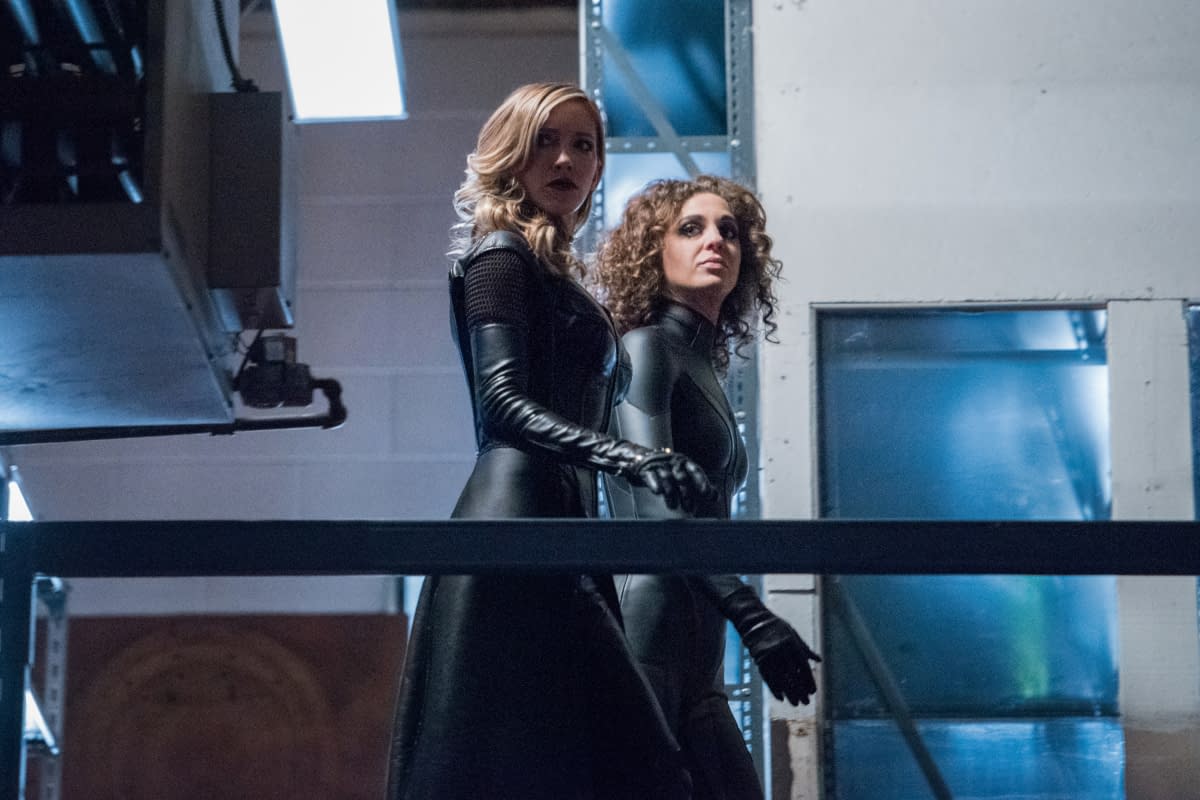 Felicity still thinks that Laurel-2 can be saved if they'd all just be nicer to her.
No, seriously, that's Felicity's plan.
Felicity still feels indebted to Laurel-2 for helping Felicity through her own darkness. On the other hand, Dinah still feels like the debt that she owes is to bring Laurel-2 to justice for killing Dinah's former partner and lover, Vince. Dinah believes that Laurel-2 is finally showing her true colors.
Needless to say, the two butt heads throughout the episode. To break the tie, Felicity calls in Sara Lance to help out – without first consulting Dinah. Not scoring many points with your partner there, Felicity. After things go badly for Felicity and Dinah, Sara is convinced that Laurel-2 must have some good in her somewhere because if she hadn't, then Felicity and Dinah would already be dead.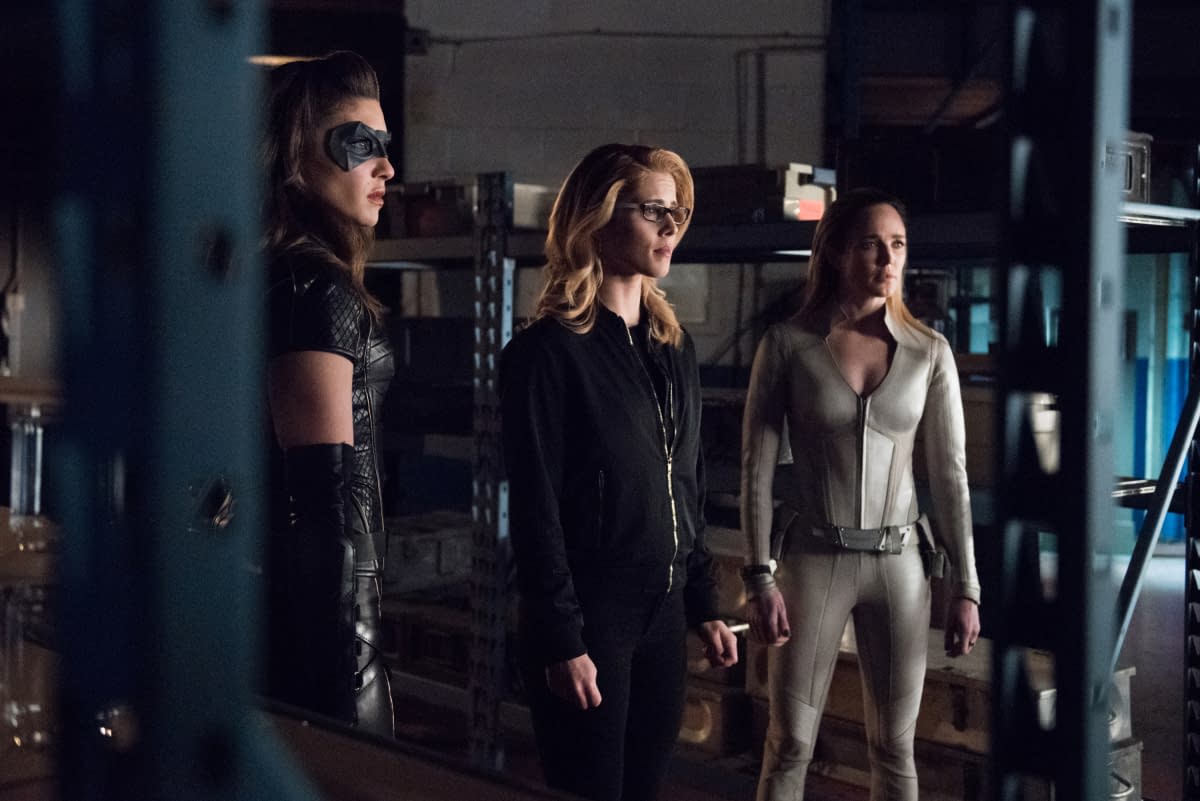 The ladies confront Laurel-2, who (surprise?) sides with them against Shadow Thief. In the end, everyone hugs and apologizes and says things to one another that probably looked more profound on paper than they sound when spoken out loud. Dinah forgives Laurel-2, who is headed back to Earth-2 with the Laurel's Black Canary costume to make up for her past.
Friends? That is where my suspension of disbelief broke.
I'm all for people with crazy powers, one of whom has returned from the dead, throwing down in Star City. The action was top notch this episode. I love the idea that these characters can live on without Oliver hogging the spotlight. It makes me hopeful for what might come after Arrow ends next fall. It served as a reminder that this whole thing started with Oliver, Sara, and Laurel and will be in good hands if Captain Lance is piloting the Arrow-verse going forward.
But for Dinah to flip her belief about Laurel-2 over 6 minutes of screen time when Laurel-2 and Dinah were finally on the same side? The episode's conclusion felt too easy, too cheesy, and frankly? I thought it stunk.
Laurel-2 still killed Vince. Nothing about that fact or Laurel-2's attitude about having done so changed this episode. So Laurel-2 didn't kill the thug she was framed for having killed. She and Shadow Thief were still killing and stealing from other people this episode. There are a number of different ways that this could have ended that would have both felt in character and would have made the future timeline reveal more impactful.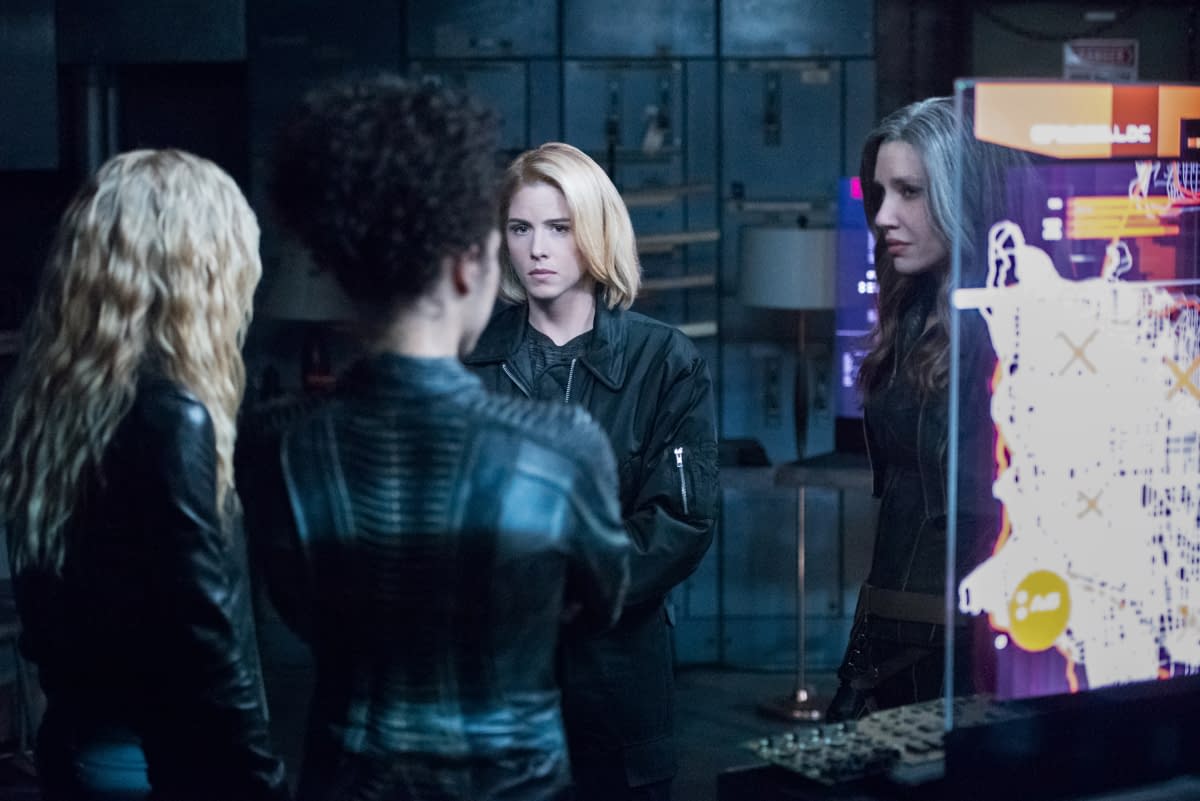 In the future, Galaxy One troops have their fancy new anti-vigilante helmets powered by the Archer system and are using them to hunt down the network of canaries that Dinah founded sometime between the present day and the future timeline. Mia wants to take the fight to Galaxy One instead of hiding while more canaries are killed. Dinah says they have to wait for a better time to strike. Mia sulks away and hunts down a Galaxy One trooper, but is quickly beaten down. She's saved by Laurel-2 leading a group of surviving canaries. Laurel-2 was sent by Dinah to find Mia and bring her back into the fold, reminding her that they are stronger together.
Nice way to bring Laurel-2 into the future storyline. There are some who feel that appearance couldn't have happened unless Dinah and Laurel-2 made up like they did in the present. I still believe that Dinah simply agreeing to maybe keep an open mind about Laurel-2, just giving Laurel-2 a real chance to change Dinah's mind – something Dinah's never given her – would have been more effective. It would have kept in character for Dinah, and would have created a sense of "Whoa, I wonder what Laurel-2 did for Dinah to trust her?" rather than "Oh, yeah, I guess that makes sense after Dinah gave Laurel-2 a full mental and emotional pardon 2 minutes ago…".
https://www.youtube.com/watch?v=KT-9Ekf_vqI
Meanwhile…
Oliver and Diggle discovered tht the Longbow Hunter named Bear was the one hired by Dante to kill Emiko's mother – so at least the fellas weren't completely ineffective this episode. Oliver thinks he can use that information to drive a wedge between Emiko and the 9th Circle – except Oliver doesn't know that Emiko is the leader of the 9th Circle.
Poor Oliver…
https://youtu.be/mgtQyfDN4O0
Arrow s07e19 "Spartan": ERNIE HUDSON ("GHOSTBUSTERS") GUEST STARS — After the Ninth Circle delivers a major setback for Team Arrow, Diggle (David Ramsey) reluctantly reaches out to a Four-Star General of the Defense Intelligence Agency (guest star Ernie Hudson) for help, despite unresolved tension from their past. Meanwhile, Oliver (Stephen Amell) discovers a piece of information that he believes will turn Emiko (Sea Shimooka) against the Ninth Circle. Alena (guest star Kacey Rohl) returns with an interesting proposal for Felicity (Emily Bett Rickards). Avi Youabian directed the episode written by Benjamin Raab & Deric A. Hughes.
CW's Arrow stars Stephen Amell as Oliver Queen/Green Arrow, David Ramsey as John Diggle/Spartan, Emily Bett Rickards as Felicity Smoak, Echo Kellum as Curtis Holt/Mr. Terrific, Katie Cassidy as Laurel/Black Siren, Rick Gonzalez as Rene Ramirez/Wild Dog, Juliana Harkavy as Dinah Drake/Black Canary, Colton Haynes as Roy Harper, and Kirk Acevedo as Ricardo Diaz. Greg Berlanti, Marc Guggenheim, Beth Schwartz, and Sarah Schechter serve as executive producers.
Arrow airs Mondays at 9 p.m. ET/ 8 p.m. CT on the CW.