Being the Elite #201: A Message in the Sky Teases FTR in AEW
Despite speculation, it could end after last week's 200th episode, Being the Elite #200 returned Monday with a brand new episode, BTE #201. It looks like this show is going to stick around a little longer. And this episode ended with a momentous reveal. Read the full recap below.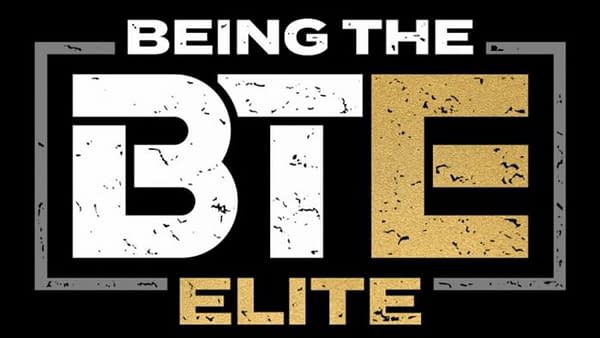 Being the Elite Continues in Being the Elite #201
The show opened with Nick and Matt Jackson sitting in the backyard. Matt is surprised to find Brandon Cutler filming them. He thought they ended the show, having perfectly wrapped everything up in BTE #200. It looks like they're going to continue, though. Nick Jackson says he went to the hospital after his match against his brother last week, and the doctors told him he's only 15% well. Matt Jackson said he also went to the hospital and will be out of action for two years. They see something up in the sky. The show has a new intro.
After the intro, Ring of Honor's Dr. Black received a call from Luchasaurus, still looking for his tail. Luchasaurus explained his situation and asked for help. Black said it was probably due to a chakra block and offered to mix some potions if Luchasaurus calls him back. Brandom Cutler launched a new social media sensation, the #KickOutChallenge, with the intention of no longer losing every match on AEW. He introduced "local jobbers" Steven Andres and Simon Lotto. They took turns, attempting to pin Cutler as he repeatedly kicked out at two. In the end, as Cutler was talking to the camera, the pair tricked him into a pin. A plug for the Young Bucks' book, Killing the Business, was mysteriously focused on Colt Cabana. After that, the Bucks went around the BTE compound, superkicking everyone.
Luchasaurus Trips Balls
Next, Luchasaurus called Black back, and they started on a tail-recovery ritual. Black, in full witch doctor gear, mixed up a potion in a test tube. Luchasaurus will go on a vision quest in the dream world. He has to drink three potions in the correct order. The potions were delivered to Luchasaurus's house by Uber Gimmicks. He drank them all quickly and drifted off into the metaphysical realm, where he heard his mother's voice, telling him to find his tail and talking about her "big ol' tiddies." It only got worse from there with hallucinations referencing Luchasaurus's past career (with some cool old clips), and your best bet is to go watch it yourself. The long story short is Luchasaurus had to wrestle a wooden snake who kept telling him to s*** his pants. Super Panda showed up, Luchasaurus materialized a sword and cut the head off the snake. He woke up and realized the last time he s*** his pants was at Panda Express, and that must be where his tail is. He ran off. Private Party continues their drama without any real development. Finally, back to the beginning of the episode, the final scene shows us what the Jacksons saw in the sky: the initials FTR. It looks like The Revival are headed to AEW.
The Bottom Line' Cause Chad Said So
I can't say I fully understand this show, but I'm starting to like it. The Luchasaurus segment had a lot of emotional resonance for me. Don't ask why. I'm super excited for The Revival, or The Revolt, or FTR, or whatever they're calling themselves to show up in AEW though. Watch the show for yourself below.