Bianca Belair, Shayna Baszler Finally Return to Monday Night Raw
After being off TV for months for seemingly no reason, Bianca Belair made her return to Monday Night Raw tonight in a tag team match with Ruby Riott against The Iiconics. Belair debuted back in April after being called up from NXT and seemed to be headed toward a feud with Zelina Vega, but that never panned out. But tonight, Belair arrived as a surprise tag team partner for Riott.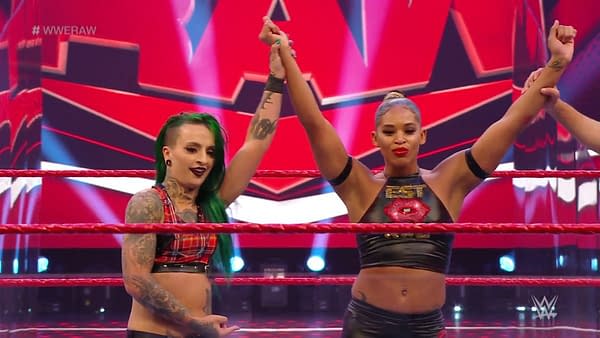 From our Monday Night Raw report (which will be out tomorrow), here's what happened:
Backstage, Sarah Schrieber talks to Ruby Riott. The Iiconics arrive before Ruby can say anything. They mock Ruby for abandoning her only friend, Liv Morgan, and then losing to Billy and Peyton. Ruby threatens to punch them in the face, but Peyton points out that Ruby doesn't have a partner for their match tonight. Ruby disagrees. She brings out Bianca Belair, who runs through her catchphrases. Bianca doesn't like how the Iiconics act so she's gonna help Ruby kick their ass. The Iiconics find this very rude. Raw goes to commercials.

The Iiconics are already in the ring when Raw comes back. Ruby and Bianca get to do their entrances. This is Bianca's second Raw debut, after all. She originally showed up back in April, but then the writers forgot about her so she disappeared for three months. But now she's back, which means this match is all about Ruby Riott playing the face in peril while Bianca waits for the hot tag.

It happens. Bianca kicks Billie Kay's ass and even knocks Peyton Royce to the floor while doing her handspring elbow on Kay. Ruby takes out Peyton, Bianca hits the Kiss of Death on Kay, and Bianca Belair and Ruby Riott get the win in a two-minute match on the week celebrating the beginning of the Women's Evolution (some people say Stephanie McMahon started it).
Bianca Belair wasn't the only one to return to Raw tonight. Shayna Baszler also returned for the first time since May. Baszler was last seen in a feud with Natalya, which is enough to make anyone want to take a break, but she made her return during a 24/7 title match on Raw tonight.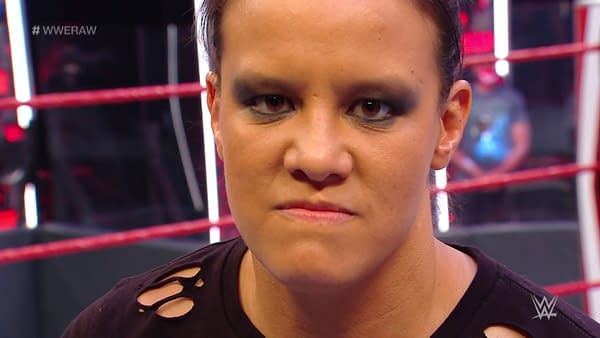 Here's how it went down:
After the break, Truth comes to the ring alone, but Tozawa brings three ninjas with him. Shayna Baszler's music plays and Baszler comes to the ring. Tozawa sends his ninjas after her, but Shayna makes short work of them. Tozawa peaces out. Truth trash talks Tozawa and gets Baszler's attention. She stares him down and he decides to leave.

Shayna says she's been so patient. She's allowed everyone to have their fun. But she's done with "all these weak-minded women's champions" who are deluding themselves that they're in control because Shayna's been away. But now she's back to shatter that illusion with a hard dose of reality. And she's the reality. Short, and to the point.
Come back tomorrow morning for Bleeding Cool's full Monday Night Raw report.