Big Brother Season 23 Episode 10 Recap: Mixing Alliances & HOH Power
The tenth episode of CBS' Big Brother season 23 gave a wake-up call to one houseguest and the title of Head of Household to another. Spoilers are plentiful and heading your way…so turn back now if you don't want surprises and instead read my past article regarding the colorful and dizzy veto competition this season of Big Brother. While Britini's strategy remained to lay low, similar to the last week she was on the block, Brent stayed in a limbo of delusion. His "Mafia" alliance was as fake as could be, only he didn't know that whatsoever. The joy of sending Brent home almost got Hannah and Derek X caught by the man himself as they discussed it all in the yard. The HOH room got a lot of attention…as a hiding spot from Brent's ego and inability to have a conversation through any obliviousness he has held. I felt bad for the houseguests, the amount of waiting for this eviction ceremony to be over and done with like a point on a to-do list was insane, but then again so is Big Brother.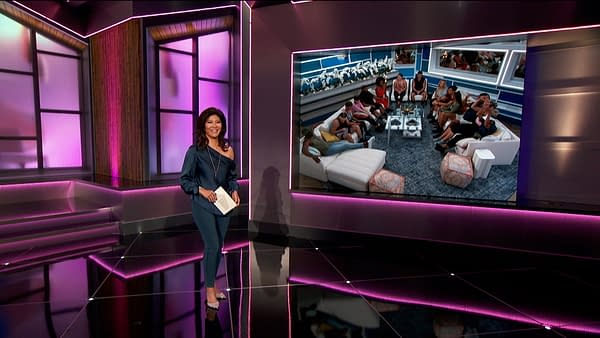 The aces realized how the kings would be the team with all four still in the group after Brent's inevitable exit. While Derek X attempted to stay with his team and the "Royal Flush" alliance, his talk with Alyssa and Christian about targeting Whitney in the future became an alarm for him. With Derek X being the only aces team member on the "Royal Flush" alliance, the discussions around him became worrisome. When it came to the team members of the kings, Xavier felt the impact of multiple alliances, such as his work with "The Cookout" when Hannah's name came up, from Sarah Beth, as a potential threat.
Putting aside those future plans and maybe alliance breaks, the players went to the living room. First, the Big Brother houseguests gathered for the live voting. Christian went first and voted to evict Brent. Next, Azah voted to evict Brent. Derek X voted to evict Brent. Kyland voted to evict Brent. Claire voted to evict Brent. Hannah voted to evict Brent. Sarah Beth voted to evict Brent. Alyssa voted to evict Brent. Derek F voted to evict Brent. Whitney voted to evict Brent. And finally, Tiffany voted to evict Brent. The overwhelming decision came for Brent, and he was voted out of the Big Brother house.
Brent's exit interview with Julie Chen made me laugh a little, in all honesty. He said he wasn't shocked, but not for real reasons. His ego seemed to still block his ability to conceive everything. Every confused meme could be used for potential reaction to this whole discussion but it couldn't compete with the reality of the situation. The goodbye messages were honestly brutal and hilarious, with the fantastic puns used to poke at Brent's flight attendant occupation…which now has me concerned and wondering how he did that before all this.
The veto competition came next, and the teams were back and grouped together to compete. The competition was called, "Pier Pressure", aiming for one team member at a time to take turns putting a surf board puzzle together. Running back and forth, the houseguests attempted to finish the puzzle, but the team that won ended up being the kings, specifically with Christian as the next HOH. The next Big Brother nomination ceremony, led by Christian, will be this Sunday at 8 PM EST on CBS.

Bleeding Cool TV on Instagram: For all of the stuff too random and bizarre to make the site, make sure to follow us on Instagram (with an official launch on June 19): Bleeding Cool TV (@bleedingcooltv).
BCTV Daily Dispatch: For a look at what's going on across the television and streaming landscape, sign up for Bleeding Cool's daily email round-up of the news you need to know here.