Black Lightning Season 1, Episode 7 Recap: Equinox – The Book of Fate
This article contains spoilers for the Black Lightning season one episode – Equinox: the Book of Fate.
.
.
.
.
.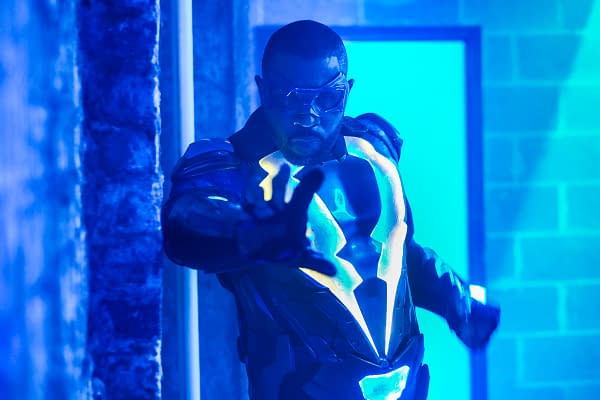 Last night was was about the fallout from the week before. Everyone is at the tailor shop after Lynn (Christine Adams) was attacked and Jefferson (Cress Williams) ended up knocking out Anissa (Nafessa Williams). They learn she has powers and she learns that her father is Black Lightning. Fun day all around. Gambi (James Remar) talks with Lady Eve (Jill Scott) about the attack and is sending 'cleaners' after the guys who attacked Lynn. He knows that Jefferson is hot after Tobias (Marvin 'Krondon' Jones III), but Lady Eve is only willing to 'give him' Joey Toledo (Eric Mendenhall).
Meanwhile, Jefferson is upset with Gambi for not telling him that Tobias was back in town and he doesn't trust his old friend anymore. He turns to Inspector Henderson (Damon Gupton) in hopes of a another lead on Toledo. Lynn tells Jefferson that Anissa had brought a box of notes from his father to her to go through, including some biological notes. Jefferson tells Anissa she needs to warn David Poe that he could be in danger, but she finds out he's already dead. Gambi dresses up in a black duster and scarf, ala The Shadow, and walks through a crowded club, into the back room where he kills a few thugs and then Toledo. Turns out Gambi is a bad-ass. He leaves a message on Toledo for Tobias. When Tobias sees it, he knows it's from Lady Eve and decides he has to do something.
Reports that the two men who attacked Lynn were now taken care of, She could go home. But she realizes that Anissa is too strong willed and will go out and try to be a hero anyway, so she asks Gambi to make Anissa a suit. Lynn then talks to Jefferson, explaining to him that the only way to protect their daughter was for him to train her to be the best hero she can be.
With Toledo dead, Black Lightning's lead to Tobias is gone, but Henderson traced Toledo's activities to a new jazz club that BL figures belongs to Tobias. He remembers the night that Tobias killed his father, then attacks. He hits the big man in the chest with a huge bolt, knocking him down. He then fights a few other thugs and blocks bullets from Syonide (Charlbi Dean Kriek) that ricochet into and kill Tori (Edwina Findley). Jefferson is shaken by this, then realizes that Tobias got away.
Meanwhile, between Green Light being too dangerous and the death of Toledo, Tobias put a hit out on Lady Eve. Two men with large, blasting weapons attack her at her mortuary. They take out her men, but she kills one, takes his weapon and then kills the other. It looks like she's going to get away when a third attacker who had been hiding in a coffin, pops up and shoots her, frying her skin and making it look like Black Lightning had done the attack. And that is exactly what Henderson thinks when he finds the crime scene, calling BL and telling him he went too far this time.
We see that Jefferson agrees to train Anissa and that he wants her to be better than him. He's really shaken by Tori's death. But she was pretty evil, so I think the audience is okay with it. And the we get the most unexpected scene of all… Lala (William Catlett) wakes up in a hotel room, back from his death at the hands of Tobias. He's confused, but Lawanda (Tracey Bonner) walks into the room, asks if he believes in resurrection, and then turns into dust that moves over and forms a tattoo of her face on Lala's chest.
The episode was interesting. Jefferson seemed to be on the edge, but Tori's death may have pulled him back. There is a lot to Gambi that we don't know, but it looks like next week we're going to find out some of it. Plus it will be interesting to see how the Shadow Council react to Lady Eve's death and it being blamed on Black Lightning. And what the heck is up with Lala. The resurrection is one thing, the tattoo on the chest is something else… might have to do some research there.
https://youtu.be/Ao23xePG70M