Black Lightning Season 1: Turns Out that Khalil Payne is Actually the Villain [Spoiler]
In the beginning of the first season of Black Lightning we met Khalil (Jordan Galloway), a student at Garfield High, a track star and he was dating Jennifer Pierce (China Anne McClain). He joined Jennifer and the others in a protest march and was shot in the spine when the march was attacked by Tobias Whale (Marvin "Krondon" Jones III) and his people. Khalil was paralyzed and pushed everyone away… except Whale decided to use him against Black Lightning. He then went away for a few episodes only to return last night as Martin Proctor (Gregg Henry) finished what Whale started. We also learned that his last name was Payne, which doesn't seem like a big deal until you realize it was a clue. Khalil Payne is a villain from the comics, more specifically a villain from the Black Lightning comics… Painkiller.
How do we know he's Painkiller? It says it in the photo description released by the CW.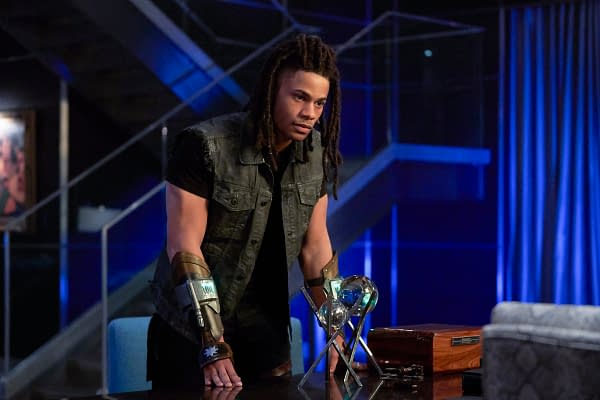 Painkiller debuted in Black Lightning Vol 2 #2 (1995) and was created by Tony Isabella and Eddie Newell. He was a high-level mob enforcer brought in by the Brothers Who Rule to stop Black Lightning who was going after them. He set up a trap, a crack house with a handful of disposable BWR teenagers where he would lure both Black Lightning and the cops in, kill Black Lightning and force the cops to open fire, killing the kids and making them look like murderers. But Jefferson's powers gave him a level of protection from Painkillers abilities. Black Lightning prevented the massacre then had a showdown with Painkiller, with the villain getting the worse of it and possible being killed.
The comic book version has the metahuman ability to to anesthetize his targets or dull their senses. He is portrayed as a large man with great strength and fighting abilities. He also has dreadlocks with knifes on the tips he uses as weapons. The live-action version had dreads and wrist firing darts that anesthetize people. Whatever the ASA did to his spine has increased his strength quite a bit, allowing him to stop Black Lightning's heart with one punch to the chest.
We'll see more of Painkiller / Khalil in the season finale on Tuesday at 9 PM on the CW.