It's Always Sunny in Atlanta: The Bleeding Cool Gang Fixes The Super Bowl
"I'm Chet Throwhard, 27-time Super Bowl winning Hall of Fame quarterback for the Cleveland Browns – and by my side riding shotgun on color is Walt "The Wild Man" Williams. Welcome to the 37th hour of the Doritos-KFC-Pepto Bismal Super Bowl LIII Pre-Game Show, brought to you by two of 2019's most highly-anticpated films: Dumbo and Pet Sematary…"
While it would be sooooooo easy to sharpen our carving knives on the NFL on this, their holiest of holy days, the folks here at Bleeding Cool aren't here to bury the Super Bowl. Nay, we're here to fix it!
Sure, we could go after a league…
● That suddenly got around to realizing–after selling a helluva lot of "NFL's Hardest Coma-Causing Hits"–type VHS tapes back in the not-that-long-ago day that two people colliding into each other constantly over a bunch of seasons might not be the healthiest thing in the world.
● That thinks Mark "GQ Butt Fumble" Sanchez is still, in 2019, a more viable QB option than Colin "You Know They're Conspiring To Keep Him Out For Kneeling" Kaepernick.
● That's staging a halftime show that feels like it might end up being one step better than Donald Trump's inauguration–minus the drums and Jon Voight.
● Whose players complain about the NFL turning the game "soft" and "into flag football" and then become talking heads on ESPN8 and rail about the NFL "not doing enough" to protect players…while bragging about how much "tougher" they were back in the day.
Nope! Those are points for another day. Today? We're the solutions to all the problems–the answers to all the questions–as we proudly present a little something we call…
It's Always Sunny in Atlanta: The Bleeding Cool Gang Fixes The Super Bowl
"The perfect Super Bowl day: late tonight, Rams coach Sean McVay, realizing his team is in one of the few cities that has the fanbase which will support this tactic, decides on a shrewd psychological move to take the Patriots out of the game. When the day starts, every Rams player and coach mentions Tom Brady and Bill Belichick's friendship and support of President Trump. And owner Robert Kraft's financial support of Trump.

Placing that in the context of Trump's attacks on the league, they declare that beating the Patriots is about beating Trump. The Patriots don't deserve that name, the Rams say. Every question the Patriots get for the rest of the day is about Trump. Every Patriots player not named "Tom Brady" starts to have gnawing doubts. The media script for the day veers wildly off course."
– Mark Seifert
"How can we make the Super Bowl better? By introducing a new kickoff tradition: the turf rolls back, all the players lace up skates, and it becomes a game of Canada's best gift to the world: Hockey! I'd like to see whichever Patriots player is the one famous for being embroiled in political controversy even attempt to survive a game where the objective of at least one player on each team is to beat the other team to a pulp. I mean, they have a whole website dedicated to the fights in the sport alone! Not to even mention the stamina, strategy, skill, and sheer determination it takes to play the game even decently.

So give the people what we really want: the Patriots up against the 2018 USA Women's Olympic Hockey team; throw in commentary by SNL's Leslie Jones and figure skating queens Tara Lipinski and Johnny Weir and you've just made the super bowl SO much more fabulous and brutal. It's got something for the whole family!

Super Hockey Bowl 2019: because the only American sports really worth watching take place on ice. Wake us up when Stanley Cup playoffs start – we'll get poutine and I'll share my sixer of Labatt."
– Erin Wilhelm & Adriel Porter
[ED Note: They did not work on their answers together. Are you listening, JJ Abrams and CBS?]
"Remember last year and how Netflix surprised us all with a secret Cloverfield movie that wasn't really Cloverfield but, ok, whatever it was a weird space movie thingie? We should be so lucky if every year Netflix and JJ Abrams surprise us with a secret movie, but to keep things fresh. What I truly hope is CBS takes a stab at corporate synergy and announces that the first three of Jordan Peele's The Twilight Zone reboot are available after the game is over on the CBS All Access App. It would sure make the April Fool's Day announced premiere data of the show a double prank."
– Andy Wilson
"I want a movie trailer that looks atmospheric AF, that in no way explains what we're looking at, and ends with the line: "The Cloverfield Redemption. Premiering on Netflix immediately following the game." I want that 4th film in the Cloverfield franchise to redeem the shared universe after the fluster-cluck that was last year's The Cloverfield Paradox."
– Joey Mills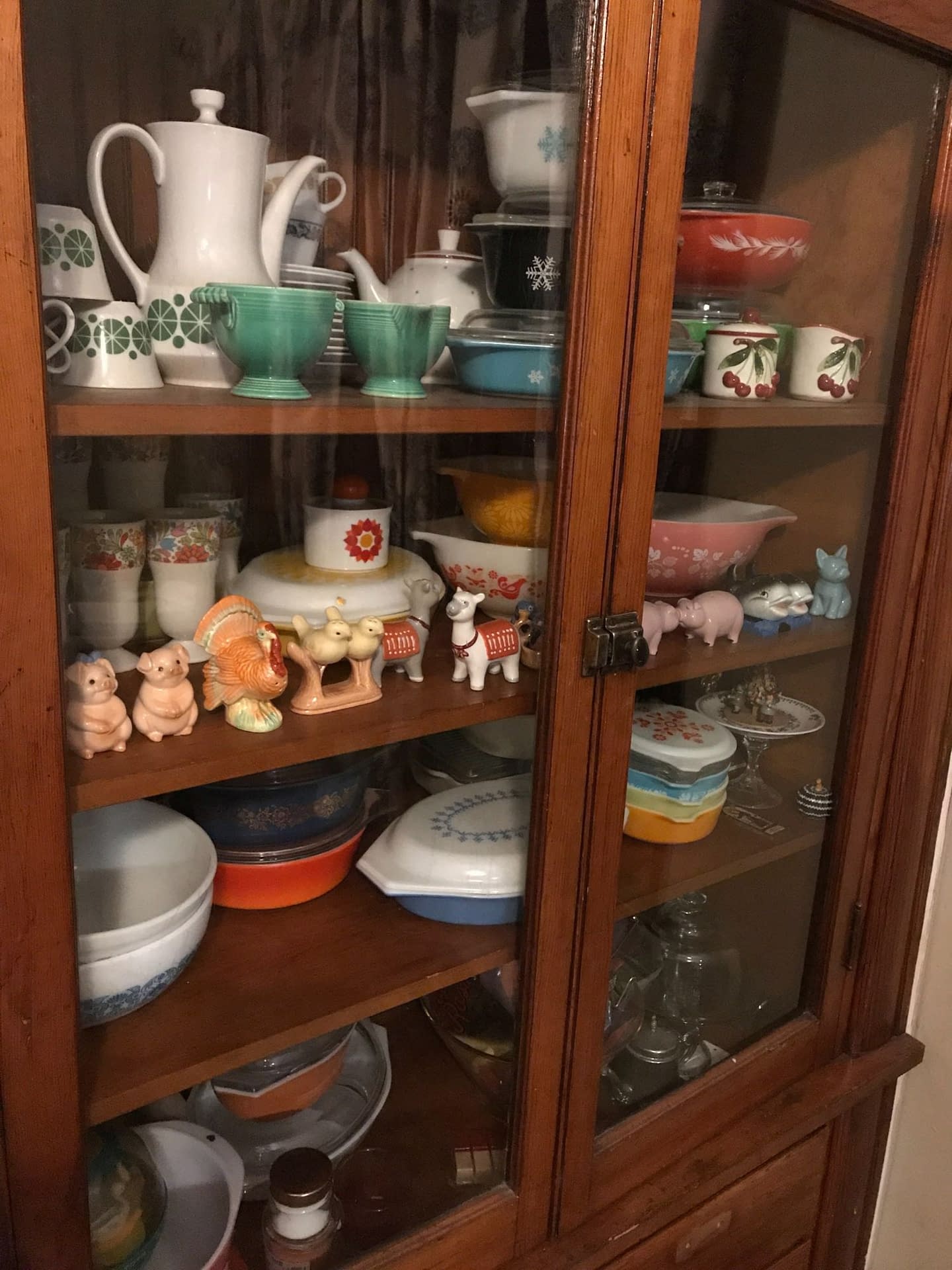 "Every year on Super Bowl Sunday, my wife and I get all of her vintage Pyrex down out of the curio cabinet and clean them up. She has an astonishing range of casseroles, serving bowls, and show-stoppers, including a black-on-cream snowflake pattern that is the envy of the neighborhood ladies.

We like to polish them all up, and take pictures of them in different parts of our hundred year old Cape-Cod bungalow. It's an amazing re-affirmation of our commitment to each other, and our shared love of such superb dining ware. We are so blessed to live in a society that sets aside a Sunday each year so that we can stop and reflect on the Golden Age of Crockery. Super Bowls, indeed!"
– Leigh Kade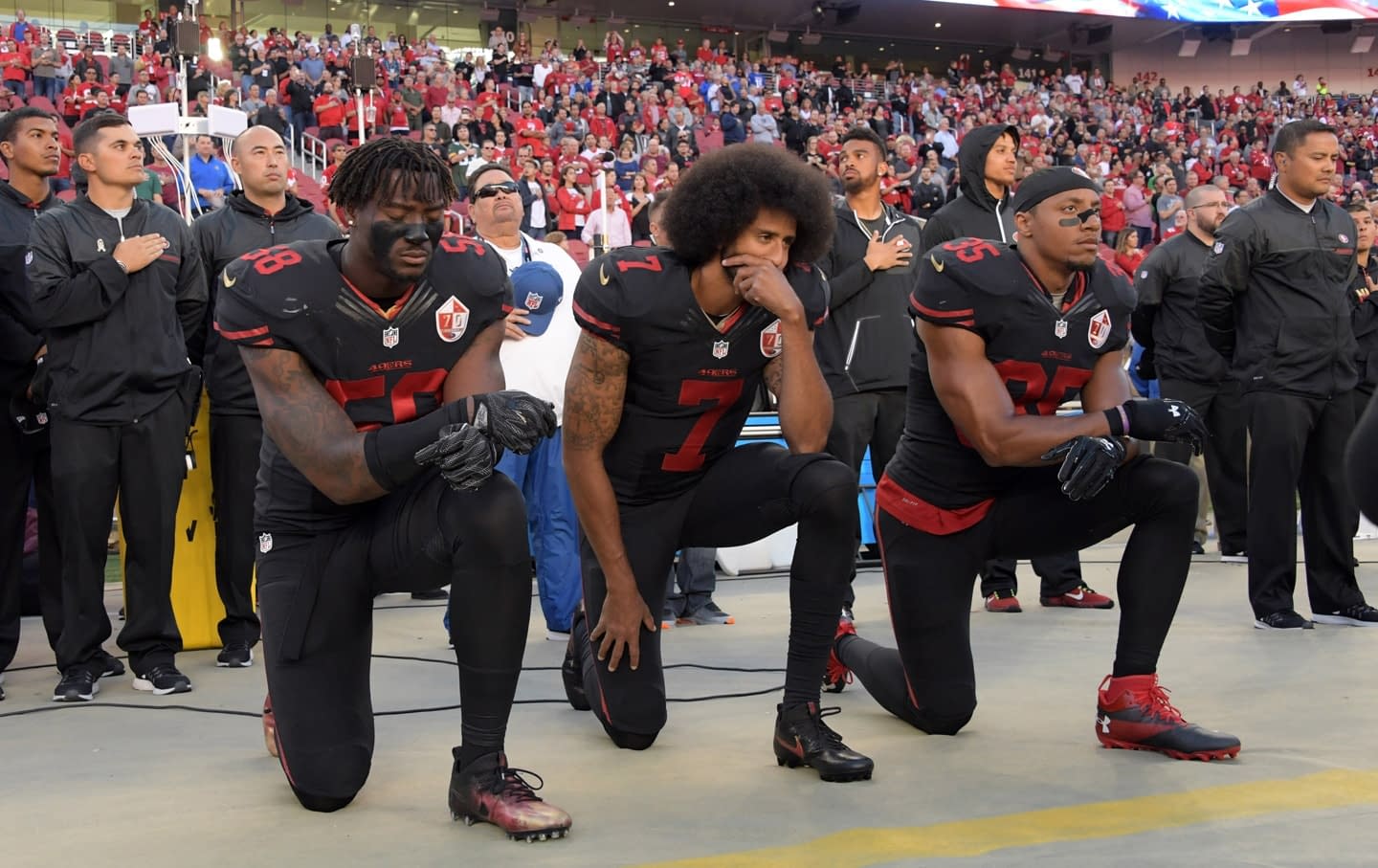 "At the start of the Super Bowl XLIII, there's a lectern for NFL Commissioner Roger Goodell. He prepares his speech announcing every single player and coach from the Los Angeles Rams and the New England Patriots, and musicians donate their game earnings to fund social programs helping the economically disadvantaged victims (including families) of police brutality. The funds will also help create better de-escalation training in law enforcement.

The National Anthem will be performed – but also list names of victims of mass gun violence scrolling on screens on each side of Mercedes-Benz Stadium.

Advertising revenue purchased on TV, radio, and online will help fund the medical care of any former NFL player – regardless of length of stay in the league – to ensure quality of life in whatever future endeavors.

To advertise a film on the Super Bowl, studios must agree to donate at least half the box office revenue to fund a relief program for those in debt from mounted medical expenses.

The halftime show will feature musicians in a telethon format to provide global aid to fight disease and starvation.

Commercials won't just sell their product, they'll sell a message of compassion and love to one another to remind viewers, there are many things to life than just materialism."
– Tom Chang
"My wish for the Super Bowl? As a lifelong Cleveland Browns fan, it is that we would actually play in the game.

But besides that, I would want the commercials to go back to debuting during the game, because having them pop up online for a week beforehand is stupid.

I would have the WWE run Halftime Heat every year.

I would abolish the term "sportsball", so that the person who doesn't care about the game at everyone's Super Bowl party wouldn't get the smug satisfaction people who use that term seem to get out of it.

My friend Dom's pepperoni rolls would be the official snack of "Super Sunday".

But most of all- it should be a national holiday. Curse those that would make people work on Super Sunday. You may disagree but if you do, you are probably one of the people who says sportsball anyway – so your opinion doesn't count."
– Jeremy Konrad
"Okay I have a couple of goofy scenarios for the SB…

An All Star NFL super-speed edition of FOX's The Masked Singer with bedazzled costumes, a group number and over the top reveal.

A Backstreet Boys halftime show because dudes secretly love this boy band. Have you seen the number of people joining in on the "Backstreet's Back" bandwagon? Fallon's "Bockstreet Boys," FGL collaborations… even the 49ers!

I think all of this merits a Super Bowl spotlight…"
https://youtu.be/FDDZ3R3o8hM
https://youtu.be/Nmqb6tgOm-Y
– Tiffany Tchobanian So with the earth's inevitable future clearly in mind, Erin and Tom also chimed in on how they would explain the entire concept of a "Super Bowl" to our eventual alien overlords:
"On earth, technology has reached a point where people no longer regularly battle in tests of strength. Instead, physically gifted individuals are trained from a young age to play a hyper physical game where teams attempt to get the skin covered object to the other team's protected space. These players are paid more than entire schools' worth of teacher to play a dozen games ever year.

Individuals who aren't gifted enough to play themselves support their chosen team as a proxy for their own strength, often with near-religious zeal. The two teams that have been the most victorious that year have a final match, which is beamed into homes around the world. Businesses pay millions of dollars for mere seconds of advertising during the games. The advertising itself is a sort of contest, with many people watching the game only to see the advertisements. The team that wins gets money a prestige until the next year, when it all happens again."
– Erin Wilhelm
"Once upon a time in a country called the United States on planet earth, a game was conceived called "football" despite only two legal players allowed to make ball contact with their feet on specialized teams. Once a year, US television broadcasts the final game of its football season called the "Super Bowl" globally and convinced them this particular one is more important than any others – regardless if anyone watching ever followed either team of uniformed behemoths we're not sure are actually human.

While the game is played for 60 regulation earth minutes, the event actually expands to a little to close five earth hours. What happens in the remaining four hours? Lots of advertising to get earthings to buy junk they never need in a game most were never invested in and an excuse to socialize while getting inebriated."
– Tom Chang