Bob's Burgers S11E18 Review: Distracted Driving & Mixed Signals
The recent episode on Bob's Burgers, "Some Kind of Fender Benderful", on FOX, brings up the points of how honesty and distracted driving have to go hand in hand. When Bob goes to move the car after he and the family unload groceries into the restaurant, a multiple care minor accident occurs. The episode revolves around finding out who truly is to blame and if people will actually own up to their own mistakes. There's plenty of smart thinking on the side of the writing for this episode, bringing in characteristics of Gene making up songs to sounds he hears and how it connects to the accident.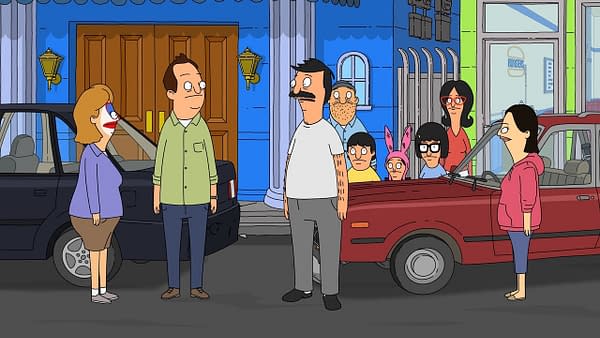 It's fun to witness these strong characters interact with characters who may only appear for the episode but they bring a lot of personality to work with when it comes to the dialogue. The way Bob interacts with the situation is both honest and pure at heart. He's a humble person and someone we could see ourselves in if we ever were in that situation.
Andy and Ollie messing around across the street with a broom, making it into a person with cantaloupe for its head, is the exact cause and insanity I would expect from them and the show. Bob's Burgers did a great job at how the mixed personalities and rhythm of characters in this episode. I do wish though that we got more of these types of episodes in the mix more with this season. It was fun to throw in the variety of other, or new, character types in with the Belcher family and their usual encounters. However, I can see a lot of promise in how Bob's Burgers can move forward with season 11 and future seasons based on this episode and how it brought back fun energy. Let us know in the comments below if you enjoyed this episode of Bob's Burgers!