There have been some big changes lately in the Arrowverse having to do with the 'Big Bads" of each show. Today I'm going to do a quick pass over each to see where we are at, their motivation, their plan, and how all that is working out. And finally, the soon to return DC's Legends of Tomorrow.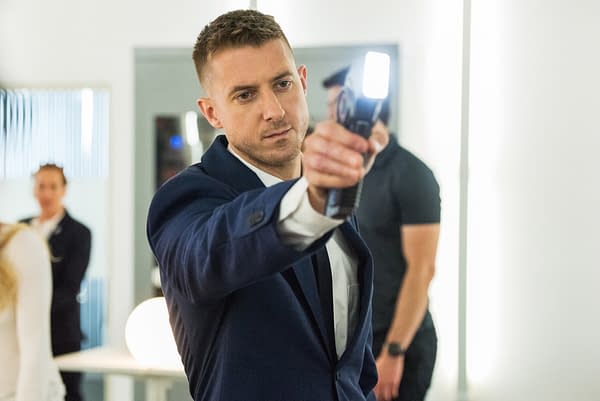 Meet the Big Bad:
I know what you're thinking. "That's not Mallus, that's Rip Hunter (Arthur Darvill) in the photo." And you're right, he's not Mallus… or is he? Up until the ninth episode of the season, only Rip even truly believed that Mallus was real. The Time Bureau choose to ignore him and then admit they don't have the ability to take him on. Sara (Caity Lotz) gets pulled through a portal and gets to hear him… or at least the voice of actor John Noble. Other than the fact that he's picked a few allies so far and he sounded creepy, we really don't know anything about Mallus, and we're halfway through the season. We just know that soon he will be free and our world will know unendurable pain. He's existed throughout time, known by many names, and was so scary the Time Masters wouldn't talk about him. He's said to have become a threat since the Legends broke time.
Motivation:
Having only had him speak through Nora Darhk (Courtney Ford) once and then from the shadows in his realm, we don't have much to go on. But it's a pretty safe bet that part of his motivation is getting free from whatever prison he is in and then probably get revenge on those that imprisoned him. All of which remains a mystery.
Machinations: 
So far his plan has been to get Nora Darhk to resurrect Kuasa (Tracy Ifeachor) and then Damien Darhk (Neal McDonough). And he seems to be trying to cause bigger and bigger anachronisms in time, like the destruction of Hollywood with Helen of Troy and having the end of the United States be leaving the Vikings in North America. To what end is not clear.
Questions:
There are nothing but questions here. Who is Mallus is the first question, and since we haven't even seen him, it would make sense that he's someone we know or possibly know. The Arrowverse likes using different voices for characters like Zoom was Tony Todd's voice, but Teddy Sears under the mask. It's possible the Noble will only be the voice of Mallus and someone else his physical form. They could just be keeping him in the shadow to make him extra scary, but I have a feeling he's someone we know. Also, what is his overall plan would be another big question.
Thoughts:
This season has been a lot of fun, but the Mallus story arc has been in the background a lot. I wonder if once more is revealed we'll see how some pieces that didn't look to be connected really were, or if it's just going to be kind of a hodgepodge season. Having Mallus be an evil version of Rip would be interesting and make a lot of sense, but I don't think they'll go that route. This almost feels like when DC Comics did big events with villains like the Anti-monitor or Extant. Hopefully we'll start getting more information from John Constantine (Matt Ryan) as the series returns this week for nine straight weeks of new episodes until the season finale on April 9th.
DC's Legends of Tomorrow returns tomorrow night at 8 p.m. ET on the CW.
Enjoyed this article? Share it!