Cobra Kai Season 1, Episode 4 'Cobra Kai Never Dies' Review: Johnny Gets Serious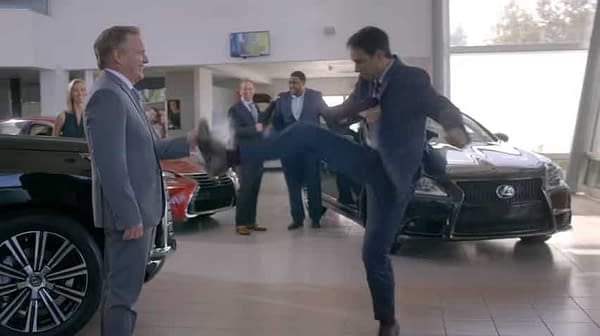 YouTube Red's The Karate Kid continuation series Cobra Kai reawakens the simmering 30-plus year rivalry between Daniel LaRusso (Ralph Macchio) and Johnny Lawrence (William Zabka) — with a new generation of karate kids ready to further complicate matters for Daniel and Johnny. Can Johnny fight his way out from under his father's shadow and be the sensei his students need him to be? Can Daniel get back a sense of balance to his life — and to do that, can he live up to the teachings of his sensei, Mr. Miyagi?
Join Bleeding Cool as we review the fourth episode ('Cobra Kai Never Dies') of Cobra Kai's freshman year and see if it keeps being a kick-ass story — or makes us want to tap:
Cobra Kai s01e04 'Cobra Kai Never Dies': When Daniel's car dealership billboard is sprayed with lewd graffiti, it consumes Daniel and escalates tensions against a rival. Robby, Johnny's delinquent son, is embarrassed about his father and his new dojo. The bullying escalates against Miguel and motivates Johnny in a surprising way.

For a refresher on our thoughts on Cobra Kai's first three episodes, check out Bleeding Cool's reviews below:
Here's a look at the official trailer and overview for the first season of YouTube's Cobra Kai:
In the highly anticipated return of two iconic characters, the arch-rivals from the legendary Karate Kid film series reunite over 30 years after the events of the 1984 All Valley Karate Tournament. Now living in the affluent hills of Encino, Daniel LaRusso (Ralph Macchio) leads an enviable life with his beautiful family, while running a successful string of car dealerships throughout the valley.

Meanwhile, his high school adversary, Johnny Lawrence (William Zabka), whose life has taken a rocky turn, seeks redemption by reopening the infamous Cobra Kai karate dojo. Their lives inevitably become intertwined and the rivalry is reignited, setting forth the next generation of "karate kids" in COBRA KAI, a YouTube Red Original Series.

COBRA KAI also stars Courtney Henggeler (Mom, Fixed) as Daniel's wife, Amanda; Vanessa Rubio (How to Be Single) as Carmen, single mother and Johnny's girlfriend; Xolo Maridueña as Carmen's son, Miguel; Mary Mouser as Samantha LaRusso, Daniel's daughter; and Tanner Buchanan (Designated Survivor) as Robby, a Cobra Kai recruit (against his wishes) with an agenda of his own.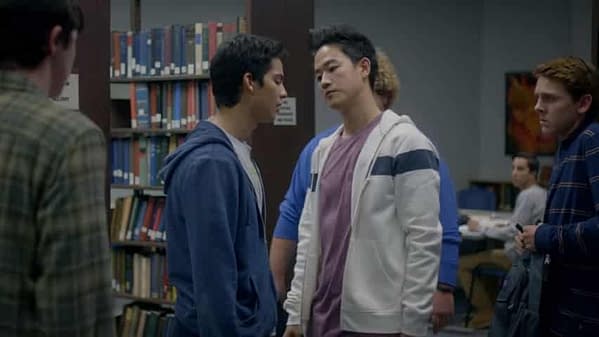 Josh Heald (Hot Tub Time Machine), Jon Hurwitz (Harold & Kumar Go to White Castle) and Hayden Schlossberg (The Pact) write and executive produce the series, with Hurwitz and Schlossberg directing most of the first season. James Lassiter (This Means War) and Caleeb Pinkett (Hawthorne) executive produce for Overbrook Entertainment in conjunction with Sony Pictures Television Studios.