The CW to Rebroadcast Black Lightning Season 1 Starting Tonight
If you haven't watched the first season of Black Lightning, you really should. It hands down is one of the best new series of the 2017-2018 season, and The CW is trying very hard to give you every opportunity to watch. You can stream the series on Netflix, watch some of it on The CW App and the network's website, and it will be available to own on Blu-ray on June 26th. And, as a bonus, starting tonight they're going to be re-airing the series in Arrow's place now that the sixth season of the Stephen Amell series has wrapped up.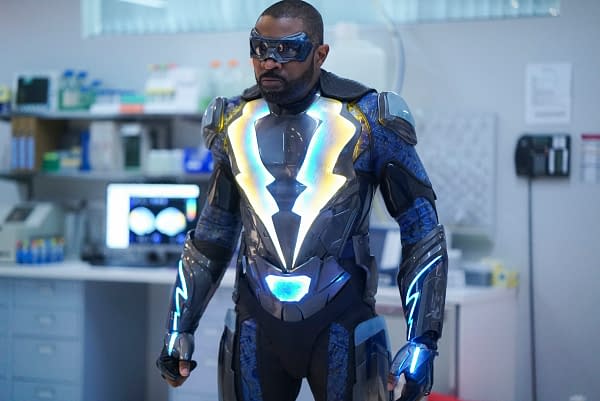 Black Lightning stars Cress Williams as Jefferson Pierce, a man wrestling with a secret. As the father of two daughters and principal of a charter high school that also serves as a safe haven for young people in a neighborhood overrun by gang violence, he is a hero to his community. Nine years ago, Pierce was a hero of a different sort. Gifted with the superhuman power to harness and control electricity, he used those powers to keep his hometown streets safe as the masked vigilante Black Lightning.
Almost a decade later, Pierce's crime-fighting days are long behind him… or so he thought. But with crime and corruption spreading like wildfire, and those he cares about in the crosshairs of the menacing local gang The One Hundred, Black Lightning returns — to save not only his family, but also the soul of his community. The series also stars Christine Adams, Nafessa Williams, China Ann McClain, James Remar, Damon Gupton and Marvin "Krondon" Jones III.
Black Lightning is being re-aired on Thursdays at 9 p.m. ET on the CW.
https://youtu.be/8-vJ9871X1s
https://youtu.be/Uj1igAp6p8k