Dave Bautista to Join Titus O'Neil on Love Walk not in Pit of Danger
When WWE Hall-of-Famer and Hollywood megastar Dave Bautista walks, it is most often for miles inside a pit of danger. His usual destination: a place where no one follows him. But perhaps most importantly, when Bautista walks, he walks alooooooooooooooooooone, without any company. That all changes next Saturday.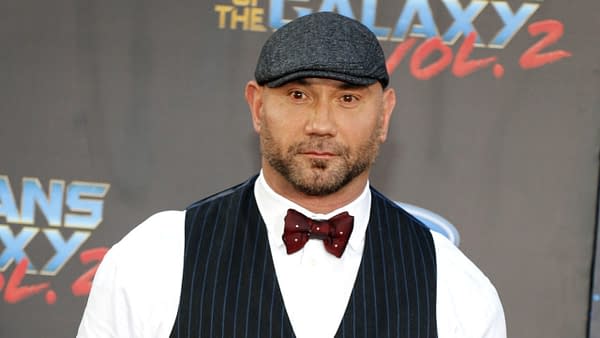 On Saturday, June 27th, Dave Bautista will not walk alone. He will walk with fellow WWE star and Tampa resident Titus O'Neil. And instead of no one following, Bautista and O'Neil will be followed by business leaders, elected officials, and families. And they will not be walking inside a pit of danger, but rather, across the city of Tampa, over the Fortune Taylor Bridge, and to Julian B. Lane Riverfront Park.
Bautista and O'Neil will be making the journey as part of an organized Love Walk, according to a Facebook event page hosted by the Bullard Family Foundation, a nonprofit founded by O'Neil to benefit the community. Bautista, a good friend of O'Neil's frequently participates in the Foundation's events. Here's the official description of the event:
Join Thaddeus Bullard aka WWE Superstar Titus O'Neil, actor Dave Bautista, and celebrity friends as they lead Tampa Bay business leaders, elected officials, and families for a Love Walk across the Fortune Taylor Bridge.

(Ms. Fortune was a former slave who once owned 33 acres on the eastern bank of the Hillsborough River. According to the Tampa Bay Times, in 1892, Hugh McFarlane, a lawyer and a founder of West Tampa, struck an agreement with Taylor to build a bridge connecting West Tampa to the east side of the river.

The bridge not only was a key link to West Tampa's cigar factories, but has been seen as a symbolic connection between white and Hispanic residents in West Tampa and black residents to the east.

The bridge was renamed in 2018 to restore Madame Taylor Fortune's honor.)

The walk will end at Julian B. Lane Riverfront Park where they will unveil a LOVE WALL created by local artist Bianca Burrows.

*Please bring your own water and wear masks.*

(Special thank you to Bavaro's and the Bavaro Family for donating the LOVE WALL for this event.)