Flash Season 4: Mark Valley's Character Revealed
We knew that when The Flash returns on January 16th, Barry Allen (Grant Gustin) is going to be on trial for the murder of Clifford DeVoe (Neil Sandilands) — DeVoe only being dead in body while his mind transferred to Dominic Lanse (Kendrick Sampson). In the trailer for the episode called Trial of the Flash, we got to see that DCTV alum Mark Valley is playing the prosecutor opposite Cecile Horton (Danielle Nicolet) for the defense. But we didn't know who Valley is playing… until now.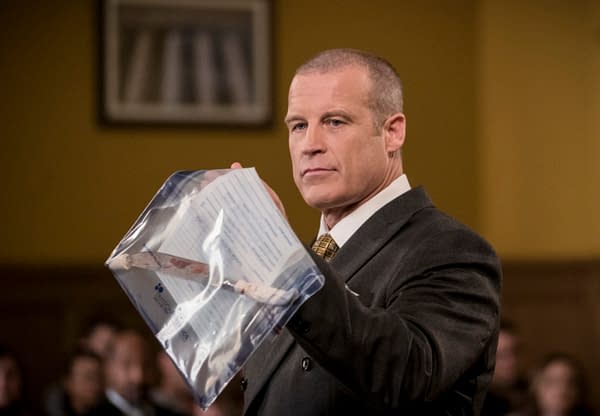 According to TVLine, Valley will be playing Anton Slater. That name will only be familiar to comic fans who have read the Trial of the Flash comic story from Cary Bates and Carmine Infantino. The story ran from issue number 323 to 350 and told the story of the Flash being on trial for the murder of the Reverse-Flash. In the trial, Anton Slater is the district attorney prosecuting the Flash. His defense attorney in the comics was Cecile Horton… which means we should've seen them getting to this storyline once Cecile was introduced in the series. Ralph Dibny, AKA Elongated Man, also played a part in the story.
The big difference, of course, is that it's not the Flash, but rather Barry Allen who is on trial, and the victim is DeVoe, not Eobard Thawne.
Valley played Christopher Chance opposite of Chi McBride and Jackie Earle Haley on ABC's Human Target series from 2010-2011. Chance has been introduced into the Arrowverse, played by Wil Traval… so it's possible to have a scene where Slater screws up and Barry goes free, then we see Slater remove his mask revealing Chance in one of the most meta scenes in television history. But I seriously doubt that will happen.
The Flash returns January 16th at 8 p.m. ET on the CW.