Doctor Who: Nicholas Briggs Teases "Revolution of the Daleks" Special
Nicholas Briggs, who voices the Daleks on Doctor Who, spoke to RadioTimes.com this weekend to tease "Revolution of the Daleks", the holiday special that's expected to air around Christmas this year.
Briggs has played the voice of the Daleks in countless Big Finish audio plays since the 1990s and the TV series since its revival in 2005. It's safe to say nobody alive knows them better than he does. Of course, he voices them again the upcoming special.
"It was a whole lot of work and I have finished it all," Briggs said.
Doctor Who managed to get ahead of the Pandemic by completing filming on "Revolution of the Daleks" last year, long before Lockdown occurred. Nobody at the time expected that all Film and Television production would be halted in order to keep the country safe from COVID-19.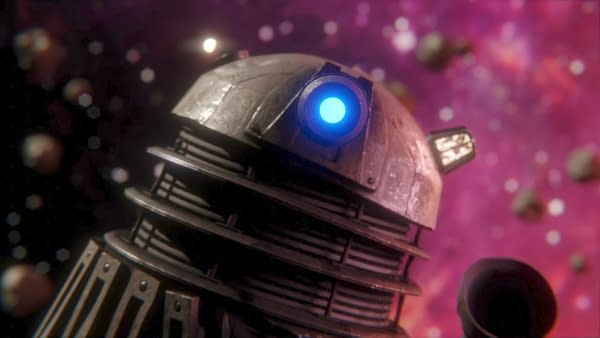 "I think it was great that they got ahead and did this festive special – and it's turned out to be extremely fortuitous actually, a lot more than they had probably intended. So I think it will be a great gift to Doctor Who fans and a lovely, lovely bit of Doctor Who at Christmastime, or roundabout whenever it's going to be." Briggs said.
Briggs had previously described his time filming the special as full of "interesting challenges". At the moment, there is still no official airdate for the holiday special. The previous season's special was not aired on Christmas but New Year's Day instead. Showrunner Chris Chibnall had decided to change up the show's old tradition of airing a Christmas Special every year. It remains to be seen whether "Revolution of the Daleks" would air on Christmas or New Year's Day.
With rumors that the series 13 would begin production in the next few weeks, Briggs has no news on whether he would be returning to the show as the Daleks or any other aliens. With the U.K. heading into yet another lockdown due to infection numbers spiking, it's possible production might be delayed once again.
"It's all coming and there's people sorting it all out," Briggs said. "Again, I'm not particularly involved in it, so I don't really know what they're planning for a new series of Doctor Who, but it's definitely going to happen.
"I'm not privy to any decisions about anything like that. It's just me speculating as your average Dalek. But I'm sure that ways and means will be found to make Doctor Who."
Meanwhile, There's the Daleks Animated Spinoff
In the meantime, Briggs will voice the Daleks in Daleks!, a new animated spinoff series featuring you-know-who, and more than one of them. The series will consist of five episodes that will run online only on YouTube.
"The dream job for me was to become the voice of the Daleks all those years ago back in 2004, and this is just takes it to another level really," he said. "It's full-on dark action with great characters – and you maybe wouldn't expect that from Daleks because you tend to think of them as a bit monotone.
"It's a really compelling drama and lots of fun and something very spectacular for all the family to look at. It's great for adult fans as well as for children of all ages."
Doctor Who: Revolution of the Daleks will premiere on BBC One in late 2020 or early 2021 and Daleks! Will be on the Doctor Who YouTube channel in November.