Doctor Who: RTD on Star Trek Influence, Disney Funds, Spinoffs & More
Doctor Who Showrunner Russell T. Davies covered a lot of ground in a recent interview, including "Star Trek" influencing his return & more.
---
The last time we checked in with the BBC & Disney+'s Doctor Who showrunner Russell T. Davies, he was confirming that we will be getting a Christmas present this year in the form of a special featuring Ncuti Gatwa's Fifteenth Doctor and Millie Gibson's Ruby Sunday- which means more new "Who" after November's 60th-anniversary event and before the year wraps. This time around, Davies is covering a lot of ground in an interview with British GQ. Highlights included Davies explaining how "Star Trek" influenced his return & approach to the franchise, how partnering with streaming is helping make his vision a reality, what the injection of Disney+ funds will do for the show's budget, and if he would've still returned even if David Tennant & Catherine Tate couldn't (for the 60th-anniversary special event). Oh, and a quick answer right from the start before we look at Davies' thoughts? While there's no truth to the rumor that Edgar Wright is directing an episode of the upcoming series, Davies would "love" to have him (so pass it along):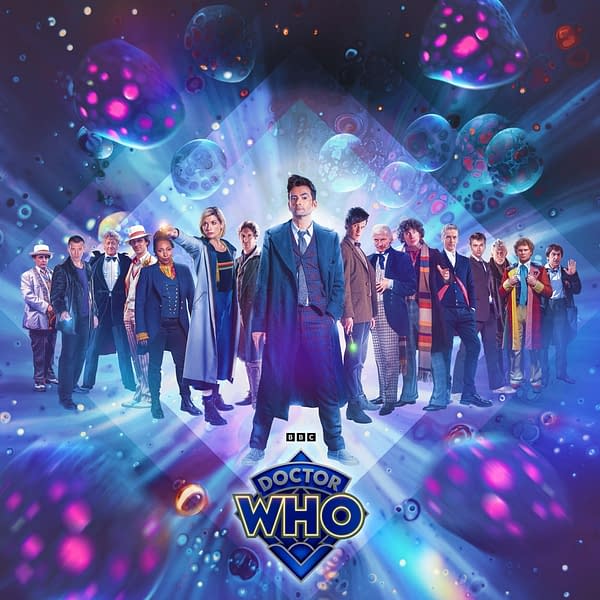 Davies on Why He Returned, Wanting for "Doctor Who" What "Star Trek" Is Doing: "It's simply that I love it and always have loved it. But the world has changed. And we're now in the age of the streamer. I watch the 'Star Trek' empire with vast envy: the way that's turned itself from an old archive show into something fantastic. The cast is so progressive, so good, so beautiful. And very cleverly, I think 'Star Trek' is reaching out to making something like fifty-two episodes a year. So that's your yearly show, genius. And there's a problem with the BBC; it's a public service broadcaster, so there's only so much they'll ever commit to."
With Streaming, Davies Says "The Spin-Offs Are Ready": "So I thought — with no criticism whatsoever towards the people who were running it at the time because they were running it within the BBC's measures — it was time for the next stage for 'Doctor Who.' I thought the streaming platforms are ready; the spin-offs are ready; I always believed in spin-offs when I was there. I did 'Torchwood' as a spin-off, 'The Sarah Jane Adventures' as a spin-off. Those spin-offs declined when I left, and I can see why. And I very much left after 2008, when the money became scarce; I think that's fair enough for the public service broadcaster that the money is spent on other things. But now, it wasn't my idea; it was the BBC's notion to go for a streamer [Disney+] to invest in the show worldwide, which I completely agree with."
Davies on If Larger Budget Allows for "Bigger" Creativity: "Yes, I think it does; it's one of the reasons I've come back — you can tell stories on a bigger scale. It's the same old problems, I still have to cut scenes because they're too expensive, and I still have to reduce the number of monsters and things like that. But my imagination feels more free, a lot more free, actually. It's just a joy to write anyway. I'm really proud of it. Oh my god, there are some strong episodes coming up."
Davies "Probably" Would've Returned Without Tennant & Tate: "I mean, that's just an added delight. Their willingness to do it was part of the reason I picked it up in the first place. They said, 'Wouldn't it be a laugh to do something for the sixtieth?' So I went to the BBC, not knowing that they were getting ready to make 'Doctor Who' bigger anyway. So it's like I walked into a trap. [Laughs.] No, everything coincided at the right time." Davies would add later in the interview: "…to have David [Tennant] and Catherine [Tate] doing three hours as well is extra joy. That's a big party. You're gonna love it."
Davies Likes What He's Saw from Gatwa During the First Read-Thru: "Last night, we had Ncuti [Gatwa]'s first read-through. He's so unbelievably stunning. I can't wait for you to see him. He just lifts your hair off your head. He's beautiful. Absolutely beautiful in every sense. So, very excited."