Drag Race All Stars 2 Gets Its Groove On: RuPaul Quaran-Stream Rewatch
I know it's been a while since I've written more about my Drag Race rewatch, but I'm back! I may have been on a slightly "forced hiatus" because apparently refusing to exist without huge hair, a fully beaten face, a formal sequin gown, and at least 6-inch heels at all times is a little "out of control". But, we're back (against my family's begging – they even staged an intervention!) with our next look at RuPaul's Drag Race All Stars, and this is one of my favorite seasons, so I absolutely cannot wait to dive in.
Now, this is the first season to be formatted as we know it, with the eliminations falling to the girls themselves. In case you forgot the rules, each week the judges give critiques, but then it's up to the top two queens of the week to select who to eliminate from the bottom queens via lipsticks with their names on it. Yes, the lipstick may be brutal, but it doesn't lie. I do not envy these winners at all (okay, maybe a little, but that's just for the $10,000).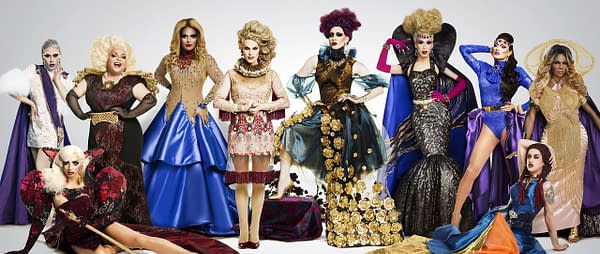 Ro-laska-tox is back, albeit in the form of Rotox and Alaska now that she's gone solo, but it's still great to see them all back in the same season. Alaska is fiercely independent now after crawling out from Sharon Needles' shadow; Detox is serving up some serious Chad Michaels vibes this time around and I am absolutely gagged; and Roxxxy Andrews lost a lot of weight and damn does she look good, girl.
Katya really had a chance to shine being back in the competition – not that she didn't stand out in her season (season 7), but it's like we got familiar with her style then, and now we can really enjoy it. She's hilarious, glamorous, and unique for sure…just like the other queens in the top 3. But what about those who didn't quite make it that far? There was seriously not an undeserving queen in the cast this time around.
The pride of Mesquite, Texas, Alyssa Edwards is back and back again! In addition to Alyssa, Tatianna, Ginger Minj, and Coco Montrese were brought back after elimination and given a chance to earn back their spot in the competition. At the end of the episode, Tati and Alyssa both came back, though neither queen stuck around a whole lot longer after returning. Nobody appeared to like this surprise return less than Phi Phi O'Hara, though she's since gone on record against the show, saying they turned her into a villain and she can't get work now because of the way they falsely portrayed her.
And of course, how could we forget Adore Delano – the queen who just couldn't take this high caliber competition? I had forgotten she dropped out in episode 2; I feel bad for her, because the pressures of competition and an environment like that are incredibly difficult, especially when you don't have your look completely down and perfected, and may not 1,000% confident with your "brand".
I feel like that was a lot of the deciding factor behind the judges' pick of Alaska as the winner of this season: she's known who she was and what she was about since the first round of auditions for season 1. Besides, she completely stepped up her dance game this season…or at least, she just didn't look like a flailing mess when she did choreography this time around.
Behind all the pageantry, rhinestones, "eleganza," and glamour, it's easy to forget that drag is at the heart of it all a form of clowning. Instead of a red nose and greasepaint, they use foundation and 3-foot lashes to deliver over-the-top gags and routines a little less removed from society as we know it today. It's all an act intended to entertain, and the competition is designed to test that and not anything else. This is not a "who can look the hottest" or "who has the most talents" – it's a competition of "who uses their skills to entertain the best." At the end of the day, the winner is picked for her charisma, uniqueness, nerve, and talent, and Alaska has proven that she embodies all of these, while at the same time never losing sight of herself and her character. Congrats to all of the top 3 – Detox and Katya stole my heart and there seriously would not have been a winner I would have been upset with this time around.