'Drunk History' Tackles "The Creation of Frankenstein" in 2019
If you haven't seen an episode of Comedy Central's Drunk History, you are missing out. Especially if you are someone who knows historical reenactors (or if you are one yourself).
Series host and creator Derek Waters just commented on this Twitter post from the official Drunk History account, with a trailer for a new episode of the series coming in January of 2019.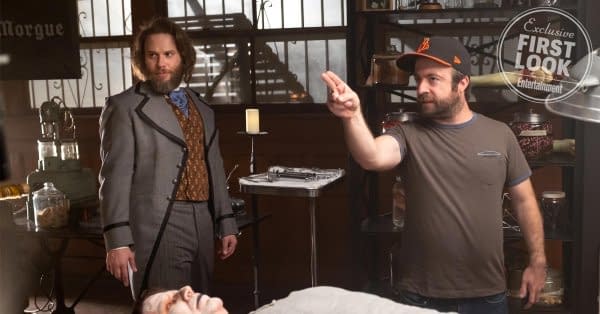 I'm so excited to premiere this! Remember Are you afraid of the Dark?! Here comes Are you afraid of the Drunk? @Rich_Fulcher
@Sethrogen @evanrachelwood @elijahwood and Will Ferrell won't disappoint! Let's get to 2019 ASAP
This special Frankenstein installment will feature Seth Rogen, Will Ferrell, Elijah Wood, Evan Rachel Wood, Jack McBrayer, and Rich Fulcher as the tipsy narrator.
Waters describes the special:
"Due to a summer-long blackout from a volcanic eruption, five young poets and writers are relegated to the indoors and ensuing boredom on their holiday at Lake Geneva. Turning to drugs, alcohol and late-night scary storytelling, the writers' imaginations run rampant. Hallucinogenic inspiration leads a young Mary Shelley to spin a magnificent tale which turns out to be the basis of her horror classic Frankenstein."
Drunk History returns to Comedy Central for season 6 on January 15th 2019.