Dustin Rhodes Talks Grabbing the Undertaker's "Tombstone"
Wrestling as Goldust in WWE back during the Attitude Era, Dustin Rhodes played on a lot of homophobic stereotypes and on homophobia in the wrestling audience to become a hated heel character. But apparently, it wasn't just the crowd Rhodes was working. In an episode of the Inside the Ropes podcast, as transcribed by 411 Mania, Dustin Rhodes discussed one time that Bruce Pritchard told him to play a "rib" on The Undertaker during an Attitude Era match.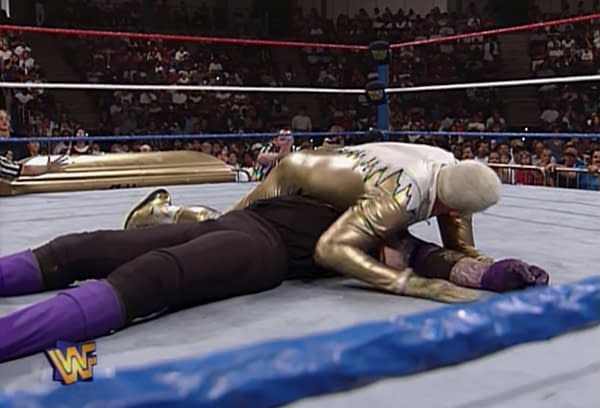 He said, 'I want you to, I want to play a rib on Taker,' he said. I'm like, 'Ah, f**k no, Jesus, come on, man.' This is Monday Night Raw here we're shooting, right? So the rib was, during the commercial break, because we went two segments. So I get him down, you know, we're both down like a double down situation. And we go to commercial. So I've got about three minutes to do this rib. So I come up, and I start — no, sorry, we were not in a double down. I was still up, but Undertaker was laying flat before he would sit up.'
Apparently, the rib was for Dustin Rhodes to sexually assault the Undertaker by molesting him in the ring and grabbing his penis. Goldust continued, "So I crawled down between his legs when we went to a break. And now, I've crawled around and kind of touch Undertaker's chest, and his head and stuff like that. But I started crawling up his legs. And it's very sick; I mean just crawling up his legs and getting closer, teasing. Kind of feeling, right. And then I look up at the audience, and I give this big ol' tongue thing, just the [licks his lips]. And I grab my hand like this, and I put it right on his dick. And I'm just rubbing right there, and I'm making these faces all sexual like. And I'm like, 'What the f**k am I doing? Bruce is gonna kill me…if I don't do it, you know. And it's like, Undertaker's gonna kill me after this."
Apparently, The Undertaker was understandably upset about this backstage, but Pritchard stepped in to explain that it was all a joke. After that, even The Undertaker was able to laugh about it. Boys will be boys, after all.