Eli Roth's History of Horror S02: Kurt Sayenga Talks Horror Influences
With AMC's "Fearfest" in full swing, the network's month-long celebration of all things that go bump in the night shifts the horror into overdrive starting this Saturday, October 10th (10 pm ET/9 pm CT). That's when the second season of Eli Roth's History of Horror gets unleashed upon an unsuspecting world, and now we're getting a chance to hear from one of the forces behind the docuseries. Even in the midst of a pandemic that makes corresponding more difficult than ever, we were able to interview dedicated series writer, showrunner and producer Kurt Sayenga about what the series has in store this season, his horror influences, the things that make him pull the covers up tight, and more.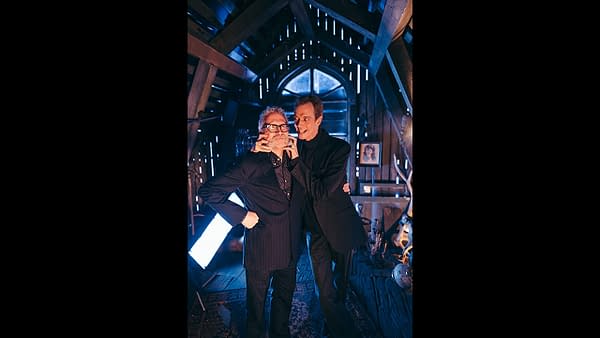 Bleeding Cool: Horror is a genre that has gone through many changes over the decades, which stands out the most to you?
Kurt Sayenga: Digital special effects have had an enormous impact on horror movies. Sometimes they are well-executed; often, they are not. Most of the filmmakers I know prefer a mix of digital and practical effects. Guillermo del Toro gets the mix just right. Stylistically, horror movies are often the first to embrace new trends in music, editing, and photography, which is why many films shot during the '80s and '90s look like the fossilized remnants of a dead civilization. Oddly enough, movies from the '70s seem to age well, which may be why we're now seeing '70s-feeling films like Midsommar and The Autopsy of Jane Doe popping up.
BC: Is there a figure in horror history that you admire the most?
KS: In movies, Alfred Hitchcock, who codified half the visual language of cinema and gave the world a portrait gallery of psychopathic killers, from The Lodger and M to Psycho and Frenzy. In books, Stephen King, for erasing the boundaries between "pulp" and "literature."
BC: Do you think we'll see more stories revolving around the types of fears brought on by the pandemic?
KS: I think as soon as this is over (2022?) people will avoid anything that reminds them of the current plague. But the traumatic effects will linger for years, and people will need a way to deal with that, even if they can't do it consciously. That's where horror movies come in. Horror lets us deal with our fears through allegory and metaphor, so all of the anxiety and anger and fear that has been piling up will find its release through a new wave of monsters, both supernatural and human.
BC: Do you hope to dive further into the history of horror with any further upcoming seasons?
KS: Absolutely. There is so much more that Eli and I would like to cover, particularly in the realm of classic horror and films made outside the USA.
BC: Is there an episode from the upcoming season that sticks with you the most? And why?
KS: I never imagined I would get an episode about "Body Horror" on the air, but we've done it…and it includes segments on two of my favorite horror films, Videodrome and Audition. That said, "Nine Nightmares" has lots of deep cuts and embraces the whole of the genre, from art-horror to sleazy slashers, and I love it because it mirrors the egalitarian mission of the series. Just about every horror film has its fans, and usually, you can find something interesting about them, even if a certain subgenre isn't to your taste.
BC: What specifically excites you about the future of the horror genre? What do you hope to see in the future?
KS: I hope to see investors pour more money into horror films, as it is a genre made by outsiders and misfits for outsiders and misfits of all colors, sexual orientations, and religious beliefs. Give these people money and don't chain them to some ridiculous formula and they will deliver films of terrifying beauty that people want to see.
BC: Are there any projects you currently have in the works?
KS: At the moment I am editing some of the 160 or so interviews I conducted for the TV series into a podcast called Eli Roth's History of Horror Uncut. Starting to look at a possible season three. I also have a project about H.P. Lovecraft in the works.
Season Two of Eli Roth's History of Horror digs even deeper into the catacombs of creepiness, exhuming landmark films and cult classics while chewing on the entrails of recent horror cinema. The series explores the dark power and wicked fun of scary movies, the craft that went into making them, and the ways that horror films reflect the anxieties of their times. The story is told by Eli Roth and a celebrated cast of writers, directors, actors, cinematographers, composers, and special effects artists who bring our nightmares to life.
Episode 201: "Houses of Hell" (October 10): Home is where the heart is unless you live in a house of hell. Whether they're filled with specters or psychos, every house of hell pokes at our illusions of comfort and safety.
Episode 202: "Monsters" (October 17): The history of monster movies is also the history of the evolution of special effects technology. But, whatever their size or shape and whatever they represent, for many horror fans monsters are the best part of the genre.
Episode 203: "Body Horror" (October 24): Sometimes disgusting, but always powerful, body horror films make us question our prejudices against physical difference, our attitudes about sex and gender, our fear of disease and contamination, and how much our appearance determines who we are.
Episode 204: "Witches" (October 31): The witch is a towering figure in the history of horror. The archetypical evil witch is everything mainstream religion tells us a woman should not be – and that unapologetic, very female power frightens men and fascinates women.
Episode 205: "Chilling Children" (November 7): Parents are supposed to love their children, no matter how awful their kids may be. The films highlighted in this episode may not solve the mystery of where evil comes from, but they have a terrifically terrifying time raising the question.
Episode 206: "Nightmares" (November 14): Nightmares is a deep dive into nine uncategorizable films that push the boundaries of horror. Great films that entertain us and provoke us. Films that put society under a microscope, making us question not just what we fear, but why we fear it.
Set for the series's return is a killer line-up of interviewees that includes Stephen King, Quentin Tarantino, Jordan Peele, Ari Aster, Bill Hader, Nancy Allen, Megan Fox, Greg Nicotero, Rob Zombie, James Brolin, Edgar Wright, Piper Laurie, Leonard Maltin, Katharine Isabelle, Jack Black, Slash, Rachel True, Ashley Laurence, Joe Dante, Roger Corman, Mary Harron, John Landis, Tom Savini, Karyn Kusama, and many more. AMC Visionaries: Eli Roth's History of Horror is produced by The Content Group (ESPN's 30 For 30, Nat Geo's Breakthrough) and Marwar Junction Productions (Disney +'s Earth to Ned, BET's Murder in the Thirst). Roth, Sayenga, Steven Michaels, Jonathan Koch, Joseph Freed, and Allison Berkley executive produce.