Fear the Walking Dead Rewind 407: A Look Back at 'The Wrong Side of Where You Are Now'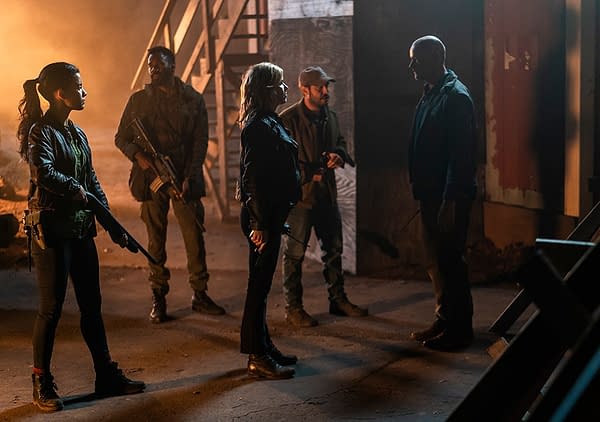 Welcome back to Bleeding Cool's Fear the Walking Dead Rewind, as we take a look back at the penultimate episode of Season 4 before we hit the AMC series' midseason break: 'The Wrong Side of Where You Are Now.'
After a week off, the series returned with guns – and walkers – blazin' as Alicia (Alycia Debnam-Carey), Victor (Colman Domingo) and Luciana's (Danay Garcia) firefight against Mel (Kevin Zegers) and his group of Vultures came to a brutally explosive end. Oh Mel, we hardly knew your My Chemical Romance throwaway jacket-sporting self!
Meanwhile, Morgan (Lennie James) convinces Althea (Maggie Grace) to kick her voyeur habit for a few minutes to save John Dorie (Garret Dillahunt) – a move that Alicia is not a big fan of and one that she plans on addressing with Althea personally. Guess that's what happens when one has a S.W.A.T. truck's worth of machine guns turned on them…
We even get our first look at the Stadium post-Vultures attack and…it's exactly the smoldering disaster we were expecting.
And yet one question still remains unanswered heading into Sunday night's mid-season finale: What happened to Madison?
Fear the Walking Dead s04e07 'The Wrong Side of Where You Are Now': Madison's decision to help an adversary has unintended consequences; John Dorie's life hangs in the balance.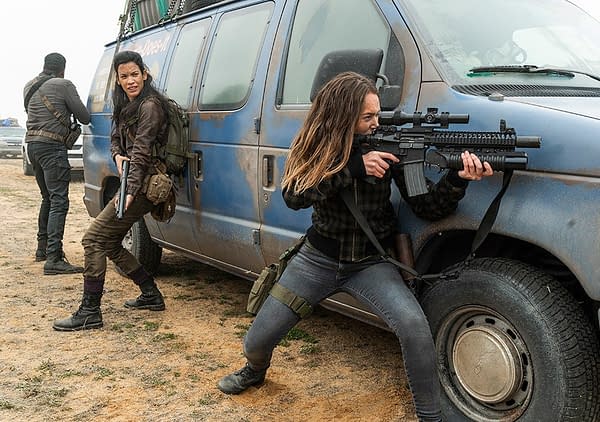 In one of the most intense scene from an episode overflowing with intense scenes, our crew realizes firsthand that Mel was not kidding about his brother and the other Vultures:

In season 4, we will see the world of Madison Clark (Kim Dickens) and her family through new eyes — the eyes of Morgan Jones (Lennie James), who is joining the story from the world of The Walking Dead. The characters' immediate pasts mix with an uncertain present of struggle and discovery as they meet new friends, foes, and threats. They fight for each other, against each other and against a legion of the dead to somehow build an existence against the crushing pressure of lives coming apart. There will be darkness and light; terror and grace; and the heroic, mercenary and craven, all crashing together toward a new reality for Fear the Walking Dead.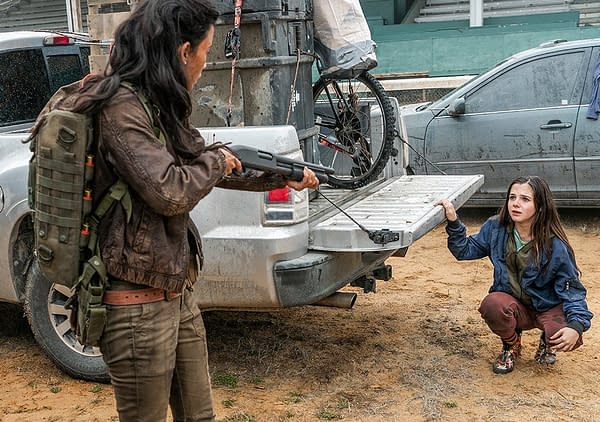 AMC's Fear the Walking Dead's fourth season stars Kim Dickens, Frank Dillane, Alycia Debnam-Carey, Colman Domingo, and Danay Garcia; as well as new series regulars Lennie James, Garret Dillahunt, Jenna Elfman, Maggie Grace, and Kevin Zegers. Produced by AMC Studios, the series is executive produced by Scott M. Gimple; showrunners Andrew Chambliss and Ian Goldberg; Robert Kirkman; David Alpert; Gale Anne Hurd, and Greg Nicotero.