Friends Cast Wants You There for Them at HBO Max Reunion Taping
If there's a silver lining to WarnerMedia's planned Friends reunion special being delayed and not available when HBO Max launches on May 27, it's that it gives fans a chance to be a part of the momentous occasion while helping out some worthy causes. Set to be filmed on the original series' Stage 24 of the Warner Bros. Studio lot in Burbank, the reunion will feature Courtney Cox, Jennifer Aniston, Lisa Kudrow, Matt LeBlanc, Matthew Perry, and David Schwimmer, as well as series creators David Crane and Marta Kauffman. The unscripted look-back at the classic sitcom will be the first time the entire cast was on stage together in over 15 years.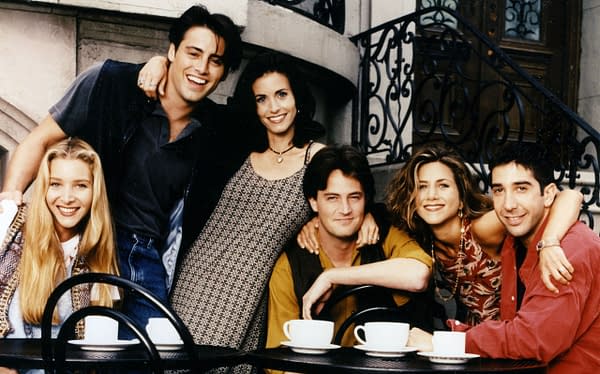 Now, this is where you come in. Between now and May 8 (at 11:59 pm ET), you can head on over to the All-In Challenge page for "The One Where You Meet The Entire Cast Of 'Friends'." Once there, you can drop a donation (though there is also an option to enter for free) for the chance for you and five guests to attend the reunion taping. In addition, you and your guests will have coffee with the Friends cast on the Central Perk set, and be treated to VIP access to the Friends Experience on the Warner Bros. Studio Tour. Airfare and hotel accommodations are included, with the exact date and time still needing to be determined. Should the taping no longer include a live studio audience due to CDC limitations, an alternative plan will be made with the cast to provide a different in-person experience for the winner. All monies raised go directly to Feeding America, Meals On Wheels, World Central Kitchen. and No Kid Hungry.
Having a connection with the original series from its early days of development only to then find himself working on the series years later makes having the rights and filming the reunion that much more special for HBO Max CCO and TBS/TNT/truTV President Kevin Reilly: "Guess you could call this the one where they all got back together — we are reuniting with David, Jennifer, Courteney, Matt, Lisa, and Matthew for an HBO Max special that will be programmed alongside the entire Friends library. I became aware of Friends when it was in the very early stages of development and then had the opportunity to work on the series many years later and have delighted in seeing it catch on with viewers generation after generation. It taps into an era when friends, and audiences, gathered together in real-time and we think this reunion special will capture that spirit, uniting original and new fans." Ben Winston is set to direct, and executive produces alongside Aniston, Cox, Kudrow, LeBlanc, Perry, Schwimmer, Crane, Kauffman, and Kevin Bright. Emma Conway and James Longman will co-exec produce. Warner Bros. Unscripted & Alternative TV serves as the studio, with Fulwell 73 Productions also attached to the project.