Gallows and Anderson Confirm Impact Signing, Will Be at Slammiversary
One of the long-rumored appearances for tonight's Impact Wrestling Slammiversary PPV has finally been confirmed. Following the expiration of their non-compete clause, Luke Gallows and Karl Anderson posted an episode of their podcast spilling lots of beans, but the most relevant one today is that they have signed a deal with Impact Wrestling and will be at the PPV tonight. In a clip from the podcast posted on Impact's Twitter, Gallows and Anderson made the official announcement.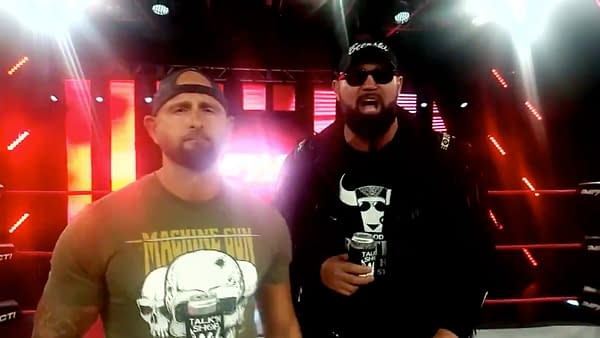 "Talk'n shop beer's been popped, we've both been tested, and we're free and ready to rock," said Anderson. "It's been three long months, and everybody's wondering what the Good Brothers are doing. Everybody's wondering what Countdown to F**K Town is. Everybody is wondering where the Machine Gun and the Big LG are gonna land. Big Man?"
"I think the most important thing right now is the fact that we are live and the countdown has expired," Gallows replied. "And the rumors are true. The internet buzz was correct. We have officially signed with Impact Wrestling. It's been nice. We're live, and we're gonna be live on PPV tonight for Slammiversary. It's Good Brother time, baby."
There's no word on what Gallows and Anderson will be up to at the PPV, but we do know that one advertised match is an open challenge by The Rascalz for a tag team bout. That would seem like a good opportunity for Gallows and Anderson to make their debut. Impact has been promoting more surprises for tonight's PPV, with former TNA Champions like EC3, Eric Young, Bully Ray, and more teased for the event. Additionally, other wrestlers unceremoniously fired by WWE at the start of the pandemic, like Heath Slater and Zack Ryder, could potentially appear at the show, as all of their non-compete clauses expired at the same time. The main event of the PPV features a four-way match for the Impact World Championship between Trey, Ace Austin, Eddie Edwards, and a mystery opponent, who will almost certainly be one o the names mentioned above. Bleeding Cool will be covering the PPV live, so stay tuned.