Ghosts Showrunners: More Info on Alberta's Murder Coming; S02E13 Look
Ghosts showrunners Joe Port & Joe Wiseman on learning more about Alberta's (Danielle Pinnock) murder; a preview of S02E13 "Ghost Hunter."
---
Before we share a look at what's ahead with this week's return episode of CBS' Rose McIver (Sam) & Utkarsh Ambudkar (Jay)-starring Ghosts (including an overview, episode images & sneak previews) as well as overview & preview images for the two episodes that follow, we have a tease or two to pass along from series showrunners Joe Port and Joe Wiseman. When asked by TVLine if the series will reveal how Hetty (Rebecca Wisocky) and Sas (Román Zaragoza) died, the duo responded with an even more tantalizing tease about Alberta (Danielle Pinnock). "While we won't learn how everyone died this season, we can tell you that we will learn a lot about Alberta's murder — including who did it and why…."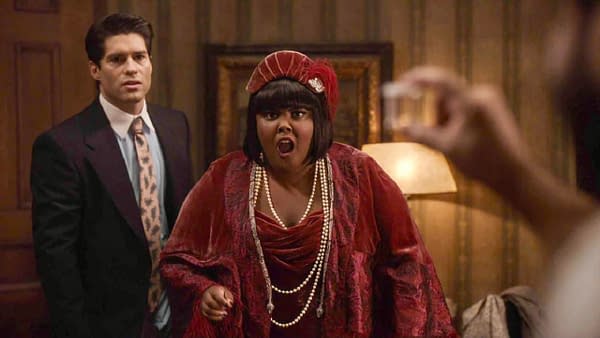 Ghosts Season 2 Eps. 13, 14 & 15 Overviews & Preview Images
Ghosts Season 2 Episode 13 "Ghost Hunter": Written by Rishi Chitkara and directed by Alex Hardcastle, the episode finds Sam and Jay's assistant, Freddie (Mike Lane), purchasing ghost-hunting equipment when suspicious activity leads him to theorize the B&B is haunted. Also, Sasappis risks losing his relationship with Jessica (Nichole Sakura) when Freddie sells his car.
And thanks to the fine folks over at CBS Entertainment, we have three sneak previews from the show's midseason return to share:
Ghosts Season 2 Episode 14 "Trevor's Body": Trevor (Asher Grodman) receives disturbing news about his parents when they come to Woodstone B&B to collect his newly discovered remains. Also, Isaac's (Brandon Scott Jones) and Nigel's (John Hartman) relationship hits a roadblock. Written by Ian Murphy and directed by Alex Hardcastle, the episode sees Laraine Newman guest starring as Esther, Trevor's mom, while Chip Zein guest stars as Lenny, Trevor's dad. Tara Reid guest stars as herself, Trevor's celebrity crush when he was alive.
Ghosts Season 2 Episode 15 "A Date to Remember": Sam and Jay help Thorfinn (Devan Chandler) create a perfect first date with Flower (Sheila Carrasco). Also, Hetty (Rebecca Wisocky) feels slighted by the ghosts' new housemate, Nigel (John Hartman). Written by John Blickstead & Trey Kollmer and directed by Richie Keen, here's a look at the preview images that were released:
Produced by CBS Studios, in association with Lionsgate Television and BBC Studios' Los Angeles production arm, CBS' Ghosts stars Rose McIver (Samantha), Utkarsh Ambudkar (Jay), Brandon Scott Jones (Isaac), Richie Moriarty (Pete), Danielle Pinnock (Alberta), Asher Grodman (Trevor), Román Zaragoza (Sasappis), Sheila Carrasco (Flower), Rebecca Wisocky (Hetty), and Devan Chandler Long (Thorfinn). Executive producers include Joe Port & Joe Wiseman, Mathew Baynton, Jim Howick, Simon Farnaby, Laurence Rickard, Ben Willbond, and Martha Howe-Douglas; Alison Carpenter, Debra Hayward, and Alison Owen (Monumental Television); Angie Stephenson (BBC Studios); and Trent O'Donnell (pilot episode only).