Good Eats: Reloaded Season 2 Review: Alton Brown's Bland Choux Show
With this week's episode of Cooking Channel's Good Eats: Reloaded, Alton Brown revisits episode 70 and talks about something called "choux paste." I never heard of the term and assumed it was something bland and unappealing, but I was only partially correct. It is what you do with it that's exciting: make cream puffs and chocolate eclairs. Choux is a type of dough, a very interesting dough and easy to make. Brown "reloaded" this episode because according to him he committed a crime back in the early 2000s by stuffing them with vanilla pudding. I personally think that sounds delightful, but he felt the need to make amends. To be honest, one of his least exciting episodes: lacking in the usual bizarre humor, complex formulas, and cameos of interesting creatures. I can't commit but I do think I may have caught a glimpse of a scary clown in this one, but it was fleeting.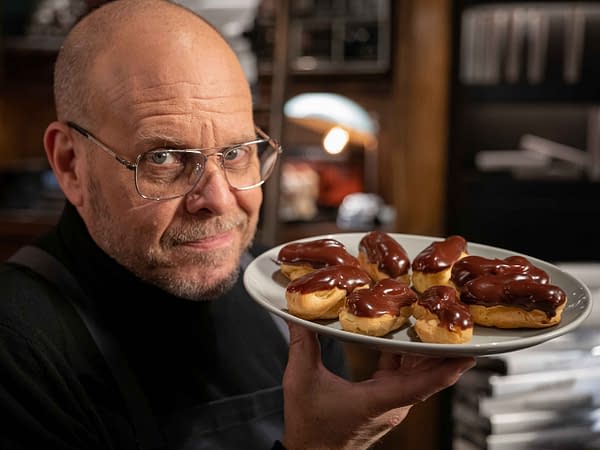 Typically, I go to BJ's to get my cream puff fix but since it's so easy to DIY at home, I think I might give it a try. So what goes into this choux? Butter, water, eggs, and seasoning. There are some freezing and baking times and poof you got your hollow dough. The next part is the most important: the stuffing, which is when Brown tackles pastry cream. Get out your vanilla, eggs, sugar, whole milk, unsalted butter, and cornstarch. Follow a very strict proportions regiment and then mix, simmer, and temper. Don't forget the piping bag, a little pressure, and to then fill your delectable pastries with their goodness. The only thing missing is the chocolate glaze for truly perfect eclairs. To quote Brown, make it and "dip, drip, and flip." A very "versatile" set of directions to say the least, yet the coating does come out looking perfect.
I'd like to see a Good Eats: Reloaded on some more complex dough which yields something exciting and sexy – maybe crepes? Watching Brown attempt to tackle something like that in 100 steps or less would definitely be an episode to tune in for. Also (selfishly), my crepes just never come out exactly right no matter how much I rotate the pan. Wait, maybe I shouldn't do that?