The Good Place: Holy Mother Forking Shirtballs! It's Our Season 1 Recap!
NBC's sleeper comedy hit, The Good Place is quirky and hilarious, breathing life into a genre that has a tendency to get pretty stale and formulaic. At 22 minutes an episode with only 13 in the first season, it's perfect to binge over the winter. Looking to see if the series is right for you? Ready for the second season but you need a refresher course in what's happened so far?
We've got you covered! But first…
Holy motherforking shirtballs! Spoilers lie ahead!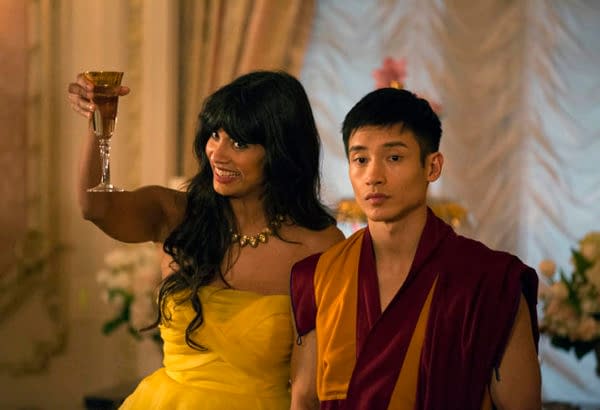 What happens when we die? According to this show's universe, people either go to the "good place" or the "bad place." We meet Eleanor Shellstrop (Kristen Bell), a human rights activist who has earned admittance into the "good place" thanks to all her caring spirit and countless humanitarian acts.
Being guided through the afterlife by the otherworldly Michael (Ted Danson), Eleanor meets her soul mate Chidi (William Jackson Harper), and lets him in on a secret: she's not supposed to be in the good place. Alas, our Eleanor is really the antithesis of everything we thought she was: she's selfish, parties constantly, dates terrible guys, she even turned her roommate into a harsh viral meme. They made a mistake – she's supposed to be getting tortured for eternity in the bad place!
This all makes Chidi culpable to Eleanor's secret – and as a terminally indecisive and anxious moral philosophy and ethics professor, makes him even more anxious. So he starts teaching Eleanor how to be a good person, so she can try to fit in and earn her spot in the good place by not being quite so much of a human trash bag.
Speaking of human disasters, we quickly find out Jianyu (Manny Jacinto) – a silent Buddhist monk – is not who he claims to be either. Jianyu is really Jason Mendoza, a "professional amateur DJ" and small-time drug dealer from Florida. Jason has a love for the "gangsta life" – and has an IQ likely in the single digits. He makes Eleanor look like a saint – which she most definitely is not.
Jason's "soul mate" is Tahani (Jameela Jamil), a rich British socialite who raised an absurd amount of money for charity. Tahani still has no idea that there is even the slightest hint of anything amiss in this perfect utopia of an afterlife – until about 10 episodes in, when Jason reveals his true identity and announces he's in love with Janet (D'Arcy Carden).
Just to be clear? Janet is the neighborhood's mainframe in corporal form – basically the personification of Siri.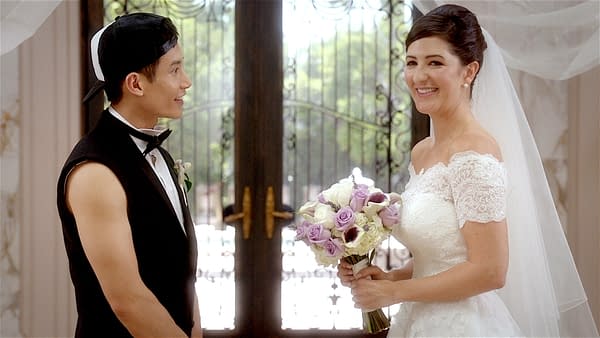 We're also introduced to "real Eleanor," the actual person our Eleanor was mistaken for who's been in the bad place being tortured. Imagine that: identity theft happens even in the afterlife!
Among the cast of quirky delightful characters is Mindy St. Claire (Maribeth Monroe), the only resident of the "medium place": her life was so perfectly balanced, she lives in a very 1980's house in-between the good place and bad place. While her shoulder pads are amazing, she takes serious issue with the lack of cocaine and VHS selections in the afterlife.
In the season finale, the all-powerful Judge Shawn (Marc Evan Jackson) shows up and demands that the bad place is owed two people: he doesn't care which two of our four heroes go, but the scales must be balanced.
After fighting among themselves, Eleanor finally figures it out…
Holy motherforking shirtballs! This is the bad place!
Everything around them has been a lie, everyone around them, demons in disguise – all designed to drive each of them mad for all of eternity. As Michael prepares to wipe everyone's memory and start over, Eleanor writes herself a note, so she can remember everything that's happened…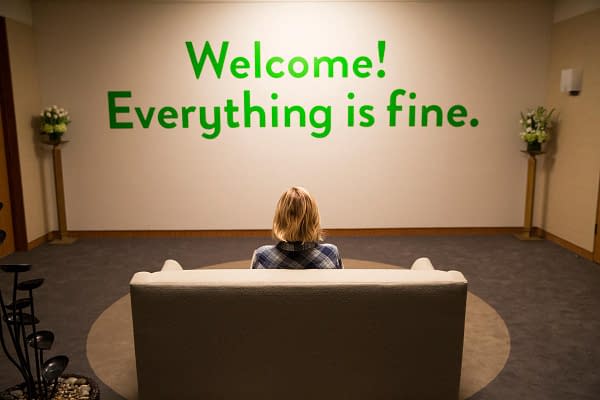 And just like that, everything is back to how it was at the beginning – except this time, Eleanor has a new soul mate and the other three are nowhere in sight. Our friendly neighborhood Janet pops up and hands Eleanor the note from earlier, which simply reads, "Find Chidi."
And that's where season 1 of NBC's The Good Place leaves us – with a lot of intriguing questions still to be answered:
Will Eleanor find Chidi?
Does Jason and Janet's relationship ever get less weird?
Will Chidi finally make up his mind about anything?
Can Tahani please stop name dropping gorgeous male celebrities?
So let's go see what the fork this second season has to say for itself…