Gotham Knights Season 1 Ep. 1 Preview Images: Who Murdered Batman?
With the Batman universe-set series premiering on March 24th, here are preview images for the series premiere of The CW's Gotham Knights.
---
With March 14th bringing the series premiere of Chad Fiveash, James Stoteraux & Natalie Abrams' Batman universe-set Gotham Knights (along with the third season return of Superman & Lois), we're starting to get a better sense of what we can expect when the Batman universe-set series premieres. And while it's still way too early to make a judgment on whether or not the series works, the fact that the series begins with the murder of Bruce Wayne (leaving Gotham without a Dark Knight) was enough of a twisted take on the DCU to make it worth checking out. But just in case you need more convincing, we have a look at preview images for the series opener- check them out below: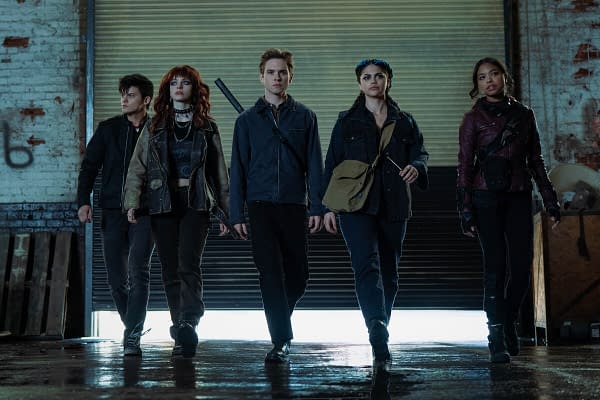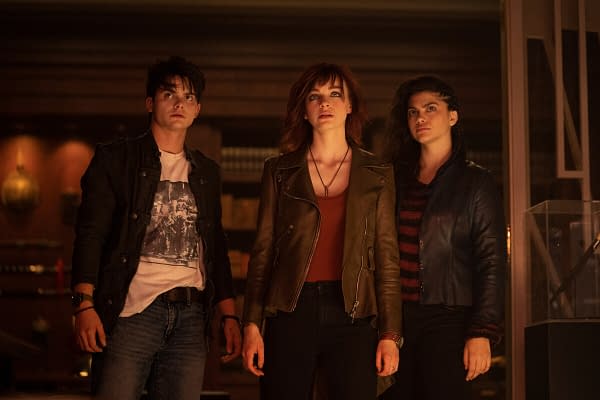 The CW's Gotham Knights: What & Who You Need To Know
Written by Fiveash, Stoteraux, and Abrams, The CW's upcoming Gotham Knights picks up in the aftermath of Bruce Wayne's murder, with his rebellious adopted son forging an unlikely alliance with the children of Batman's enemies when they are all framed for killing the Caped Crusader. As the city's most wanted criminals, this renegade band of misfits must fight to clear their names. But in a Gotham with no Dark Knight to protect it, the city descends into the most dangerous it's ever been. However, hope comes from the most unexpected of places, as this team of mismatched fugitives will become its next generation of saviors… known as the Gotham Knights. Fallon Smythe (Grown-ish), Tyler DiChiara (Relish), Olivia Rose Keegan (High School Musical: The Musical: The Series), Navia Robinson (Raven's Home), Oscar Morgan (Master of the Air), Misha Collins (Supernatural), Anna Lore (All American), Rahart Adams (Foursome) Lauren Stamile (Complications), and Damon Dayoub (Stitchers) star. In addition, real-life married couple Ethan Embry and Sunny Mabry have joined the cast as Arthur and Crystal Brown.
Batman is dead, and a powder keg has ignited Gotham City without the Dark Knight to protect it. In the wake of Bruce Wayne's murder, his adopted son Turner Hayes (Morgan) is framed for killing the Caped Crusader, along with the children of some of Batman's enemies: Duela (Keegan), an unpredictable fighter and skilled thief who was born in Arkham Asylum and abandoned by her father, Harper Row (Smythe), a streetwise and acerbic engineer who can fix anything, and her brother Cullen Row (DiChiara), a clever transgender teen who is tired of being polite and agreeable. With the charismatic and hard-charging District Attorney Harvey Dent (Collins) and the GCPD hot on their trail, Turner will rely on allies, including his best friend and formidable coder Stephanie Brown (Lore) and unlikely Batman sidekick Carrie Kelley (Robinson). But our Knights will soon learn there is a larger, more nefarious force at work within Gotham City. This team of mismatched fugitives must band together to become its next generation of saviors, known as… the Gotham Knights.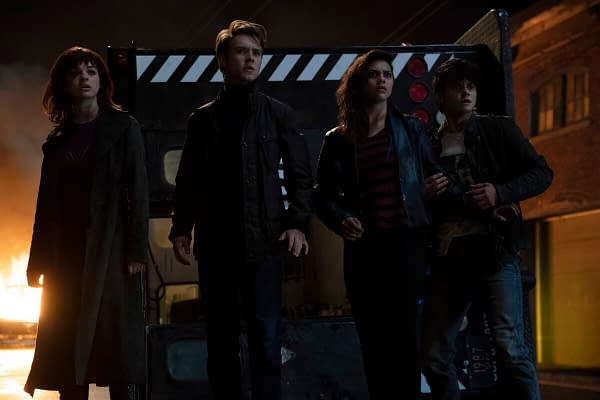 Smythe's Harper Row: streetwise, acerbic, and often underestimated, the blue-haired bisexual is a gifted engineer who can fix anything. But what Harper wants most of all is to repair the broken lives of her and her brother, Cullen, the only person she trusts. After years of hiding his true self from an abusive parent, DiChiara's transgender teen Cullen Row is tired of being polite and agreeable. Clever and adept at reading human nature, Cullen is ready to fight his own battles. Dashing with a swagger, Collins' Harvey Dent is Gotham's charismatic, hard-charging District Attorney. With a rigid sense of right and wrong, Harvey's idealism and his single-minded quest for justice will ironically and tragically transform him into one of Gotham's most feared supervillains, Two-Face. Lore's Stephanie Brown is someone whose sarcasm is matched only by her intellect. She was raised on a steady diet of brain teasers and puzzles and honed her skills to become a formidable coder.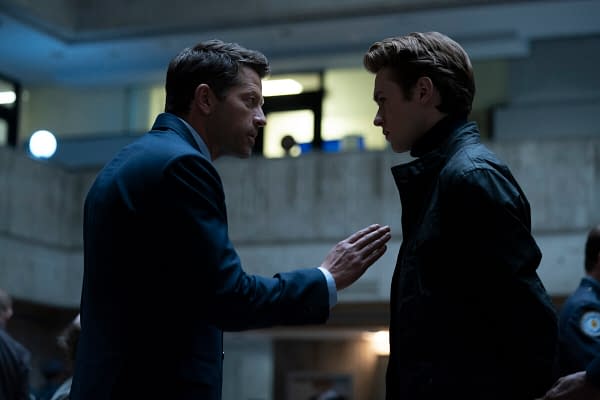 Confident and charismatic, Adams' Brody has the brains and the looks — and he knows it. However, his entitled attitude covers his insecurity and jealousy of anyone who rivals him. Dayoub's Lincoln March is a charismatic, self-made industrialist with designs on becoming Gotham's next mayor; the only thing more important to Lincoln than his legacy is the power he wields as one of the city's elite. Old-money elegant, Stamile's Rebecca plays the dutiful "Good Wife" to her business mogul husband. A caring and supportive mother, one would never know she's trapped in an unhappy marriage. Embry's Arthur is the meticulous and eccentric host of a 'Jeopardy'-like game show… and always the smartest person in the room. Arthur keeps a squeaky-clean image for the public, with his dark side as Gotham criminal Cluemaster going to great lengths to protect his appearance. Mabry's Crystal enjoys being the wife of a local celebrity, though a natural, camera-ready charmer herself. But, as those closest to her know, Crystal is warm and kind one minute and suddenly cold the next because she's struggling with a secret addiction that threatens to ruin her happy home.
Produced by Berlanti Productions in association with Warner Bros. Television, Fiveash and Stoteraux exec produce alongside Greg Berlanti, Sarah Schechter, and David Madden. Abrams is also a co-executive producer, while Danny Cannon directed and executive produced the pilot. The series is based on characters created for DC by Bob Kane with Bill Finger.