'Gotham' Season 5, Episode 7 "Ace Chemicals" Sets up Satisfying Pool Party [SPOILER REVIEW]
It's hard not to get excited when you see the name Tze Chun's name pop up as the writer of an episode of FOX's Gotham. After all, he is the writer who brought us "Penguin, Our Hero", and last season's "A Beautiful Darkness" – in which Oswald Cobblepott (Robin Lord Taylor) manages to convince Jerome (Cameron Monaghan) that he's trapped him in an invisible box through the power of mime.
Chun knows how to give the villains of the FOX series a voice, and "Ace Chemicals" is proof of that. "Jokermiah" has produced a pair of perfect matches for Bruce and Martha Wayne, and reproduced an idyllic reproduction of the tranquil Wayne Manor of Bruce's (David Mazouz) youth with the help of a little plastic surgery and Jervis Tetch's (Benedict Samuel) hypnotism powers.
"Ace Chemicals" is the culmination of 5 seasons of mythology diving head-first into the brick wall of destiny, and it's a satisfying conclusion. We already knew Jeremiah was going to be the Joker, but watching his final ascension to the mantle of Arch-Villainhood was a one hell of a payoff.
The relationship between the Joker and Batman has always been one of duality, but what is it that drives the Joker to continue his relentless attacks on the Caped Crusader? Gotham paints that obsession as one of near fraternal love, bordering on obsession: Jeremiah dearly longed for a brother like Bruce, but once his sanity was compromised, that yearning became twisted and deadly.
Cameron Monaghan's performance as Jeremiah has always been amazing, and here we see him come full circle: from semi-reverent antagonist to full-tilt adversary. Jeremiah has studied his Bruce Wayne history, at one point even appearing as Zorro in a Douglas Fairbanks movie – and it all just clicks into place.
Lets cannonball into a big, bubbling vat of spoilers! First off, don't tease us with mustaches, Gotham! Jim (Ben McKenzie) peels a fake mustache off of one of Jokermiah's victims, and you know how we feel about mustaches and Jim Gordon!
GROW THE DAMNED MUSTACHE, JIM!
"Oh, look! He's swimming back to shore!" Lord Taylor delivers the best line of the episode, as the Penguin and Cat (Camren Bicondova) continue their super-villain team-up.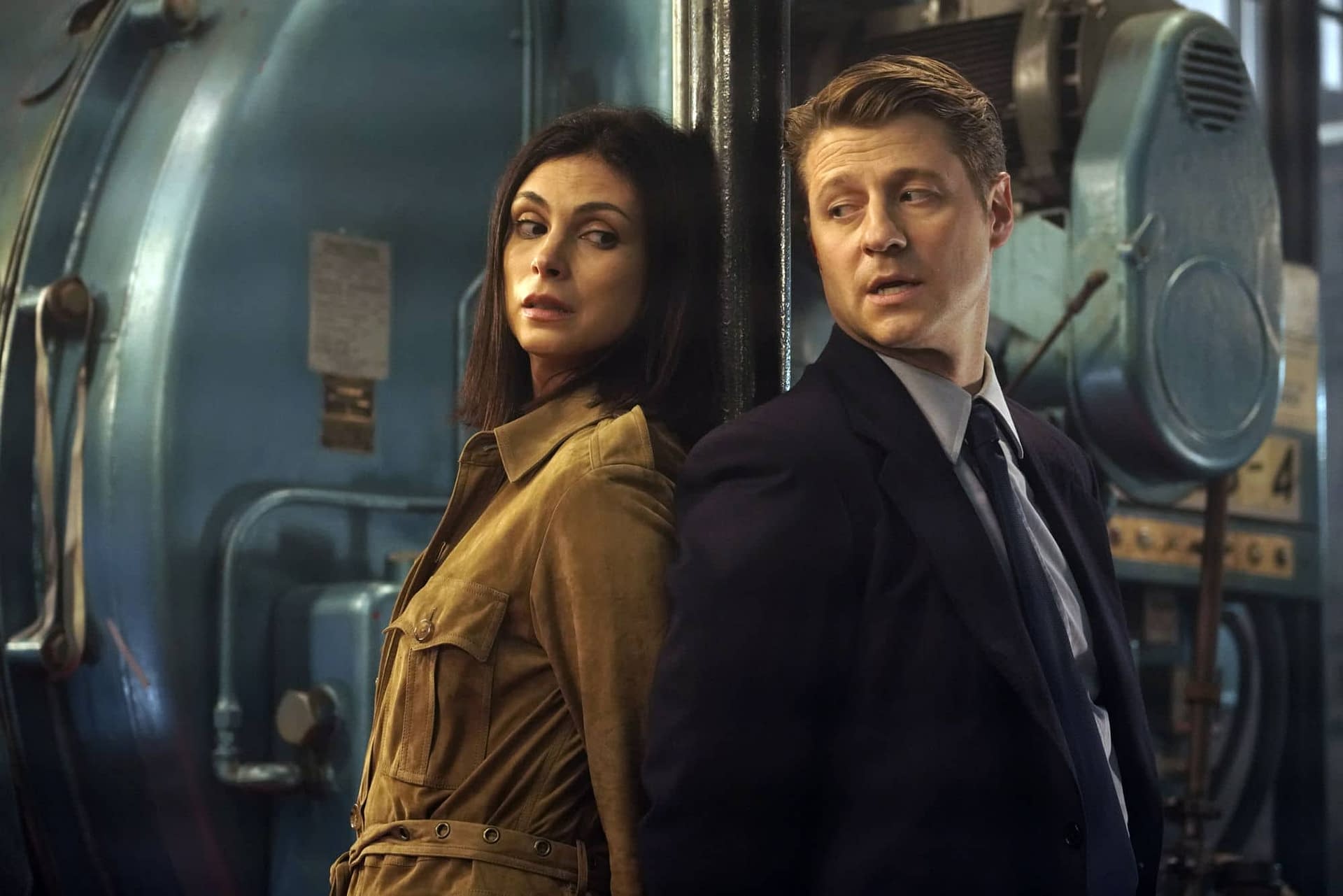 Barbara (Erin Richards) navigating potential motherhood is a blast to watch. She's not succumbing to tropes here, and appears to be ready to chew her way out of Gotham City. We have some theories on this pregnancy, which we'll be sharing shortly.
Jeremiah took his plunge into Bat-history, falling into that bubbling vat of green gooey goodness at the end of the episode. And the writers didn't go the lazy route, we know full well he survived… and Bruce knows it, too. Considering how good the proto-Joker has already been, how freaky is Monaghan's full-tilt Joker going to be?
The real set-up, though, was Jim driving all of that toxic waste into Gotham Harbor. He thought he was doing the right thing, but now all of that goop is just floating around, waiting to turn hapless Gothamites into all kinds of fun bad guys.
Thursday, February 28th shows us the end result of that hapless act, with "Nothing's Shocking". Here's a taste of what's to come!
https://www.youtube.com/watch?v=u8VW9T24Xbs
FOX's Gotham stars Ben McKenzie as Detective James Gordon, Donal Logue as Detective Harvey Bullock, Morena Baccarin as Dr. Leslie Thompkins, Sean Pertwee as Alfred Pennyworth, Robin Lord Taylor as Oswald Cobblepot/The Penguin, Erin Richards as Barbara Kean, David Mazouz as Bruce Wayne, Camren Bicondova as Selina Kyle/Catwoman, Cory Michael Smith as Edward Nygma/The Riddler, and Chris Chalk as Lucius Fox.