Fox has released two new clips from this week's return of Gotham and they're a bit spoilery… okay, they're a lot spoilery. But if you want a sneak peek at the 20th episode of the season, This Old Corpse, then read on…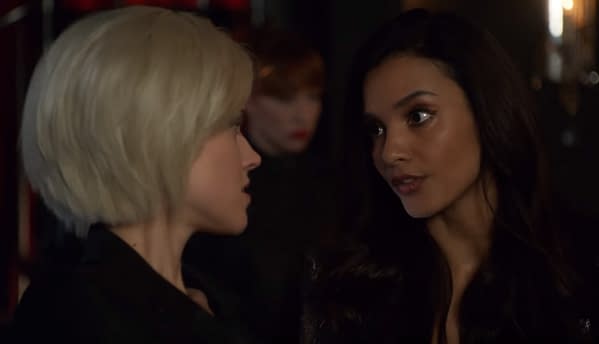 The synopsis for the episode reads:
Chaos erupts at the GCPD, sending Gordon on a wild goose chase for the culprit behind the mass takeover. Meanwhile, a friend of Bruce's becomes paranoid, resulting in rash and destructive behavior.
But both clips talks about Jim Gordon (Ben McKenzie) being dead and Jeremiah Valeska (Cameron Monaghan) being back and having plans for the city. The first clip released has Penguin (Robin Lord Taylor) and Butch (Drew Powell) going to Barbara (Erin Richards) and Tabby (Jessica Lucas) about a plan to make a lot of money, when they say no, Penguin talks about how he was going to use his half to get Hugo Strange (B.D. Wong) to cure Butch which gets Tabby on his side. At no point as Penguin talked to Strange about this or if he can fix Butch… but that doesn't seem to come up at all.
The second clip has Jeremiah arriving at GCPD headquarters, claiming to have killed Gordon and telling Harvey Bullock (Donal Logue) that he has six hours to clear the city before he starts setting off bombs to level Gotham. Why is it so easy to plant bombs in the city?
Gotham airs Thursdays at 8 PM on Fox.
Enjoyed this article? Share it!