When Harley Quinn returned for a second season to the DC Universe streaming service, neither the series nor the anti-hero hero (Kaley Cuoco) had any interest in doing things the "same old, same old." Her Harley-ness is not only premiering overseas next month on the UK's E4 (paired up with a returning Rick and Morty) but the hit animated series from Warner Bros. Animation is also set to have an exclusive cable run of the first season on SYFY starting Sunday, May 3. Voiced by The Big Bang Theory alum and executive producer, the series finds Harley ditching Joker and striking out on her own and looking to start her own crew. Her goal: a seat at the table as a member of the Legion of Doom.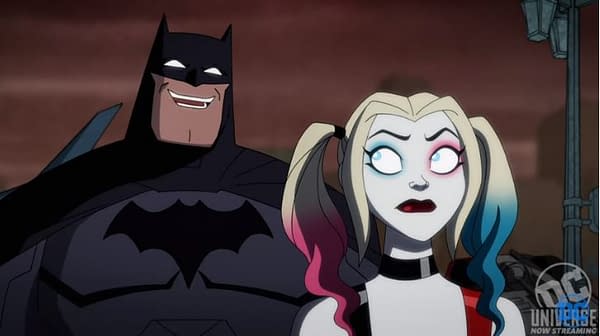 Here's a look at how the SYFY's first season schedule for Harley Quinn looks: on Sunday, May 3, viewers get a four-episode, two-hour premiere from 11 pm to 1 am ET/PT. Following that, May 10 and 17 bring the next six episodes, three episodes each day for ninety minutes, running from 11 pm to 12:30 am ET/PT. The series' run wraps up on May 24, with the final three episodes running from 12 am to 1:30 am ET/PT. Now, here's a look at what you can expect:
Cuoco is joined on the voice cast by Lake Bell (Wet Hot American Summer) as Dr. Pamela Isley/ Poison Ivy, Alan Tudyk (Doom Patrol) as The Joker, Ron Funches (Powerless) as Nanaue / King Shark, JB Smoove (Curb Your Enthusiasm) as Frank the Plant, Jason Alexander (Seinfeld) as Sy Borgman, and Wanda Sykes (Black-ish) as Tsaritsa / Queen of Fables. Giancarlo Esposito (Breaking Bad) as Lex Luthor, Natalie Morales (Bojack Horseman), Jim Rash (Community) as Edward Nygma / Riddler, Rahul Kohli (iZombie) as Dr. Jonathan Crane / Scarecrow, Diedrich Bader (Veep) as Bruce Wayne/ Batman, Tony Hale (Veep) as Dr. Edgar Cizko / Doctor Psycho, Sanaa Lathan (Native Son) as Selina Kyle / Catwoman, and Christopher Meloni (Happy!) as Commissioner Jim Gordon also star. Speaking of Meloni, the actor discussed his approach to voice acting compared to live acting with Bleeding Cool before explaining what his Harley Quinn recording experience was like (and how it connected to Meloni's work on 2014 FOX sitcom Surviving Jack):
Enjoyed this article? Share it!