Harley Quinn's Message to Snyder Cut and Last Jedi-Hating Fanboys
DC Universe's Harley Quinn has been having a pretty good run of things lately. First and foremost, we have the second season currently underway on the streaming service (with the fifth episode "Batman's Back Man" dropping today) that finds Harley (Kaley Cuoco) and her crew dealing with a Gotham City that's gone the "No Man's Land" route. But a successful first season does not go unnoticed. Harley Quinn will be making the jump to the UK's E4 this month, paired up with Rick and Morty for a strong adult animated block. In addition, her first season's worth of adventures will begin airing on SYFY starting Sunday, May 3.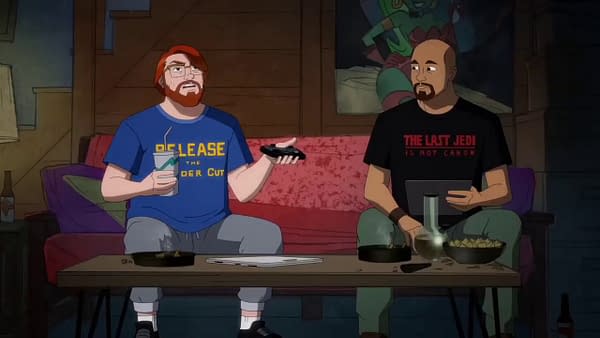 But even with all of that success, don't think for a second that the fine folks behind the animated series still don't have their knives sharpened for the fanboy haters out there. You know the ones, right? Their "feels" can't handle a female character in a lead role kicking ass and taking names, taking out their own insecurities on others while continually confusing their bloated opinions for facts. So if you're one of those who get off on screaming that The Last Jedi "isn't canon" or hijack every single conversation with a "Release the Snyder Cut" diatribe? You should definitely watch this:
Joining Cuoco on the animated series are Lake Bell (Wet Hot American Summer) as Dr. Pamela Isley/ Poison Ivy, Alan Tudyk (Doom Patrol) as The Joker, Ron Funches (Powerless) as Nanaue / King Shark, JB Smoove (Curb Your Enthusiasm) as Frank the Plant, Jason Alexander (Seinfeld) as Sy Borgman, and Wanda Sykes (Black-ish) as Tsaritsa / Queen of Fables. Giancarlo Esposito (Breaking Bad) as Lex Luthor, Natalie Morales (Bojack Horseman), Jim Rash (Community) as Edward Nygma / Riddler, Rahul Kohli (iZombie) as Dr. Jonathan Crane / Scarecrow, Diedrich Bader (Veep) as Bruce Wayne / Batman, Tony Hale (Veep) as Dr. Edgar Cizko / Doctor Psycho, Christopher Meloni (Happy!) as Commissioner Jim Gordon, and Sanaa Lathan (Native Son) as Selina Kyle / Catwoman also star.