5 Questions We have After 'Game of Thrones' Season 8 Premiere, 'Winterfell' [SPOILERS]
David Benioff and D.B. Weiss know with what little time they have left in Game of Thrones, they can't afford to leave things dangling like in seasons past. Here are our 5 major questions we have following the eighth and final season premiere, "Winterfell".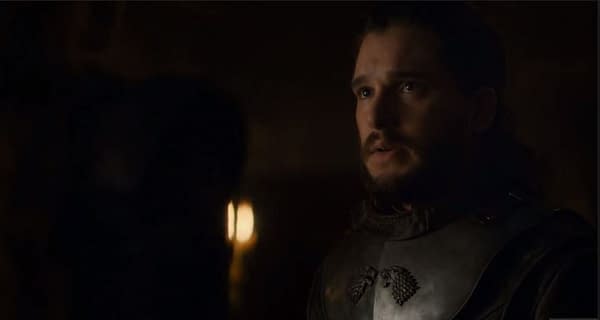 Will Jon Snow Take Charge or Continue to Defer?
Upon the series of events leading to Samwell Tarley (John Bradley) revealing Jon Snow's (Kit Harrington) true lineage as the rightful heir to the iron throne as Aegon Targaryen- the LEGITIMATE child of Lyanna Stark (Aisling Franciosi and Rhaegar Targaryen (Wilf Scolding)- Snow faces a similar world-changing dilemma his uncle Eddard Stark (Sean Bean ) faced in season one. Ned Stark discovered Joffrey (Jake Gleeson) was not King Robert Baratheon's (Mark Addy) eldest son and rightful heir, but the child of his wife Cersei (Lena Headey and her brother, Jaime Lannister (Nikolaj Coster-Waldau). Not taking proper precautions became Ned's undoing as unraveling the conspiracy following Baratheon's death led to his execution from the merciless Joffrey to close season one.
Snow has the evidence and knowledge to usurp the authority of The Mother of Dragons, lover and aunt, Daenarys Targaryen (Emilia Clarke) as the rightful ruler despite bending the knee. Knowing the truth, how will Aegon proceed? Playing his hand right away could potentially shatter his relationship with Dany.
Despite never wanting to be the King of the North and his own decisions led to his own death as Lord Commander of the Knights' Watch only to be later resurrected, Aegon needs to face destiny in the next episode. He can relinquish all control, continue as planned and pretend Sam didn't say anything, but betray tradition and let Sam continue to suffer the indignity from Dany's lack of mercy to his family.
Aegon can split the seven realms to rule jointly with Dany, which seems like the least likely scenario or he can be the noble leader Westeros never had. If he takes the throne form himself, it would be because he has to, not because he wants to.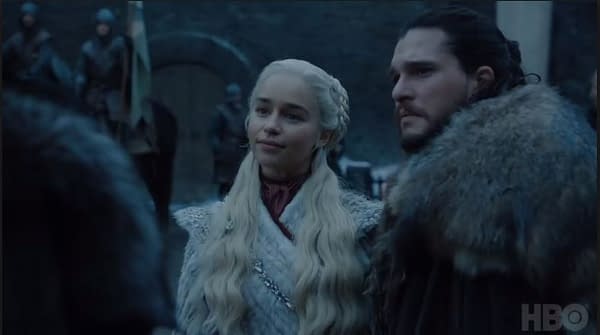 What Will Daenarys do?
Whether Dany is told first or later may factor in her actions given how important the fight with the Night King and the lingering Lannister threat from Kings Landing and Cersei. She was willing to share power with Khal Drogo (Jason Mamoa) in the series' beginning before the slave trade inspired her to take initiative to fight for her rightful crown. Initially a just and fair ruler, Dany's frustrations grew more resolute and ruthless for those who dared to stand in her way allowing her victims to become Dragon fodder, particularly when it came to slavers and those who refused to bend the knee as those of House Tarley found out.
Dany understands how important alliances are to preserve the living over the white walkers, but she likely well aware she doesn't have a fan in Sam despite what he did for Jorah Mormont (Iain Glenn) in saving his life. While it may be too soon, Dany suffered by those who rather see her dead. Paranoia, distrust, and cruelty shaped her arguably more than Jon. Will Aegon and Dany's continued association make her more merciful or is her heart set in her colder ways with her biggest threat to the crown beside her?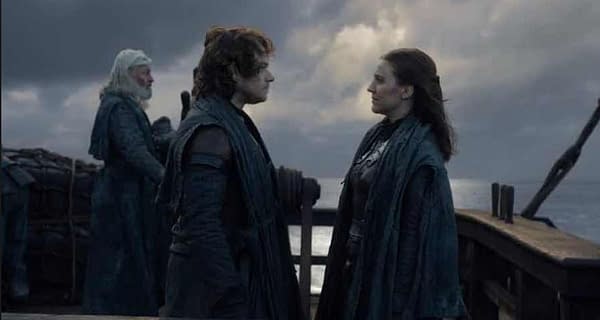 What Will Happen on the Iron Islands? [And Do We Really Care?]
After Theon Greyjoy (Alfie Allen) finally saved his sister Yara (Gemma Whalen) from Euron's (Pilou Asbæk ship, Yara plans to retake the Iron Islands from him, while she gives her blessing for Theon to help his adopted family, the Starks against the Night King.
Civil war aside, the Iron Islands could end up being a footnote during the season with Theon completing the reunion of the Stark children with what little fleet he leads as reinforcements. Unless Euron becomes distracted after what happened, there's a chance Cersei might dispose of him quickly and take all his men. Given his brash and abrasive attitude, he's likely to get sloppy. Genuine affection outside of Jaime, it's almost expected for Cersei to go praying mantis for Euron.
It's not really Allen, Asbæk, or Whalen's fault they're being brushed aside in the grand scheme of things, but given the importance and scale of the final battles, the Iron Islands affairs seems almost inconsequential by comparison. The Greyjoys are one of the least interesting houses on Game of Thrones, because it feels like the show runners do the bare minimum when it comes to story.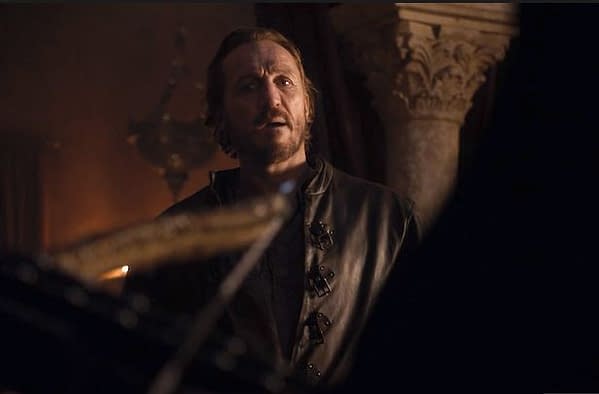 Will Bronn betray Jamie, Kill him and Tyrion?
Ever the lovable mercenary, Bronn (Jerome Flynn) had quite a few adventures with Jaime to defend the Lannisters at Kings Landing. They even survived an attack from one of Dany's dragons. Since the events of the season seven finale, Cersei's made her intentions known she's willing to commit fratricide on both her brothers after her Hand, Qyburn (Anton Lesser) offers him Joffrey's crossbow, which was also used in Tywin's (Charles Dance) murder at Tyrion's (Peter Dinklage) hands.
The temptation of better standing with the Seven Kingdoms and the risk of his own death should Bronn throw any shade at the mission at hand only raises the stakes of an early season eight death. How will Jaime discover Bronn's tasked betrayal now that he's reached Winterfell and reunited with Bran (Isaac Hempstead Wright), the one who helped set the motion of the entire series?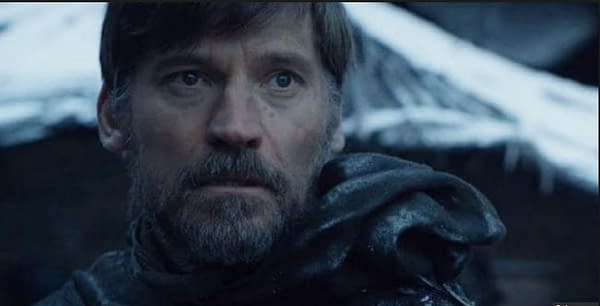 What Happens Between Jaime and Bran? Is Jaime actually Azor Ahai?
When Jaime pushed Bran out window in season one after catching him and Cersei in incestuous coitus, all bets were off shocking moments on Game of Thrones. The accident set Bran's journey to be the new Three-Eyed Raven and set up the final elements of the plot in place from revealing Jon Snow's true lineage to assembling the living to face the ongoing white walker threat.
As Aegon and Dany rose up in the ranks bringing hope and inspiration around their respective peoples, there's belief particularly among the red priestesses like Melisandre (Carice van Houten), who prophesized these figures to be the legendary "Azor Ahai" or "The One Who Was Promised." Azor Ahai is said to wield a flaming sword called "Lightbringer" and become the champion of the Lord of Light.
Among the red priestesses, the title bounced around with Melisandre's early declaration of Stannis Baratheon (Stephen Dillane) to now Aegon and Dany. One name not accounted for and appears on a path to redemption is Jaime. If prophecy was so muddled and can be all inclusive, why not?
First, the obvious choice in Aegon wields his own Valyrian steel sword called Longclaw and proves quite adept and doesn't seem to serve any purpose to the story. Second, we yet seen Dany wield a sword since she primary fights from the backs of her dragons, not likely engaging any hand-to-hand combat any time soon. Third, despite everything that's happened with Jamie and his sister, we see more of his moral code start to unravel.
Jaime's familial bonds to Tyrion, Brienne of Tarth (Gwendoline Christie) and Cersei restored a sense of honor that fleeted him since he earned the nickname "Kingslayer" for killing "The Mad King" Aerys Targaryen (David Rintoul. In the interest of not overthinking the details, it could also suggest a bit of foreshadowing since they are facing the Night King (Vladimir Furdik), obviously.
Jamie's experience with Ice, the former Valryian Steel family sword of the Starks became "Oathkeeper" for Brienne and ""Widow's Wail" for Joffrey. Since Jaime doesn't have any intentions of wielding Widow's Wail given his son's reign and tainted legacy, it would only make sense Lightbringer find its way for a more honorable soul.
Game of Thrones 8th and final season continues for the next 5 Sundays on HBO. Here's a preview of next week's episode-