Hulk Hogan Teases Another WWE Title Run Ahead of WrestleMania 3 on FS1
WWE Hall-of-Famer Hulk Hogan has cut a new promo on social media as part of Fox's promotion of WrestleMania 3, airing next Tuesday on FS1 for the first time ever on free television. "Please, Hulkster," begs Hogan's personal lackey, "The Mouth of the South" Jimmy Hart, in the video. "You can't take on the whole WWE roster at one time!"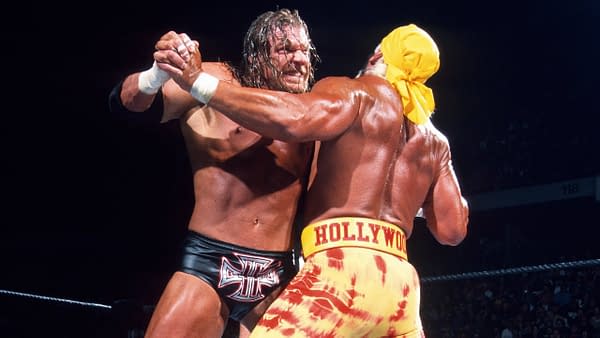 "You know something, Jimmy Hart?" Hogan replies. "Don't be a Chicken Little, and don't tell me what I can or can't do. Because the talk is already on the street, brother! You know, this Tuesday at 8 PM Eastern Standard Time, FS1 is doing a premiere showing of WrestleMania 3, brother. And I want everybody to know, I want everybody to watch, that when it goes down, the whole country is gonna be shakin' in its boots. And you know what Jimmy, I just might after that WrestleMania shows next Tuesday, WrestleMania 3's gonna pump me up so much, I just might go back and get the WWE title one more time, brother."
"Wait a minute, Hulkster," Hart, who somehow hasn't aged in 40 years, interrupts. "You know how fast and young and quick these WWE superstars really are."
"Oh yeah, Jimmy, I know all about the new WWE superstars," the geriatric Hulkster responds. "But if you were to take Hercules in one hand, Samson in the other, a Mack truck, and a Peterbilt, it's still not as strong as where the power lies, in Hulk Hogan, brother." Bleeding Cool was unable to confirm whether the power Hogan, who was fired from WWE in 2015 for an explicitly racist rant recorded while having sex with the wife of Florida radio shock jock Bubba the Love Sponge, spoke of was "white power."
"Because when you watch WrestleMania 3 on FS1 when you see me press that big, stinky Giant over my head," Hogan says of the long-deceased and beloved wrestling icon Andre the Giant, "and when I slam him to the ground, as the fault line opens in California, the San Andreas fault, and when the Vince McMahonican fault line from New York to Florida opens up, you'll see everybody start shakin' in their boots."
"But all the execs at FS1, if you weren't around in '88, don't worry, brothers," Hogan says while struggling to rip open his shirt. "The world's not coming to an end. It's just the premiere of WrestleMania 3 on your network, FS1, and guess what? It's just a replay. So whatcha gonna do when the power of Hulk Hogan and FS1 run wild on you?!"
Click the tweet below to watch the video.