"iZombie" Season 5, Episode 6 "The Scratchmaker": Blaine's Pain is Our Gain [SPOILER REVIEW]
This week's episode of the CW's iZombie "Scratchmaker" was dedicated to all things Blaine (David Anders). I must confess he is one of my favorite characters and I found myself being a smidge disturbed that the episode started off with him wearing an orange jumpsuit – but hey, a cockroach will always find a way to survive the apocalypse and so he does. "Scratchmaker" scored some serious entertainment points with me: easy to watch, a lot of plots with resolutions, and Major (Robert Buckley) finally stepping up to the plate. Seems to me he is much better at underhanded strategies than he is with direct action and brute force – maybe I've underestimated his intelligence and tactics.
With the brain smuggling business brought to a halt, New Seattle has 48 hours before zombies start going hungry and turning their attention to the deliciously and tasty living. After Blaine refuses to give up his contacts to Major, he is left to plead with Washington for alternative ways to feed his people – and they politely refuse. Liv (Rose McIver) on "matchmaker brain" took second chair, and her need to pair lovers could have made for some serious hilarious moments – but didn't. We were also treated to the welcome return of Mr. Boss (Eddie Jamison), who Blaine reported to back in the drug smuggling days of the earlier episodes.
Blaine is arrested for killing the mayor (among other things) and his entire world goes to shite. All his assets are frozen, nobody will visit his club, and he is slowly being cut out of the brain smuggling business by Mr. Boss and Don E (Bryce Hodgson). He is released on bail after coming up with 50k with Don E's help, but before that he has his lawyer deliver a message to Don E "365 degrees" and then his house goes up in flames.
Coincidence? More like a nice way to bury some evidence.
https://youtu.be/pZBvR5b8MEo
"Brain Drain in Seattle"
Dolly Durkins (Jennifer Irwin) doesn't waste any time going public with the news that zombies will soon be going dumpster diving in the flesh of humans and that something needs to be done about this. Apparently, Dolly has a serious disdain for zombies when we find out Murphy (Rohan Cambell) a soldier under Fillmore-Graves who is obviously undead is her son, and mommy dearest would like to see him nuked as well.
Probably one of the best and worst scenes of the episode is when Al (Gage Golightly) refuses soldier protection and Blaine shows up at her house. I will be the first to admit, I really wanted this altercation to turn into a blood bath. I'm talking limbs flying everywhere – unfortunately Al once again outsmarts Blaine and pulls a gun to his head. I admire a strong woman who can hold her own, however I would have preferred her to just be a ballbuster reporter set on exposing the devil for who he really is – not Mr. Boss's niece.
It appears that her uncles have wanted to cut Blaine out of the brain smuggling business for some time so that he can collect on a higher fee. Al was just here to help out.
Back at the club, Blaine asks Don E if he was able to retrieve the four left over cures he had at his place: Don E apparently was being followed so he sent his minion Tanner to get them. Unfortunately, Tanner is stupid: getting pulled over, Tanner assumes the viles are drugs and tosses them into the river. Blaine offers his thoughts on the matter with scissors to Tanner's noggin. End scene.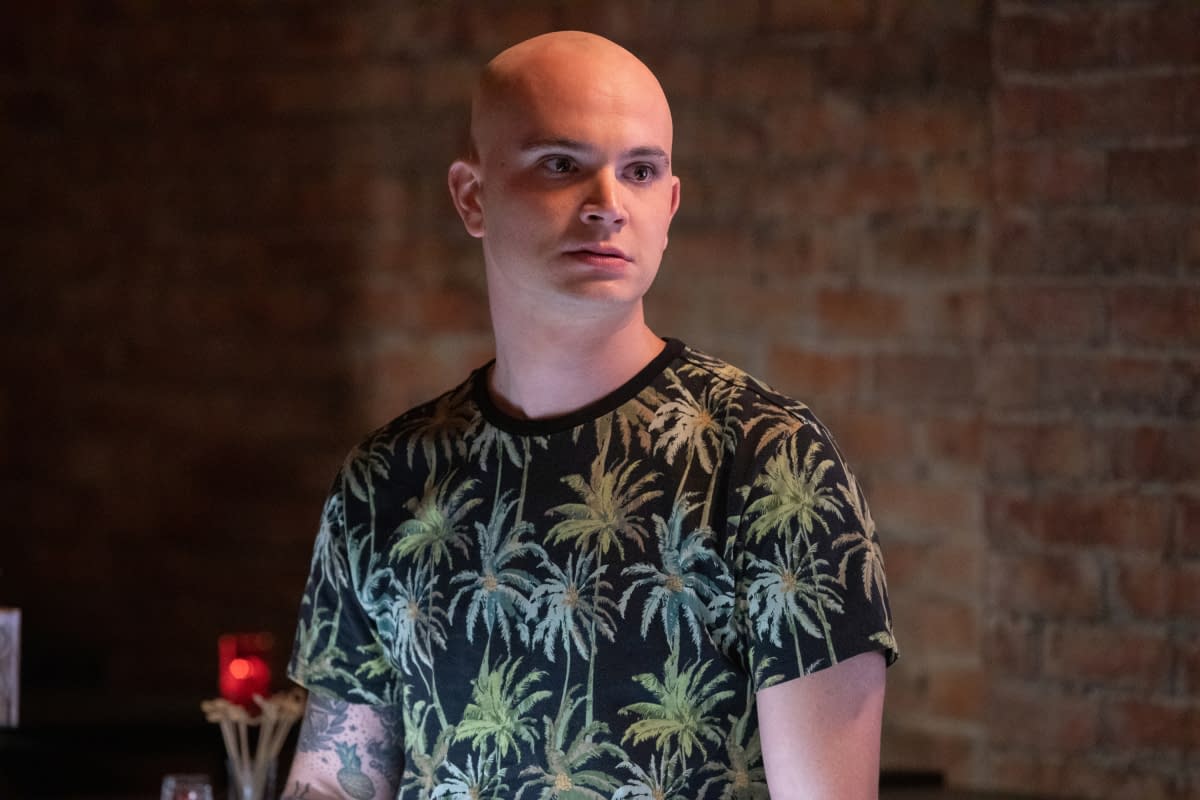 "Screw Blaine. I'm In."
After Blaine brutally kills Don E's friend and asks him to dispose of the body, Don E aggress to betray Blaine and go into business with Mr. Boss directly. Meanwhile, Major cleverly approaches a billionaire bussiness man who is able to get anything shipped into New Seattle – so Mr. Boss and Don E scramble to F-G headquarters to find out what the hell is going on. With a smirk on his face, Major resumes business with them – at 80% less than what he was paying before. Finally, a win!
We find out that Mrs. Schwartz killed the matchmaker after she set her son up with a zombie – a scene that almost goes unnoticed as Dale (Jessica Harmon) appears to have contractions and is escorted home by Clive (episode director Malcolm Goodwin) and put on bedrest. The good news? Until further notice, Clive is acting lieutenant.
The one plot I can really live without is this Renegade/coyote operation which kind of hovers in the background. At the end of season 4, it meant something and empowered Liv to go on and have a purpose – this season? It's an unwanted stepchild. You might remember that a teacher was hired by Liv to home-school the orphan children, but his boyfriend was captured and is being held captive until he assists with what we find out is a zombie "spy" to infiltrate Renegade's operation.
Well, the time has come and the teacher preps the zombie to appear human and walks her through their interviewing process (what the hell?!?) apparently she is asked a few questions and told to drink something that resembles rubbing alcohol. I mean, really? That is the background check? To no suprrpise, she passes with flying colors. Liv also tries to set her up with Major – making this whole thing feel like rummaging through the fridge and cupboard on a Sunday night and throwing together whatever you have for a passible dinner.
Now back to Blaine… like I said, cockroaches always survive – and find fantastic resolutions to build back their capital after they go broke. Blaine approaches the first Freylich child – whose brain is the cure – and offers her half a million dollars for her brain once she passes, a proposition she quickly accepts because it will help her family once she is gone. Blaine moves forward with selling the cure to rich zombies wanting to be human again…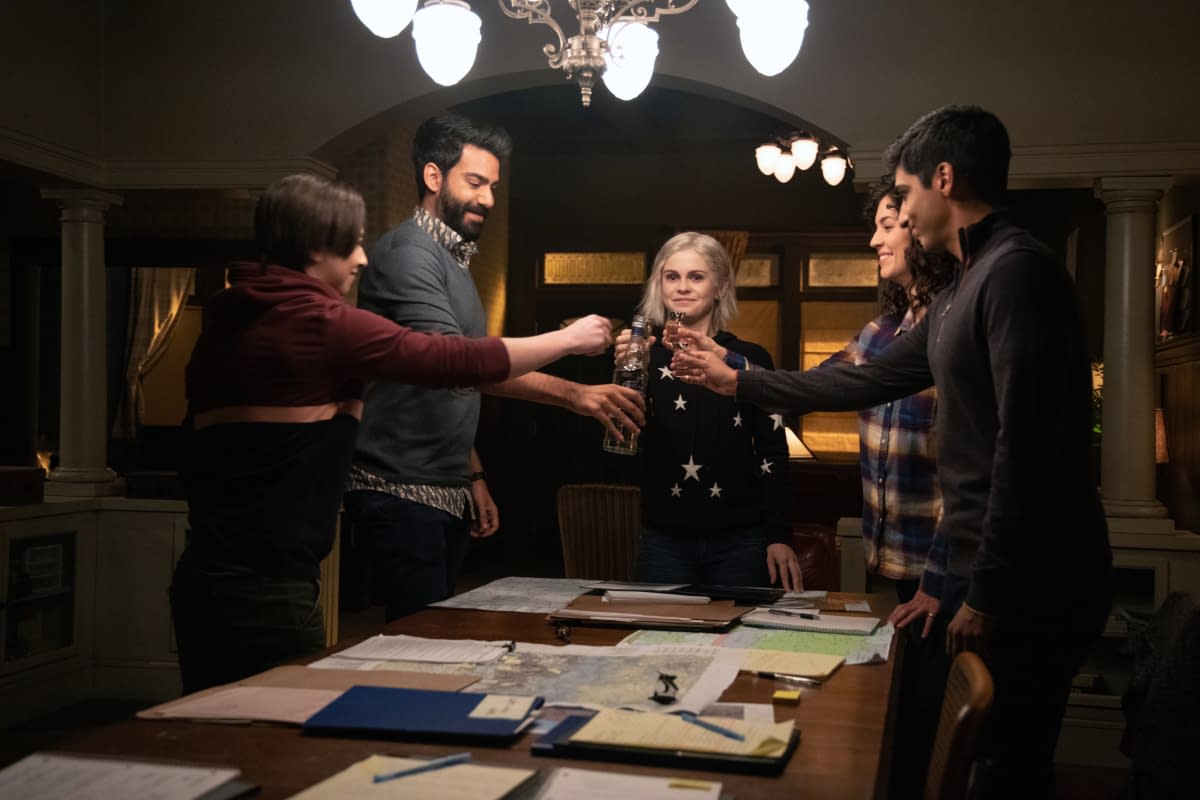 So what's left in store for this final season of CW's iZombie? Given that Washington blatantly refused to feed the zombie population, they clearly don't value the humans living in New Seattle – making them very expendable.
I'd say very likely they nuke the whole city – or at least try.

About Next Week's 'iZombie' Episode ""Filleted to Rest"…
https://www.youtube.com/watch?v=DQXs6bHSago
iZombie season 5, episode 7 "Filleted to Rest": BON APPETIT – While investigating the murder of Eleanor Barba, a chef at a high-end restaurant, Liv (Rose McIver) consumes her brain and becomes an unrelenting perfectionist who knows just how to break a person to their very core. Meanwhile, Major (Robert Buckley) is on a mission to find out who is betraying the commander. Malcolm Goodwin, Rahul Kohli, David Anders, Aly Michalka and Bryce Hodgson also star. Michael Fields directed the episode written by Chelsea Catalanotto
CW's iZombie stars Rose McIver as Olivia "Liv" Moore, Malcolm Goodwin as Clive Babineaux, Rahul Kohli as Dr. Ravi Chakrabarti, Robert Buckley as Major Lilywhite, David Anders as Blaine DeBeers, Aly Michalka as Peyton Charles, and Bryce Hodgson as Don E. Filmed in Vancouver, British Columbia, Rob Thomas, Diane Ruggiero-Wright, Danielle Stokdyk, and Dan Etheridge serve as executive producers. Production is handled by Bonanza Productions Inc., in association with Spondoolie Productions and Warner Bros. Television.
iZombie airs Thursday nights at 8 p.m. ET/PT on the CW.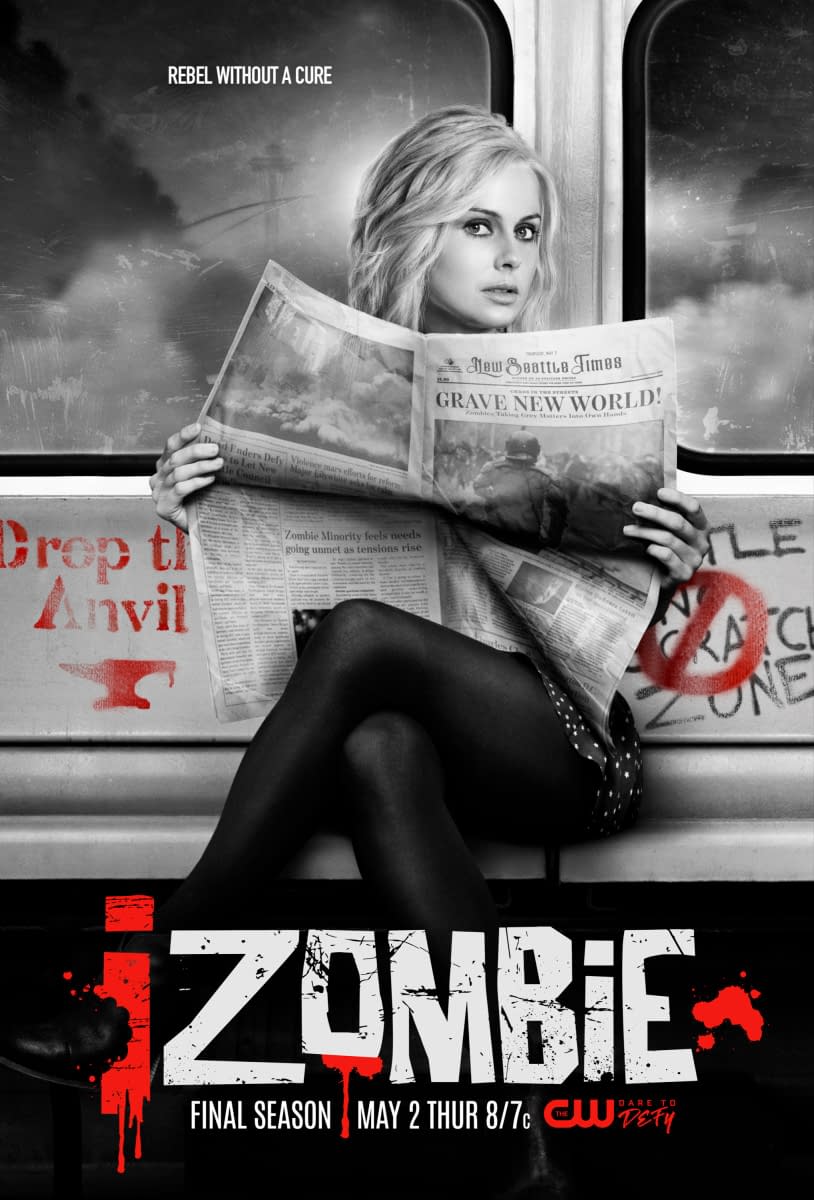 Margo Staten is a Ukrainian born, raised in Brooklyn, organically driven, coffee loving, twice-divorced mother of one baby Einstein. Has a passion for books, yoga in the park and all things 80's and New Orleans.