"iZombie" Season 5, Episode 9 "The Fresh Princess": Has Liv Heard of Google Searches? [SPOILER REVIEW]
This week's episode of the CW's iZombie "The Fresh Princess" dropped a number of bombs very nonchalantly. The way things are going, it probably won't be necessary for Washington to nuke New Seattle, they seem to be doing a great job of speed training their own demise. Martin (Bill Wise) organizing the zombies, Dolly (Jennifer Irwin), the fleshbags, neither one having any regard for their own kind. What's next. are we going to draw a line in the sand and get ready for a duel? Can we also address how trusting Liv (Rose McIver) is of her newfound relationships with her father? Did she not do a single search on this man, because it took Peyton (Aly Michalka) a few minutes to figure out that Martin is "Beanpole" – the father of the zombie kind and head Utopium dealer.
https://youtu.be/rSx4soSUU5Y
"I see they're almost ready"
I'm glad it didn't take half the season to find out who kidnapped Sloan. Dolly Durkins has been holding Sloan (Laura Bilgeri) and her boyfriend hostage with class in a porter potty's, starving them and getting them fit for a human feasting frenzy. Now granted clearly Dolly doesn't care much for zombies or the living. Dolly, quasi smart ensured to continue to post pictures of Sloan on her Instagram delaying anyone noticing she is really gone. Major (Robert Buckley) figures it out after he visits the Scratching Post to talk to Don E (Bryce Hodgson) and notices that the signage in the back and in the photos is different.
"So young… so full of promise"
Liv and Clive (Malcolm Goodwin) investigate the murder of a 90's teen pageant girl who died after 20 years in a coma. Apparently, someone spiked her make up and she was highly allergic. Velma another pageant contestant was arrested and is now up on murder charges. She claims she didn't do it. Clive and Liv find out that she may have been the intended victim. Liv on quirky teen brain is fitting for the episode as she attempts to pacify both her parents and mend a relationship with her brother. Yup, the entire happy family is back together, well kind off. Liv's mother makes an unannounced visit to plead with Liv to smuggle her and her brother to Boston for an experimental cancer treatment.
Ok, so we haven't heard about or from them in four seasons, but now they randomly pop back in to seek Renegade's help – not sure that was even necessary. There is a huge family reunion, when Martin comes into the living room and offers to scratch his dying son. Poor Evan not only is he terminally ill, but in an instant he's been offered to be zombified and by the father he never knew – that's a lot to process. It was nice to see Peyton partner up with Ravi (Rahul Kohli) in their search for Beanpole Bob and the tainted Utopium. Clearly Peyton was the brains of that operation. Worth watching is the scene where the determined duo break into Don E's basement and awkwardly search for the viles. Blaine (David Anders) it appears is still their house guest, turns on the lights and shocks them with his presence. He leads them to a secret hiding place in exchange for getting his cars out of the impound. They are able to locate the stolen evidence but come up empty.
"You really suck at this"
Why is Liv so trusting of Martin? Now granted we all know he's "Beanpole Bob" and wishes to unleash the zombie population, but she doesn't know him at all. Did it never occur to her to use her Renegade resources to do a background check on this guy? Does she not work for the police? Instead, she video calls him daily and takes him in as a house guest while he's in detox. She even gets Major to bring daddy brain tubes. Coincidently, while at Martin's house packing a bag, she stumbles on a locked door which leads to his basement. In that moment, she is ditracted by a vision of teen pageant girl, and changes course. Foreshadowing? Pretty much. Major is summoned to the Scratching Post after Don E and his soulmate Darcy (Valerie Tian) take matters into their hands and track down the woman who participated in having Sloan kidnapped. The pair chase her onto a rooftop to get her to lead them to the general's daughter – unfortunately, the only thing our two amateur detectives accomplish is having her plummet five stories down to her death. They do offer up her brain for some much needed zombie visions.
"Did you ditch the truck?"
Major and three of his soldiers consume her brain and pray one of them will have a vision which will lead them to Sloan, and it does. Dolly has her henchman deliver the port-a-potties to a human event in the park and then unleashes them. Hungry Sloan and her boyfriend attempt to feast on human flesh and Major is put in the awkward position of putting a bullet in Sloan's brain after she kills a man. Not sure there is any question about Washington wanting to nuke New Seattle now. Ooops.
"The 'father of all zombie kind' is Liv's dad?"
Peyton's and Ravi's investigation into the tainted Utopium leads them to the doorstep of "Beanpole Bob" aka Martin Roberts aka Liv's father. That is definitely a conversation that will not go over well with Liv and Major. Who gets to put dad on ice? And to think, Liv and Martin just had a moment where she called him "dad" for the first time and he graciously and possibly sarcastically thanked her for helping him get off drugs. Please let's not que the violins just yet. Turns out the victims' mother accidently poisoned her own daughter while trying to eliminate the competition.
Two more points to keep in mind: Peyton gets fired as acting mayor and Don E has a twin brother named Scotty (???).

With only four episodes of CW's iZombie left, where do we stand? There are zombies in Washington. The only ticket keeping New Seattle on the map is now dead. I don't foresee both Martin and Liv surviving the war, but at least she got a few nice words out of her mother (who may not make it to Boston safely – not going to shed any tears over that one). Will Major and Liv finally get back together? Will Ravi find the tainted Utopium in time to create a cure? How will it all end? Next episode takes us one step closer…
iZombie season 5, episode 10 "Night and the Zombie City": SHERLOCK LIV — While investigating the murder of private eye Mick Chisel, who was stabbed in the head with an ice pick, Liv (Rose McIver) consumes Chisel's brain in hopes of breaking down how this gruesome murder took place. Rahul Kohli, Malcolm Goodwin, Robert Buckley, David Anders, Aly Michalka and Bryce Hodgson also star. Tuan Le directed the episode written by Bob Dearden
CW's iZombie stars Rose McIver as Olivia "Liv" Moore, Malcolm Goodwin as Clive Babineaux, Rahul Kohli as Dr. Ravi Chakrabarti, Robert Buckley as Major Lilywhite, David Anders as Blaine DeBeers, Aly Michalka as Peyton Charles, and Bryce Hodgson as Don E. Filmed in Vancouver, British Columbia, Rob Thomas, Diane Ruggiero-Wright, Danielle Stokdyk, and Dan Etheridge serve as executive producers. Production is handled by Bonanza Productions Inc., in association with Spondoolie Productions and Warner Bros. Television.
iZombie airs Thursday nights at 8 p.m. ET/PT on the CW.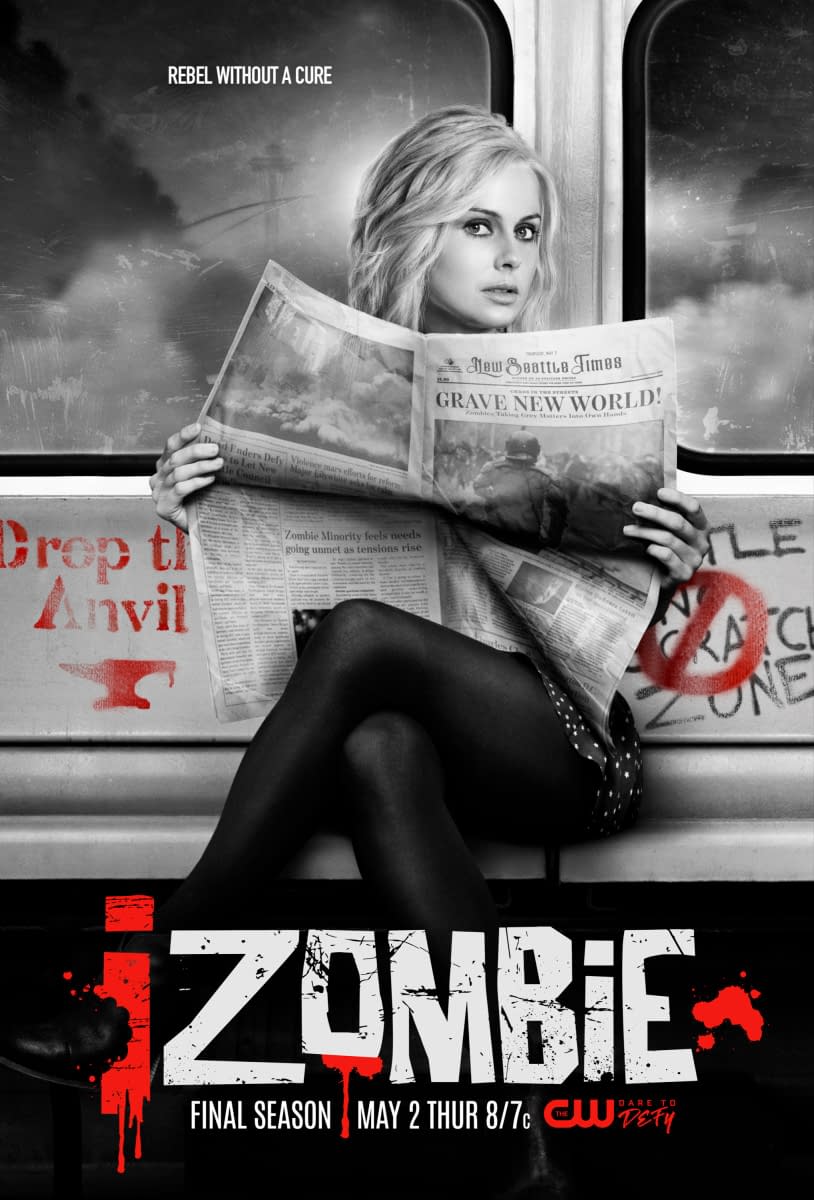 Aside from an avid iZombie fan, Margo Staten is a Ukrainian born, raised in Brooklyn, organically driven, coffee loving, twice-divorced mother of one baby Einstein. Has a passion for books, yoga in the park and all things 80's and New Orleans.