Like dozens of other television shows, AMC's Walking Dead universe is going through a ton of uncertainty right now. The premiere of spinoff limited series The Walking Dead: World Beyond were pushed back to sometime later this year. Fans did get a chance to check out an excellent teaser for Fear the Walking Dead's sixth season, but because of all the question marks surrounding when productions can resume the calendar for the series' return can only be placed at some time this summer. But it the original series that has fans asking the most questions, with the tenth season finale left in limbo after production was shuttered with reportedly less than two weeks worth of post-production left on the Greg Nicotero-directed episode.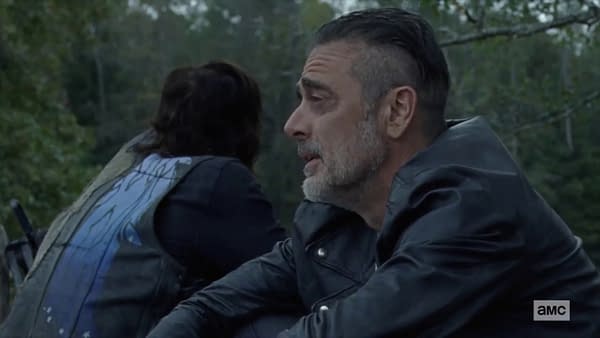 So when Jeffrey Dean Morgan called into SiriusXM's EW Live with wife Hilarie Burton to promote their new AMC quarantine talk show Friday Night In with the Morgans, it was only natural that Morgan would be asked if there were any updates on when the finale might see the light of day. While not able to offer an official timeframe, Morgan's feeling is that in "four or five months from now we'll get to see it". Morgan liked the idea of the finale becoming a one-off event episode, "and his referring to it as "almost a Walking Dead movie" has us curious as to what the final runtime will be for the finale.
As for what fans can expect, Morgan believes that viewers will see a number of plot points reach some level of conclusion in the "big massive episode." Morgan continued, "I think obviously things are going to come to some sort of a head with the Beta and his character, There has to be some sort of a resolution. Whether that carries over to next season. I'll leave that open, because who knows. But we know he's coming to wipe everybody out with his zombie horde so hopefully, we'll see that come to a head at some point." While the writers have been busy plugging away on next season's scripts, does Morgan know how things are looking for season 11? Sorry, fans: he's as in the dark as the rest of us: "Who knows when we go back to work. I certainly don't know when production is going to start again on The Walking Dead. When we're going to see season 11 of The Walking Dead is such a f***ing mystery right now. It's just a big question mark."
Enjoyed this article? Share it!