Criminal Minds' Jennifer Love Hewitt Answers Fox's '9-1-1' Call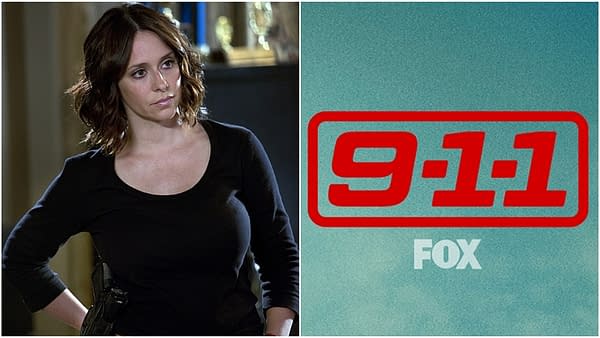 Fox is calling in for some serious backup, enlisting Criminal Minds star Jennifer Love Hewitt as a series regular for the second season of Ryan Murphy's (American Horror Story) first responders series 9-1-1.
Co-created by Murphy, Brad Falchuk and Tim Minear, the series also stars Angela Bassett, Peter Krause, Oliver Stark, Aisha Hinds, Kenneth Choi and Rockmond Dunbar. Connie Britton's 911 operator will not be returning as a series regular, having completed her one-year contract for the drama from executive producer Murphy and 20th Century Fox Television. Britton could return in a guest or recurring role; though there's been no formal decision.
Sister of firefighter Evan "Buck" Buckley (Stark), Hewitt's Maddie is starting her life over again as a 9-1-1 operator. The role marks Hewitt's return to Fox after she starred in the network's Party of Five and its spinoff, Time of Your Life. The actress also starred in other television projects, such as The Client List and The Ghost Whisperer; and in films like I Know What You Did Last Summer, The Tuxedo and Heartbreakers.
https://www.youtube.com/watch?v=7cm-Er-3Uus
In an interview with Deadline Hollywood in March 2018, Murphy addressed what his involvement would be with 9-1-1 and his other projects moving forward:
"As I've said, I really still want to be involved in all of the shows that I'm doing, I don't want to leave them. I think that I will eventually get into a transitional point — I have very strong number twos, I have a very strong lieutenant, and I am going to go off and create my next two shows that I'm doing after Pose, which comes on in June. I'm doing The Politician with Ben Platt for Netflix, and then I'll do Ratched with Sarah Paulson for Netflix (both via Fox 21), and then even more creative stuff for them, but hopefully, I'll continue on with my shows. All those people, all those actors, the crew, they signed up because of me and my relationship with them, so I want to keep going. Everything that I've created, I want to be a part of going forward."