Talking to the Daily Mirror in the UK, Doctor Who showrunner Chris Chibnall stated that the Doctor, as portrayed by Jo Martin in this weekend's episode Fugitive Of The Judoon, is not a parallel universe version of the Doctor, as some – including us at Bleeding Cool – had been leaning towards. She's the Doctor – our Doctor.
So why does she not remember the sonic screwdriver? Why does the Thirteenth Doctor not remember her – or why the Fugitive Doctor does not remember the Thirteenth Doctor as part of their timeline? Plenty more questions, and now fewer answers. The Mirror reports Chibnall's words;
"The important thing to say is – she is definitively the Doctor," he explained. "There's not a sort of parallel universe going on, there's no tricks.

"Jo Martin is the Doctor, that's why we gave her the credit at the end which all new Doctors have the first time you see them. John Hurt got that credit."
Which she did totally get.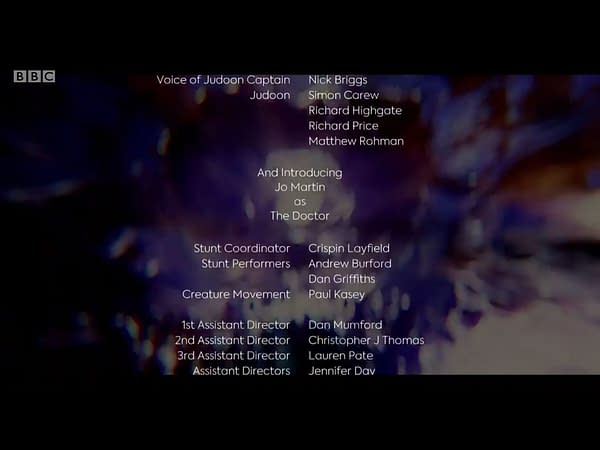 As well as the brainy specs.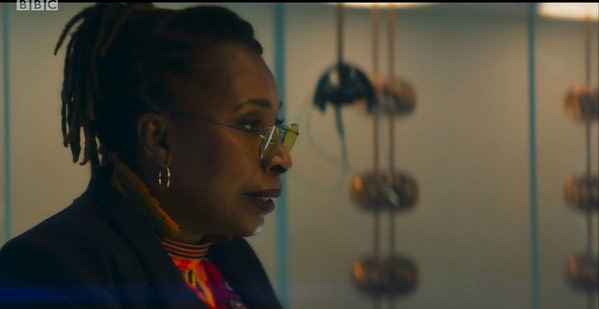 And the natty dress sense.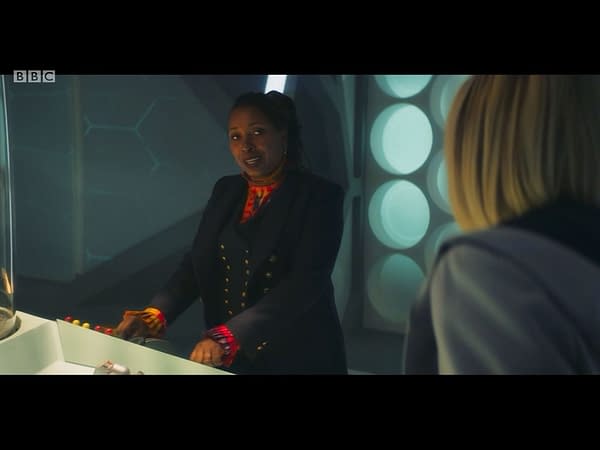 But a gun?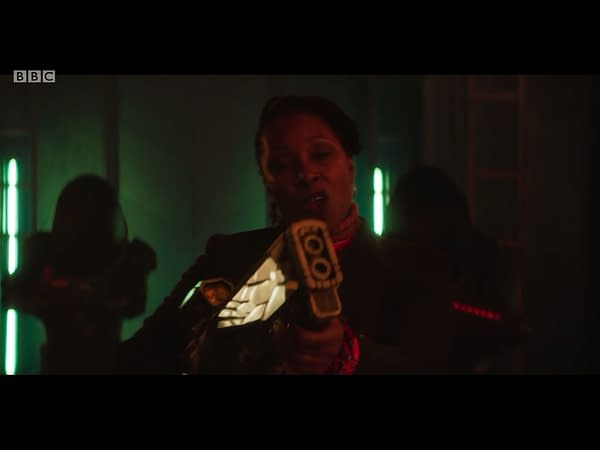 Doctor Who: Praxeus is on BBC One next Sunday… here's the spiel.
What connects a missing astronaut, birds behaving strangely in Peru and a US naval officer who washes up on a Madagascar beach? The Doctor, Yaz, Ryan and Graham split up to investigate these mysterious events across 21st-century planet Earth, but as the mystery deepens and lives are put at risk, they face a deadly race against time to save humanity. Guest starring Warren Brown and Matthew McNulty, with Jodie Whittaker, Bradley Walsh, Tosin Cole and Mandip Gill.
CAST & CREW
The Doctor Jodie Whittaker
Graham O'Brien Bradley Walsh
Yasmin Khan Mandip Gill
Ryan Sinclair Tosin Cole
Jake Willis Warren Brown
Adam Lang Matthew McNulty
Gabriela Camera Joana Borja
Suki Cheng Molly Harris
Jamila Velez Gabriela Toloi
Joyce Soo Drouet
Zach Olson Triston de Beer
Aramu Thapelo Maropefela
Director Jamie Magnus Stone
Executive Producer Chris Chibnall
Executive Producer Matt Strevens
Series Producer Nikki Wilson
Writer Pete McTighe
Writer Chris Chibnall
Enjoyed this article? Share it!