Jon Favreau Says 'The Mandalorian' Scale Close to First 'Star Wars' Film
We are terribly excited for Jon Favreau's Star Wars series for Disney+, and the more we hear about The Mandalorian, the more we feel he was the right choice.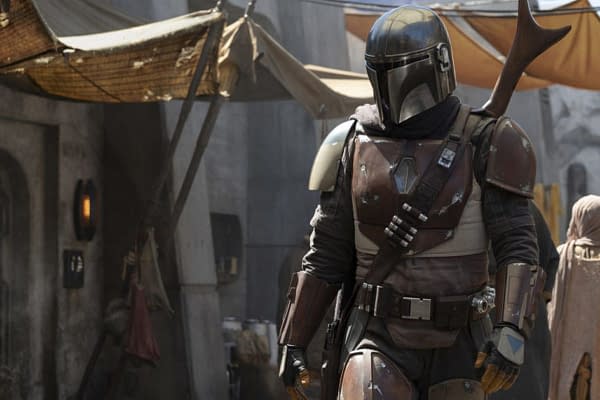 The Disney+ series will be the first of the planned Cosmic Conflict projects heading to the streaming service, and will no doubt set a tone for the rest of the universe. We know there is a Rogue One: A Star Wars Story spinoff series about Cassian Andor coming (obviously a pre-Rogue One story) which will star Diego Luna as Cassian, and there are numerous unconfirmed reports of additional characters being looked at for shows. No doubt, we'll be hearing more on those this week as Star Wars Celebration kicks off in Chicago today (April 11th).
Favreau recently took part in a discussion at the Directors Guild of America with James Cameron where the pair discuss pretty much everything two filmmakers of their caliber would talk about, including camera advances, special effects engines, and more.
There was also a bit of information as to the "scale" of The Mandalorian, which Favreau compared to the original Star Wars film, as it's being shot on a smaller budget, and more things are being done in-camera. The interview gets a little techno-heavy, but it's awesome to read the two speak to each other about influencing the other.
Favreau said:
And so even on what's a "practical film shoot," like a Marvel movie, there's still a green screen back there. So you have to plan ahead of time what you're going to interact with and where the light's coming from. Since I wrote most of [The Mandalorian], I wrote it to fit within our volume, and in trying to keep the scale of it like the first Star Wars film, which was a relatively low-budget affair, even though the effects were spectacular. And so we tried to bring that aesthetic into this because it actually paired up quite well with these techniques.

I think up to 70 percent of the shots [on The Mandalorian] we were able to get in camera because we were dealing with hard surfaces. It was sci-fi, it wasn't a jungle, which would have been much harder. And we shot anamorphic, which has got more falloff.
Reportedly the first look at the series will come during the Sunday April 14th Star Wars Celebration panel for The Mandalorian, which will be streamed live on StarWars.Com.
We'll do our best to keep you updated on the news from SWCC as it comes.