Kiernan Shipka on "Wiser" Sabrina, Possible "Riverdale" Future & More
By now, viewers of The CW's Riverdale are all too aware of who will be paying Cheryl (Madelaine Petsch) a visit in tonight's episode "Chapter Ninety-Nine: The Witching Hour(s)." That's right, Kiernan Shipka's Sabrina Spellman will be paying a visit to "Rivervale" as we learn more about the tragic stories of the Blossom women through the years. Earlier this week, Riverdale and Chilling Adventures of Sabrina creator Roberto Aguirre-Sacasa stirred the speculation pot in a big way with a previously unreleased clip from the Netflix series that would've established how Sabrina could've survived her fatal fate (more on that below). Now, Shipka is opening up about returning to the role, the impact Sabrina could have on the strangeness infecting the town, and if there's more Riverdale in Sabrina's future.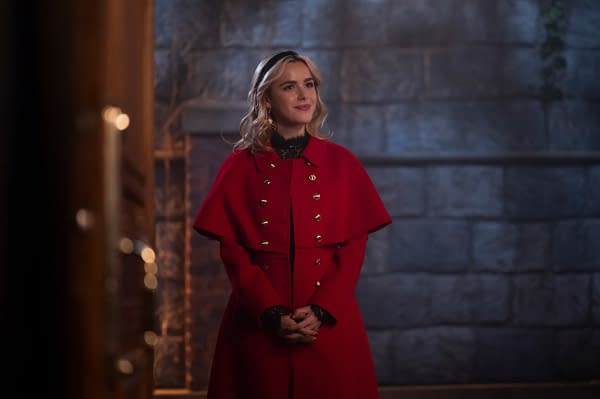 So We'll Finally Learn How Sabrina Survived… Right? "We get hints, but I think a lot of is left unsaid and a lot of questions are still up in the air as to how Sabrina's back and how it all went down. I have my theories and I think everyone will chime in with theirs, but hopefully, down the line, we get some explanation."
Viewers Should Expect an Older & Wiser Sabrina: "She's older. She's 'Sabrina the twentysomething witch,' which makes for a wiser Sabrina. One of Sabrina's most charming qualities was the fact that she was young and made a lot of mistakes because she was still learning the ropes and learning everything, as you do when you're that age, and obviously, you never stop making mistakes, but you do grow and you do become a different person. Bringing a sense of maturity to Sabrina that we hadn't previously seen was something that I was very excited to do. That's the most palpable difference."
Sounds Sabrina Will Have a Positive Impact on "Rivervale": "Things are chaotic. Yes, I do think that Sabrina kind of comes in with an assertive "I got this" energy. She gets to be the hero of the story."
So Is There More "Riverdale" in Sabrina's Future? "Yeah, I think the door's open. I think the door is open, and that's very exciting."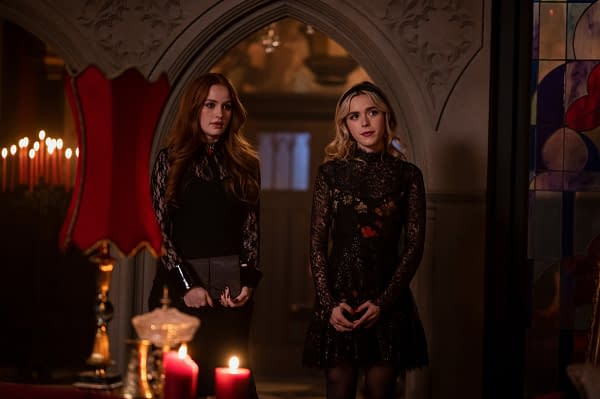 In the clip below, Aguirre-Sacasa offers a one-minute teaser clip of a scene from the Netflix series involving Aunt Zelda (Miranda Otto) and the deal she made to bring Sabrina back, with Aguirre-Sacasa promising more for those who tune in this Tuesday night:
Riverdale Season 6 Episode 4 "Chapter Ninety-Nine: The Witching Hour(s)": SABRINA SPELLMAN (GUEST STAR KIERNAN SHIPKA) COMES TO RIVERVALE — As Bailey's Comet passes over Rivervale, Cheryl (Madelaine Petsch) and Nana Rose (guest star Barbara Wallace) revisit the tragic stories of the Blossom women through the years. Meanwhile, the once-in-a-lifetime celestial event prompts Cheryl to summon a familiar face to Rivervale – Sabrina Spellman (guest star Kiernan Shipka). Lili Reinhart, Camila Mendes, Cole Sprouse, Madelaine Petsch, Mädchen Amick, Casey Cott, Vanessa Morgan, Charles Melton, Erinn Westbrook and Drew Ray Tanner also star. James DeWille directed the episode written by Arabella Anderson.