Krypton Season 1, Episode 1 Recap: Pilot
This article contains spoilers for Krypton season one episode – Pilot.
.
.
.
.
.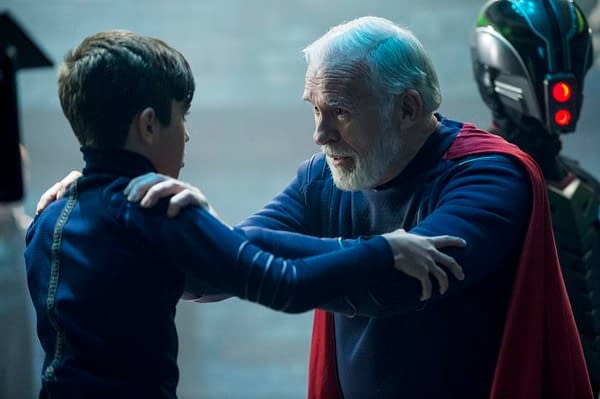 The story of Krypton starts in Kandor City with the fate of Val-El (Ian McElhinney), the great, great grandfather of Superman. Krypton has gone through a shift in power, with a religious leader now in charge and Val's assertion that there is other life in the universe goes against the teachings of Rao. He is found guilty of sedition and sentenced to death. It also brings the end of the House of El, leaving the family rankless. At the trial and execution is his young grandson, Seg-El. The story jumps ahead and we see an adult Seg (Cameron Cuffe) getting into a fist fight at a bar while his friend Kem (Rasmus Hardiker) steals the guys money, allowing Seg to pay the guy back with his own funds. A stranger was watching all of this. And Seg makes a profit that he uses to help his parents Ter (Rupert Graves) and Charys (Paula Malcolmson).
We cut to the military guild where Lyta-Zod (Georgina Campbell) is tested in a fight by Jayna-Zod (Ann Ogbomo), her mother. When Lyta loses an yields, Jayna drives a knife through her hand. Seg goes to see his father, who now works for Daron-Vex (Eliot Cowan) the leader of Kandor and the man who sentenced Val-El to death. Seg notices a guy moving in with a bomb and stops him. As a way of saying thanks, Daron offers Seg a rank in House of Vex and the hand of his daughter Nyssa (Wallis Day). Later, Seg is with Kem and witness a military officer harassing a homeless guy and steps in, it turns into a fight and he is cuffed and lead off by Lyta. Once away from the others, she pulls Seg aside and kisses him.
Lyta frees Seg and he is stopped by the stranger from before. He is Adam Strange (Shaun Sipos) and he explains that he has travel through time and space to warn Seg that someone from the future is coming to destroy Krypton. Strange doubles over in pain, but keeps going. Explaining that he has to find the Fortress, has to save Superman. He gives him a crystal with the House of El emblem on it, then he disappears. Seg heads home and shows the crystal to his parents. He heads back out, and once alone his parents discuss telling him the family secret. Seg meets Nyssa at the Genesis Chamber where they get to see exactly the type of child they will have and what they will grow up to be and achieve. On Krypton children are born in pods in the Genesis Chambers.
Seg ends up with Lyta where they talk about Seg's new role. As he leaves her place, way past curfew, he is stopped by the military who find the crystal on him. When they ask what it is, he grabs it and runs. As he's running, he is tracked down by a ship that is piloted by his mother. He gets in and they fly off, Charys tells Seg it's time for him to know the truth. She takes him to Val's fortress and the crystal opens it. We learn that when the council canceled Val's research, he built the Fortress where he could continue outside of Kandor. Charys figures Val found some form of life and reported it, leading to his execution. They return to Kandor and home where an alarm goes off. The military tracked them. She forces Seg to hide in a secret spot and they take Charys into custody.
Seg visits his mother, but while they're talking Jayna comes in and sends Seg away. She then talks to Charys about the connection between their two children. She also reminds the prisoner that the council can execute her at anytime. She is then taken to trial in front of Daron. They know that there were two people in the ship, he demands to know her partner. Seg and his father are watching. Seg is about to step forward as having been on the ship, but Ter does first, saying he was there. Charys starts yelling to the people that the Kryptonians are not alone in the galaxy. Jayna shoots her and when Ter fights back, she shoots him as well. Seg is now completely alone.
Seg goes to Kem and asks for a ship. He then heads out to the Fortress where Adam Strange shows up. He gives Seg his grandson's cape, which is slowly vanishing from the bottom, and once it's completely gone then there is no way to save Kal-El. Strange then tells Seg what they're up against, the creature known as the Collector of Worlds.. Brainiac.
The pilot is surprisingly strong and set the stakes very high. This isn't a prequel, but rather a time travel story that could change everything. It sets up a mission to defeat Brainiac to save Krypton only to have it blow up later after Kal has been born. And here's what we have to look forward to the rest of the season.