We're now looking at the most surprising moments in the recently concluded (except for Supergirl) seasons of the big superhero shows. Each show has multiple surprise moments, some bigger than others, but I'm judging based on how much the surprise affected the series, a single character or was just out of the blue. Here we take a look at the newest series, Krypton.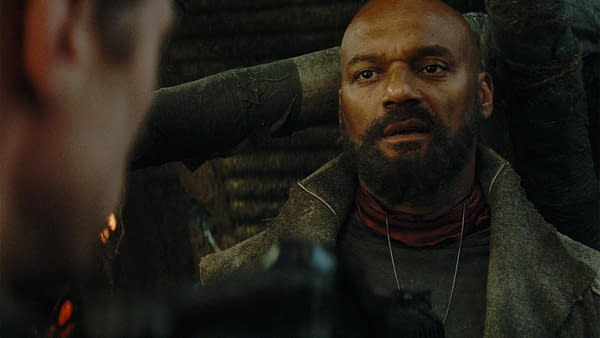 This was a difficult one because there are so many surprising twists that started taking place about halfway through the season. You start off the season with Adam Strange (Shaun Sipos) appearing and Seg-El (Cameron Cuffe) finding his grandfather's Fortress of Solitude, but you get four episodes of of world building and character development and then suddenly the fifth episode turns everything on it's head with one simple moment. When the Black Zero leader tells Lyta-Zod (Georgina Campbell) that he is her son. That's the moment that we find out that Adam wasn't the only one to travel back in time, but so did General Zod (Colin Salmon). That the mission Adam is on, to stop Brainiac (Blake Ritson) from destroying Krypton will actually save the planet from exploding and make it that Kal-El is never sent to Earth.
The discovery that Brainiac bottling and taking Kandor City is what destabilizes the core of Krypton so much that it explodes two-hundred years later and that Zod has come back to stop Brainiac suddenly shifts Adam's mission to save Superman to him having to make sure that Brainiac succeeds in taking the city. Viewers had to suddenly ask who the good guys were. Was Superman going to Earth worth the death of an entire civilization? From there they had surprise after surprise including Doomsday and the Phantom Zone. They even dropped Adam into a bottle city that we believe is Detroit, the city he's from.
While there were a lot of twists and turns, the biggest surprise had to be the introduction of General Zod as it made the biggest paradigm shift in the series.
Enjoyed this article? Share it!